London 2017: Day 1 athlete reaction
Flashquotes from first night of World Para Athletics Championships.
14 Jul 2017
Imagen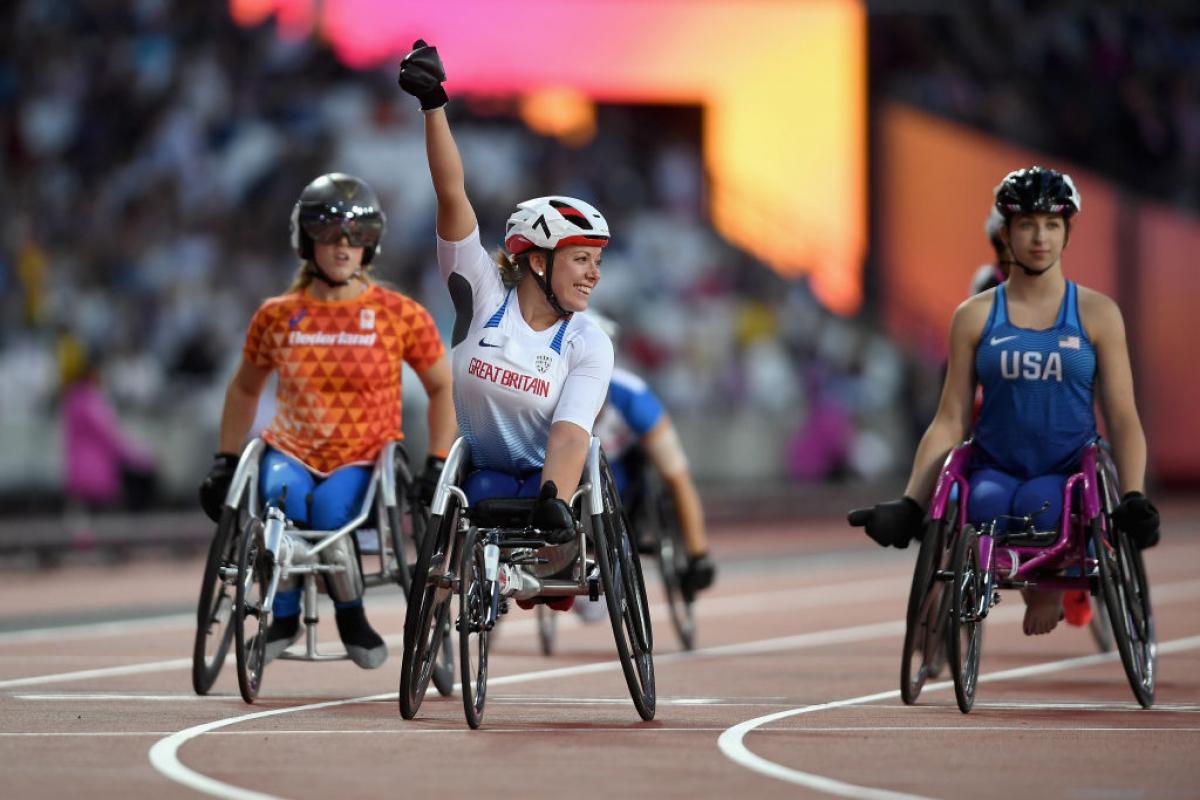 ⒸMike Hewitt - Getty Images
This page will be updated with athletes quotes throughout the first session of the World Para Athletics Championships London 2017 on Friday (14 July).
Finals
Women's 100m T34
Hannah Cockroft (GBR) – Gold, WR
"I can say I am quite happy with the time. You know, I am always trying to improve and expecting a bit more but I am happy for it. When I entered the stadium and the people were shouting my name, I had to hold back a bit, it was a bit overwhelming and I needed to stay back and focus. With this atmosphere, this is the best championship I have even been to. London is just spoiling us, it was absolutely fantastic.
"I did not want to put much pressure on me. I know my start is the weakest part of my race and I try to work on it. I always hear those comments how easy it is for me to win. But I have to work hard on it. I knew Kary is very strong at the start, we are friends, helping each other but we are also rivals. It is just a business when you get on the track, nothing personal.
Kare Adenegan (GBR) – Silver
"I am happy with my start and after that I just wanted to keep going, to hold on to the speed. It was a quick finish. I am still quite young, have things to work on so I am happy for the result. Five years ago, I was here as a spectator watching Hannah as my idol, that inspired me a lot. It feels so good to compete here but it was also difficult. I did not have too many competitions this year so I am also excited about my start at 800m."
Men's 100m T54
Leo Pekka Tahti (FIN) - Gold
"My strap broke at 60 metres, but up to then my race was wonderful. I felt very strong. When it broke the rest of the race was very difficult, but somehow I could still beat the Chinese athlete (Liu Yang).
"It's the first time this has happened in my career. I thought 'Oh no, this can't be happening to me now in a world champinships final.' To win another world championships is so important to me, especially as I've had some problems this summer with my elbow.
"The first 60m is always the best part of my race and today it was excellent. But then I had the problems with my chair. It was amazing that I still beat the Chinese guy and I still went under 14 seconds.
"It's great to be in this stadium again and feel this atmosphere. My only disappointment is that I didn't break my world record, but I have other competitions to come, so let's see."
Women's club throw F32
Mounia Gasmi (ALG) - Gold
"After finishing second at five other championships, this is just great to win the gold."
Women's club throw F51
Zoia Ovsii (UKR) – Gold
"It is an unbelievable feeling to win the world title. I felt so well and I cannot say I did not expect such a long throw. I do not want to talk if I managed to go even further in the trainings because what happens there, that is a secret. But I think I can even improve. When I compare Rio and London, the feelings are very similar. All competitions are important to me. I do not think about the atmosphere and the stadium, just focusing on the work that needs to be done. I am glad I made my teammates and my coach happy; my family does not follow this competition. I think I will celebrate this title back home in Ukraine. There is still some work to be done here as I start in discus."
Men's shot put F38
Cameron Crombie (AUS) – Gold, WR
"It is a very special moment for me today, not only because I became the first champion here and also with a world record but also because these are my first world championships. It is a big honour to represent my country at this beautiful stadium with so many people cheering for us.
"I did not hope for more. I have got a few friends here supporting me also with my family. They are doing the Euro holiday just to see me competing. Now, there are at least nine of them in the crowd and even more are coming on Saturday, when I compete in javelin throw.
"I have already passed 16 metres a couple of times at the training but the competition is something different so yes, it was a shock for me to break the world record. It is a bit surreal. I hope I still have got more in the tank. I had my ups and downs at the competition and in the training sessions. It is just about putting it together and I look forward to the next challenge. I look forward to Saturday and hope to enjoy the moment again.
"After the championships, I am also planning to take some days off in Europe and I am planning to go to Scotland for a couple of days. Unfortunately, I have to get back home, back to work and to training. But I love what I do so I am glad for this chance to be here."
Men's shot put F57
Thiago Paulino Santos (BRA) - Gold
"In Doha and again in Rio I had problems with the referees but today it all came right for me.
"I felt the gold medal was mine when I saw the Polish athlete (Janusz Rokicki) was not having a good day. The others were all having poor days and I wasn't at my best but it was enough to win gold.
"I want to thank my family so much. My wife is pregnant right now and this child is going to be born to a father who's a world champion. My first child was born when I won my first competition and now it's happened again. I am so thankful for what has happened to me today."
Men's javelin F46
Sundar Singh Gurjar (IND) - Gold
"I am happy, of course, although I was not at my best because I have had an injury to my calf. But my best throw was incredible, a personal best.
"I wasn't worried about the defending champion (China's Guo Chunlliang) because I knew all I had to do was my best and not think about the competition. If he had thrown better I would have gone a lot further as well.
"The atmosphere was incredible and in this stadium I expect India to win many more medals now."
Heats
Men's 800m T38 Heat 2
Liam Stanley (CAN) - AR
"It's not bad to run an area record in the heat but I was just trying to qualify for the final. I don't really care about the time too much. I've been running faster than that in training and I hope I can go a couple of seconds faster in the final. The plan is give Michael (McKillop) a run for his money."
Live coverage and results from the World Para Athletics Championships London 2017 can be found each day at www.worldparaathletics.org/London2017. Around 1,150 athletes from 90 countries will compete in 202 medal events between 14-23 July.