London 2017: Day 3 evening athlete reaction
Flashquotes from Sunday evening's session of the World Para Athletics Championships.
16 Jul 2017
Imagen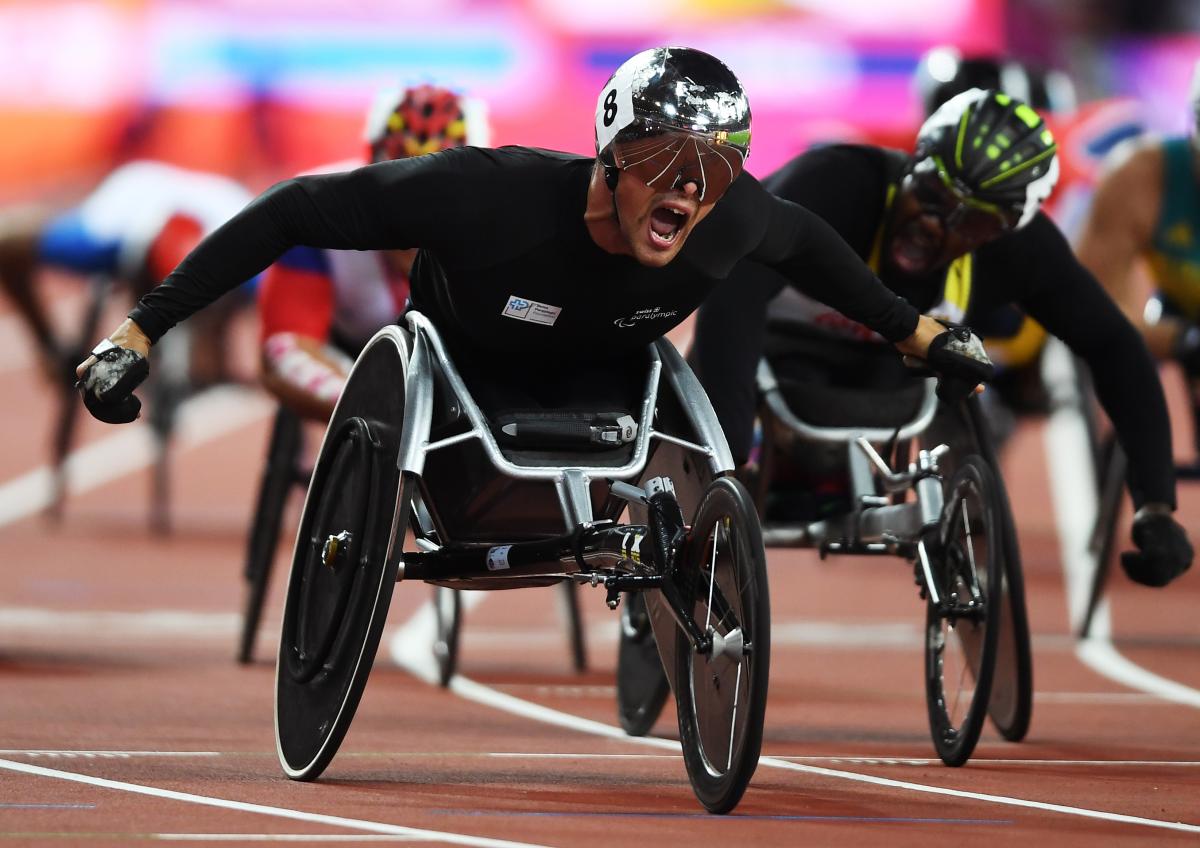 ⒸGetty Images
This page will be updated with athletes' quotes throughout the fifth session of the World Para Athletics Championships London 2017 on Sunday (16 July) evening.
Men's shot put F34
Abdulrahman Abdulqadir Abdulrahman (QAT) - Gold
"I am very happy especially as I was fourth last time, so I am happy to improve.
"Next, my focus will be on the Tokyo Paralympics where I will get gold. After getting silver in Rio, I will win gold in Tokyo for sure.
"I have been very focused in training, preparing morning and night. I was very well prepared for these championships."
Men's discus F56
Leonardo Diaz (CUB) – Gold, CR
"It was a great comeback to the London stadium. Just I feel a bit sad I stayed 2cm behind the world record. I already have 9 world records so I wanted to add the tenth. But I know I will do it – maybe at the Pan-American games, maybe in Tokyo…
"When I started to compete in this event, I did not have too many opponents. But there are stronger and stronger rivals every year, new emerging countries so I started to focus only on my performance and on improving my throwing. My biggest idol is Usain Bolt for what he achieved in our sports. I have never met him personally but I am following him in the TV and media. He is my main motivation."
Men's long jump T12
Doniyor Saliev (UZB) – Gold, AR
"Five years ago, I competed here in triple jump finishing seventh. Now, I am the world champion – it is hard to describe how great I am feeling. My first world title – this is a very important achievement in my career as well as the Asian record.
"I enjoyed every moment of the competition and I even hoped for more – I expected jumps over 7.20. The surface was very fast, good for long jumps so maybe next time. This medal belongs to my nation, to parents, my coach, our president, and most of all, to me. I worked very hard for it. And also big thank to the great fans at the stadium."
Men's high jump T47
Roderick Townsend Roberts (USA) - Gold
"It means the world. I mean this I what I came to do, I can't take any of my competitions lightly and I learned that through the entire season."
"This is what I live for and I told myself that so many times through the competition. Make the most of this moment."
"It was amazing, they are doing a great job in supporting us and I can't wait to use their energy again."
Men's 200m T53
Brent Lakatos (CAN) - Gold
"It doesn't get much closer than that. I didn't know that I had won until I looked up at the screen."
Women's 200m T13
Leilia Adzhametova (UKR) – Gold, AR
"The 200 metres is such a very interesting event, very difficult when it comes to the tactics, technically and also mentally. In the end, I am very happy with what I have shown here but felt really exhausted after the finish. The opponents were very strong so I am very happy for this result.
"In the first 100 metres, I did not see if there was someone in front of me, I just kept the pace. I felt very well and the fans and the atmosphere also encouraged me to show such a fast time. "
Kym Crosby (USA) – Bronze
"I must say I can do better and run faster times but it was a hard period after Rio and I am very grateful for being able to compete here in front of my team mates and the great crowd. I think this was the biggest crowd I have ever run in front of in my life. I just love it."
Women's 200m T35
Isis Holt (AUS) - Gold, CR
"Yeah, it's a bit of revenge for me. It's really great to come back after Rio and beat the Chinese girl. I've been training really hard to keep my title.
"Rio was an incredible experience but this is so much more exciting. It's so incredible to be in front of so many people. It's absolutely amazing. I still can't believe what's just happened. I didn't expect to run so fast.
"I was nervous before the start but my legs feel pretty good now."
Zhou Xia (CHN) - Silver
"I gave it my best but I didn't think I was gong to win. I'm really happy to have had the chance to run in front of so many people."
Men's shot put F35
Xinhan Fu (CHN) – Gold, CR
"The preparation for these championships started already one year ago, after Rio. I train in Beijing, in China with my coach who is my main motivation and my sports idol. My opponents were very strong so I am happy to add the world title to my medal collection – Paralympic, World and Asian golds.
"We do not have a regular training at home. We train only when we have time and the opportunity. All is managed and organised by my coach. We go back to Beijing after this event. It was a bit hard today but it feels great to be the world champion."
Men's 1500m T52
Tomoki Sato (JPN) - Gold
"It is a wonderful atmosphere. I saw the London 2012 Olympics on the television and this has made me proud to come here for myself. Getting the gold was incredible and I can't wait to tell my family, friends and everyone who supported me."
Raymond Martin (USA) - Silver
"I have to be happy with silver because I had an idea after the Grand Prix in Phoenix about his condition. I'm exactly where I thought I would be.
"I do have high standards, but for so many athletes just to be on the medal stands is a dream. Winning a medal for my country is a great honour regardless of the colour."
Men's 100m T44
Jonnie Peacock (GBR) - Gold
"That was so scary. I got cramp in my hamstring in the warm-up and I was stretching it over and over which is not something you are normally doing at the start. I was so thankful I got the finish line in one piece.
"I just wanted the hamstring to hold up and get across the line. I am over the moon I managed to do it. Coming back to this stadium is insane. Why not enter a bid for the 2019 championships? I would definitely back it. "
Jarryd Wallace (USA) - Bronze
"There are not many better guys in the sport now than Jonnie Peacock. He is humble, competitive and a real fighter. And he puts his best races together when it matters.
"I didn't have a great start and didn't run as well as I did in the pre-runs. I lost the silver but it is still amazing to get the bronze."
Men's 100m T13
Jason Smyth (IRL) - Gold
"That's what you come to major championships to do, to cross the line first. To be back in this stadium is incredible. I don't even know what my time was; championships are all about crossing the line first.
"Four world championship titles, that's what it's all about. You get so caught up in the moment it's difficult to take it in sometimes. I've got the 200m tomorrow so there's not much time to relax and enjoy it.
"Where does this rank among all my titles? It's going to take a bit of time to sink in before I enjoy it. The memories of the Paralympics here are still strong but as a world championships this is by far the best. I hope this sets the standard for the future.
Men's 800m T38
Michael McKillop (IRL) – Gold
"It was an incredible feeling. I think IPC kind of set that up, there is no matter feeling, coming on the track right after your best friend has just won his world title – it helped me a lot to see Jason winning a gold. I am very privileged and humbled to be back at the Olympic stadium. I guess my stadium really, because I was the first person the break the world record in here. So I guess I have a real sense of history in this stadium which I will always call my own stadium.
"We had a plan and actually it was quite funny because we went back to the previous tactics and none of these people were in Beijing 2008 so anyone knew what I was going to do. But it was a tough race and anyone had to cope with it. And we had to go back to the racing again and in the last 200 metres I kicked it on.
"My family is in the crowd; my fiancé is here as well so to win was even better. I was looking for here and I saw her in tears. It shows it is all about the team work. It is not just me running on the track, but it is about my whole family, but unfortunately, none of my family members will be here to see me fighting for another gold as they are flying back home."
Women's 400m T44
Irmgard Bensusan (GER) – Gold
"It was amazing. I was happy just to be able to run. I was injured a while back for six weeks which was a huge surprise. Basically I was in a shoe and had to do alternative training. I had only been in my spikes for the last two weeks which was quite a setback but, a win is a win."
"The alternative training helped me prepare mentally."
Women's 100m T42
Martina Caironi (ITA) - Gold
"Winning is always good and I am happy to win here, but my aim was not just to win but to break my world record.
"These days I am fighting with myself. The 15-second barrier is gone for me but not the other girls. Today I was really close to the record – just four hundredths of a second – but we were held too long in the blocks, so my start was not very good. It doesn't help if you don't get a perfect start.
"Now I have three world titles. I will keep going until someone beats me. I hope that someone arrives before I am 50. I am only 27 now so they thay have some time."
Men's 1500m T54
Marcel Hug (SUI) - Gold
"It was a really tough race because it was difficult to find a good position. In the end I was pretty lucky to make it. Everything moved so fast. It means a lot. To win it was amazing.
"This has been a really good day for Switzerland with Roger Federer winning at Wimbledon and also Martina Hingis winning in the doubles. I saw the Federer match and big congratulations to Roger. His title was just amazing and he is a great inspiration."
Live coverage and results from the World Para Athletics Championships London 2017 can be found each day at www.worldparaathletics.org/London2017. Around 1,150 athletes from 90 countries will compete in 202 medal events between 14-23 July.