London 2017: Day 4 morning athlete reaction
Flash quotes from Monday morning's session of the World Para Athletics Championships.
17 Jul 2017
Imagen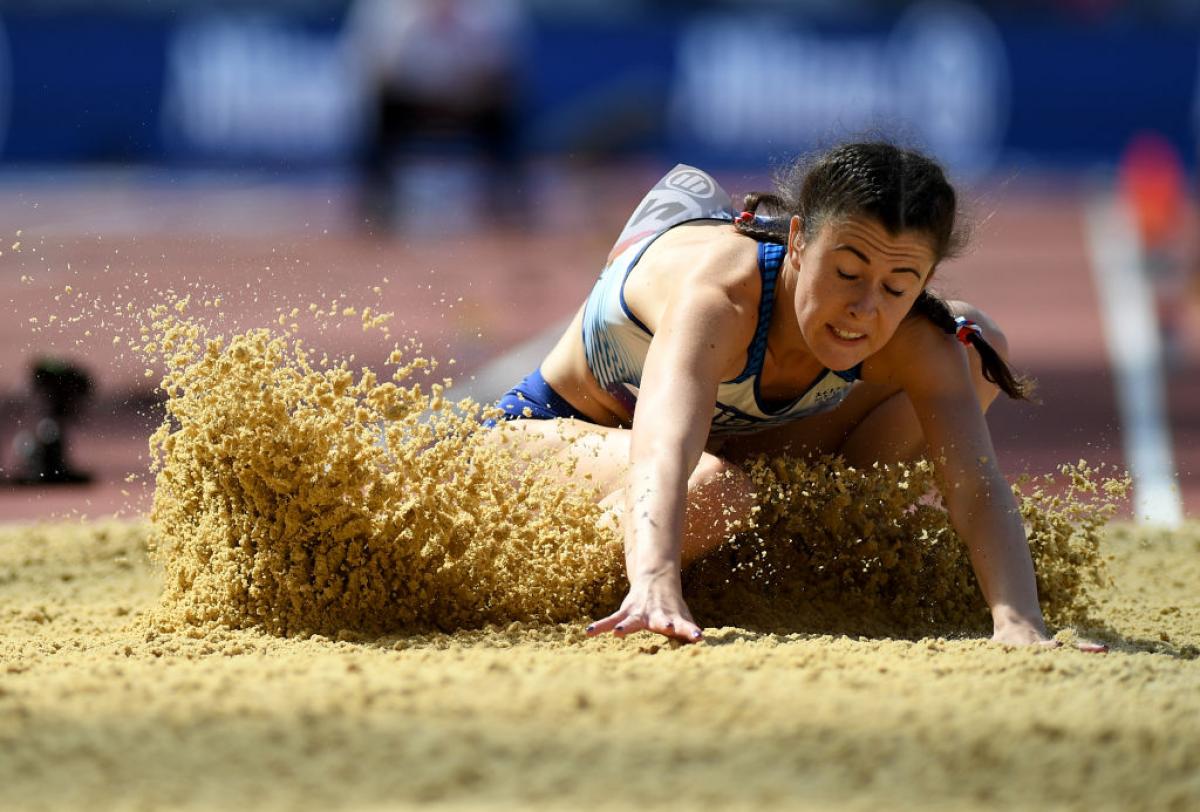 ⒸGetty Images
This page will be updated with athletes' quotes throughout the sixth session of the World Para Athletics Championships London 2017 on Monday (17 July) morning.
Men's club throw F51
Quotes to follow.
Women's long jump T38
Olivia Breen (GBR) – Gold, PB
"We tried to do things different. I changed coaches after Rio, it was hard and it is fine it got together by the time there is the world championships. I have had my ups and downs so the massive thanks go to my coaches, my team, my family and my boyfriend. I knew I have to make it different. My coach in London was very supportive but I knew I had to make a change and it has been the best thing I have ever made. Becoming the world champion is the dream comes true.
"It was a tough competition, we all were very close and I knew I am in a good form so it is fantastic. The school kids in the crowd – that is a very good thing, it helped me a lot. My first games in here, I was just 16 so it is very important to inspire the new generation. The people can change your life completely. It means so much to me to win in front of my home crowd, it is a big motivation. The next target is to jump 5 metres at Commonwealth Games and then in Tokyo."
Women's shot put F34
Zou Lijuan (CHN) - Gold
"It was too close today but I wasn't in good shape. I was tight in my back and didn't feel comfortable, so it wasn't my best performance. But the crowd here are fantastic and that really helped me to improve."
Lucyna Kornobys (POL) - Silver
"This time, the victory was very close. With this one centimetre, I would be even happier. But it is how it is and I cannot say I am not satisfied – second major event, and second silver. This would not be possible without the help of my twin sister Izabela – she is five minutes older and she helps me in everyday life, not only financially but also emotionally. When the head does not work well, you cannot produce good results.
"I could not give 100% into my performance because I had an injury on my right thumb. And the strange thing they did not help us to tighten up the chair so it took at least four minutes to do it and with this injured hand, it was very difficult. Now, I am looking forward to take some rest and then I will start preparation towards the European championships in Berlin."
Women's 1500m T54
Tatyana McFadden (USA) - Gold
"That was really tough, dealing with the blood clots (in my legs) and knowing that I had to stay calm and relaxed. I had to dig deep from my heart. I could really feel that my body was tired.
"But it is an awesome start to the championships. It is great to get a kind of mini-sweep (for the Americans)."
Amanda McGrory (USA) - Silver
"We wanted to sweep again but it's hard when the field is so strong. It was definitely a stronger field than in Rio."
Madison de Rozario (AUS) - Bronze
"That was incredible. I've done that with a full field before. I got bronze in Doha but some of the top girls were missing there, so it's nice to do it with a full field.
"I didn't think I was going to do it with 100m to go. It was such a messy race, but it was a lot of fun. The Chinese and Americans had their own game plan but I stuck to my race and came good at the end."
Women's shot put F40
Rima Abdelli (TUN) - Gold
"This means more than anything to me. At the last world championships I got a bronze and then I got a silver at the Rio Paralympics, and now the gold. I have had loads of problems and I have had to work day after day -- morning, afternoon -- to get this.
"My coach has been so patient with me and kept telling me that I was the best. But now, after seven years of training, I have finally won the most important gold."
Women's long jump T20
Mikela Ristoski (CRO) – Gold, SB
"The whole season was very good and also this competition ended up great for me. I just felt ready for even longer jumps if there were not the fault attempts in fourth and fifth series. But in the end, I am OK with the result and it is gold. After the first jump, I wanted to add a couple of centimetres but I did not get it properly. Now, I will have a short break, the season is over for me. The fourth medal from the championships, I cannot be more satisfied."
Men's discus F11
Alessandro Rodrigo Silva (BRA) - Gold
"This gold was definitely missing from my collection. In Doha when I was injured, but now I am the world record holder, the Paralympic champion and the world champion, so I have everything. But I will keep working hard because I want to compete in Tokyo.
"My little boy is two next month and I will celebrate with him. Competing here with all the children screaming, it reminded me of him. I was very emotional.
"I'm known as Mr Incredible in Brazil , so as a superhero I have a big responsibility. I couldn't compete in my mask today but it was important to win. (He usually competes in a Mr Incredible blind fold.)
"Before I went blind I worked as a motorbike courier so my life has changed such a lot."
Heats
Women's 100m T44 Heat1
Sophie Kamlish (GBR) - 1st, WR
"I slowed so much at the end I definitely wasn't expecting a world record. It felt like I just started walking at the end once I knew I had qualified.
"I did the same in Rio when the final didn't go so well, but in Rio it was mind messing me around a bit. I know how to deal that now so I'll be ready for the final this time.
"Wearing flowers in my hair started at London 2012. I just had some in my bag and thought, 'Oh why don't I wear them?' Then people noticed it so I felt obliged to carry on."
Live coverage and results from the World Para Athletics Championships London 2017 can be found each day at www.worldparaathletics.org/London2017. Around 1,150 athletes from 90 countries will compete in 202 medal events between 14-23 July.