London 2017: Day 9 athlete morning reaction
Medallists speak after Saturday morning session at World Para Athletics Championships.
22 Jul 2017
Imagen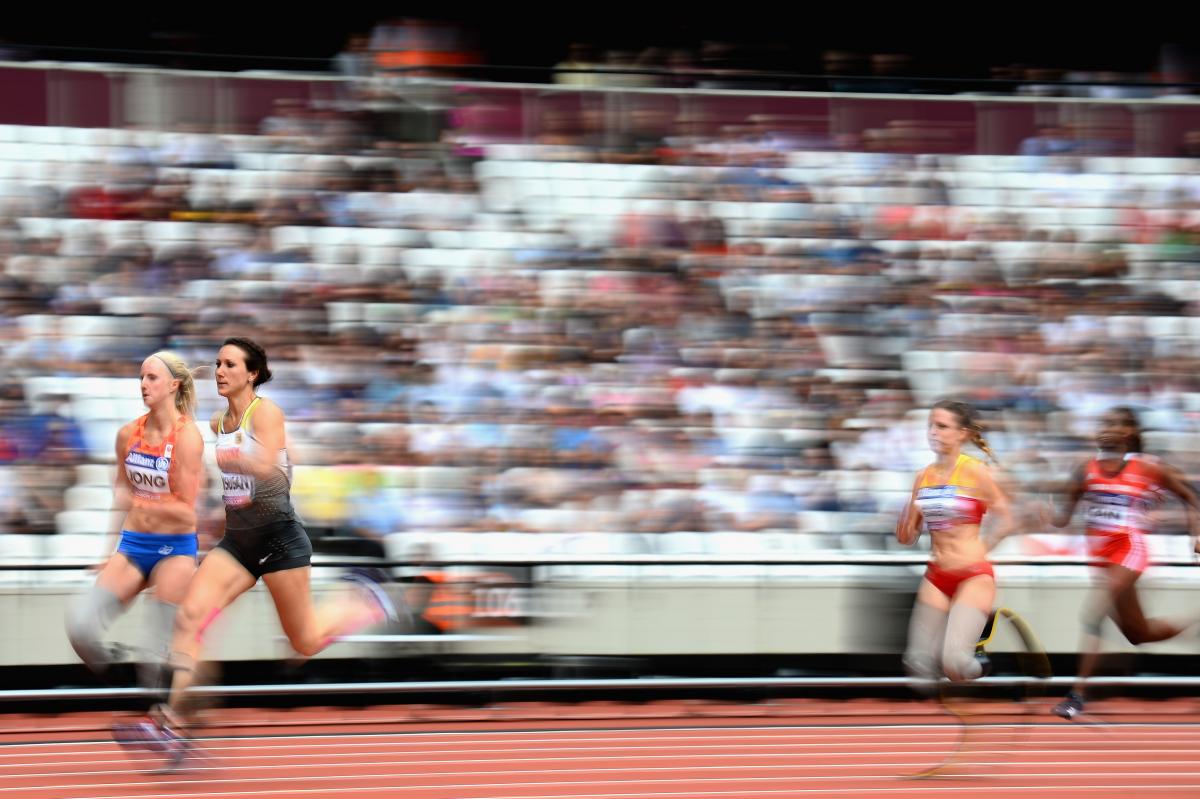 ⒸGetty Images
This page will be updated with athletes' quotes throughout Saturday morning's session of the World Para Athletics Championships London 2017.
Men's javelin F38
Jayden Sawyer (AUS) - Gold
"It is amazing to have the crowd behind you here. I knew I was in a good place and I had been working on the run-up. My coach told me to just have a crack at it and so I did.
"It feels amazing. It hasn't sunk in yet. I won a bronze at the worlds in 2013. But I knew I could have done better than in Rio (fifth place). I knew my time would come. "
Men's high jump T44
Maciej Lepiato (POL) – Gold
"My goal today was to improve my PB and the world record. I am a bit sad I did not make it but we have some competition in Poland in three weeks so maybe I can improve it there.
"This is my fourth world title and I think that is also the thing which motivates me to go on with jumping. I love this sport and I do what I love. I am fifth in the Polish rankings now, what is also a very good result for me.
"From the athletes I know, I really like Jonathan (Broom-Edwards). We talked a lot before the competition and he is a really friendly guy. Before the competition, I was a bit scared of rain but in the end, the conditions were good today."
Men's discus F34
Wang Yanzhang (CHN) – Gold
"My best throw today was a foul and I was not at my best but I'm glad I could win because it's been a year since I've competed.
"I have only done three weeks training since the Paralympic Games last year because I am getting married in September. I gave up my athletics career to prepare for the wedding and to have a baby later in the year. After the wedding I will start training for Tokyo 2020.
"It's my second time here. At London 2012 I won the discus and it is the best memory of my life. It was my first Paralympic medal. London is a lucky city for me. It's great to be back competing with all my friends and rivals."
Men's long jump T13
Luis Felipe Gutierrez (CUB) – Gold, CR
"I felt in shape to break the world record today but I had a few problems with my knee just before the competition and that held me back a bit. I picked up a bit of pain in the high jump.
"I haven't been jumping very much since 2013 because I have had a series of injuries so it feels great to be back in London and competing here again where I won the Paralympic title. It feels great to be in peak condition again and be back at the top level.
"Now I'm looking forward to Tokyo because I missed out on Rio where there was no long jump and I wasn't in condition to run the 100m."
Women's shot put F33
Ashmahane Boudjadar (ALG) - Gold
"I have been throwing more than six metres in training and I felt good before the competition, so I was happy to get the 5.92 to win. It's great to add this to my Paralympic gold from last year and we are now looking ahead to Tokyo 2020."
Men's shot put F12
Saman Pakbaz (IRI) – Gold
"I have been thinking about becoming the world champion in this event every day. If you want to be the champion, you have to think this way. I was wondering, how it would feel in London. I was ready to beat my rivals and wanted to go over 16 metres. I train eight sessions a week and I am a professional athlete.
"I am a bit upset I did not manage to show longer throws because it was very important to me. The weather was not a problem today. Standing on the podium, I will mainly think of the tomorrow's discus throw competition. I hope I will be able to show a good result there.
Men's 400m T38
Dyan Buis (RSA) – Gold
"I have 200m and 400m gold. I'm like the Michael Johnson of T38 – I like that comparison. I was hoping in Tokyo there would be a 200m and 400m for me, but it's only the 400m, so I may do the long jump as well.
"The gesture I make on the start line with my fingers means 'I'm on fire'. We have been saying it in training all season and it's a bit of a joke now, but it means we're in great shape.
"Last time I was in London in 2012 I won two silvers and a bronze and now I have two golds – it is fantastic. I must come here again. The 400m is my main event so this means a lot to me.
"I was expecting a challenge from the Chinese guy (Hu Jianwen), so it was very unfortunate that he was disqualified. I am happy with the time because I've had a hamstring problem, so I'm just happy I could finish in good shape.
"Back home I am a full-time teacher and have been focusing on my post-grad teaching studies. I don't know how I juggle it all, but my coach manages to get me ready for the races."
Live coverage and results from the World Para Athletics Championships London 2017 can be found each day at www.worldparaathletics.org/London2017. Around 1,150 athletes from 90 countries will compete in 202 medal events between 14-23 July.