London 2017 Head-to-Head: Chad Perris
Australia sprinter on the challenge of facing the world's fastest Paralympian.
08 Jul 2017
Imagen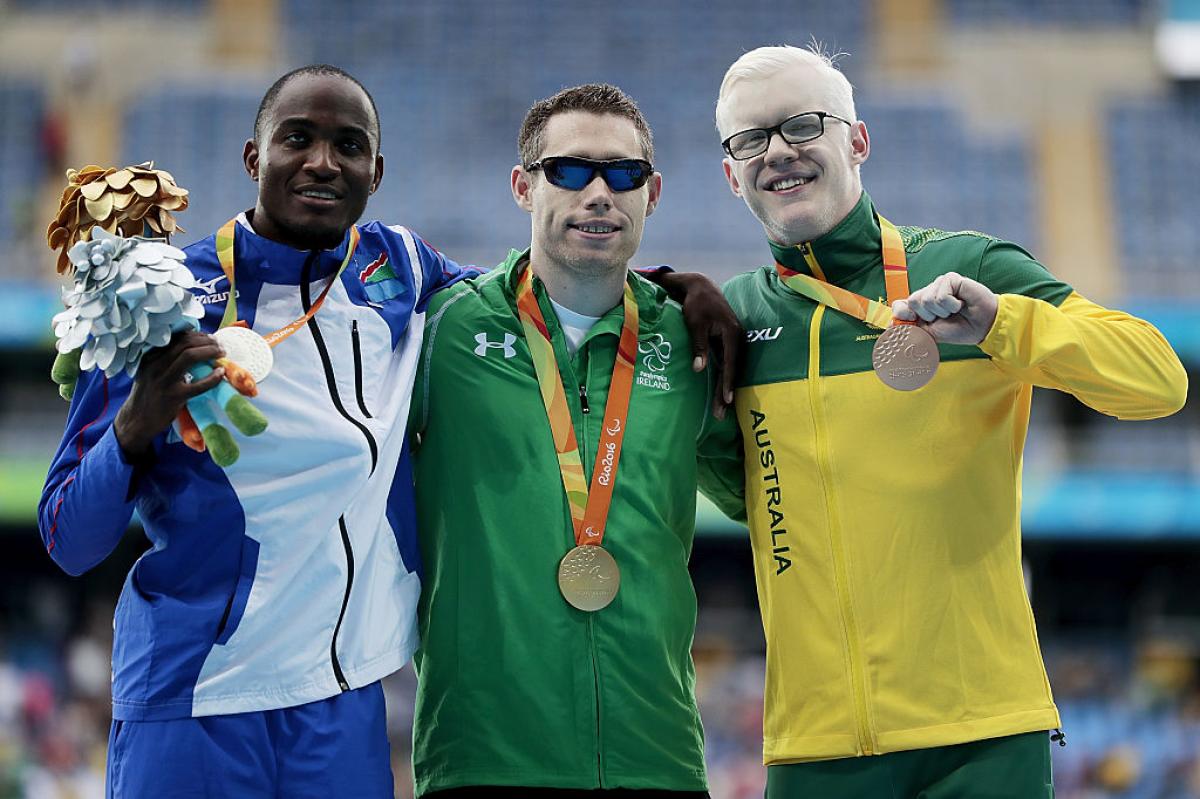 By IPC
Jason Smyth may be the fastest Paralympian on the planet, but Australian Chad Perris is one athlete determined to make his mark when it comes to the T13 sprints at London's World Para Athletics Championships, which start on 14 July.
We asked Perris – who won 200m silver and 100m T13 bronze at the 2015 World Championships, then 100m T13 bronze at Rio 2016 - just what it is like to be racing against the Irish star who has dominated the field since he first won double world sprint gold back in 2006.
IPC: What are your memories of your debut race at the 2013 World Championships, when you faced Smyth for the first time?
Perris: Coming in to it I knew what a great athlete he was and I've learned over my years of competing and racing against him that I know he is an absolute legend in our sport. Being the fastest Paralympian in history he's always going to be extremely hard to beat. I know that over time I'm going to be getting better - all I can do is concentrate on my lane and execute my race properly. If I can get that one out then I'm confident that one day I can get close enough to pip him on the line.
Smyth has won five Paralympic and five world titles - how do you deal with racing against someone who has never been beaten at a major event?
I just go out there with my own goals – my best is 10.83, if I can get below that I'll be happy with my championships. If I can run a personal best that's as good as I can do.
What has Smyth got that you want?
He has the titles at the moment. He's the Paralympic and the world champion – obviously that's a title everybody is there for. We don't go to a World Championships to finish in a losing place. Everybody is there to win. If I can one day get that winning title, that's what I want.
Jason's technique is regarded as one of the best in the business - do you watch videos of your races together?
I do, and I look not only at myself but at how other people race and what I can take out of what other people are doing. They may or may not be better or faster, male or female - it's always good to look at what other people do.
Jason doesn't really look like a sprinter when you walk up to him, but the way that he runs and how he uses his body when he runs is impressive. If I can take a part out of anybody's race that's great, that's what I'll try and do just to make mine better.
What are your strengths?
Definitely my ability to finish a race. My start is a weakness of mine and the first thing about knowing your strengths is being able to identify your weaknesses. I've been trying to work on my starts and I'm getting out the blocks a lot better. Even between my heat and my final in Rio they were two very different races – I got a poor start in my heat race and I was lucky enough to be able to come over the line first in that one. I did look at that race and have a think about it overnight. The next morning I was able to come out and execute a reasonably good start. Just being able to get over that line with my best time to date was quite good.
What about Namibia's Johannes Nambala, Paralympic silver medallist?
He's got me on the line twice now with two very close races. In the 200m in Doha he beat me by centimetres for gold and he beat me by centimetres again for the silver in Rio. I'm definitely going to be attempting to get over the top of him and I told him the last time I saw him when we were in the medal ceremony in Rio. We were having a joke around and I said that he's got me twice now and I'll have to get him on the next one – I've got to hold my word on that one.
The only thing we can't promise in London is good weather – as an Aussie how will you deal with that?
Well I am based in Canberra which is one of the coldest places in Australia during winter. That's why we went to the Gold Coast, because of how cold it is in Canberra. But if they can turn on a nice 35 degree day I'll be happy with that. The hotter the better!