London 2017 Head-to-Head: Petrucio Ferreira
Brazil sprint sensation on challenge of having a good friend as his main rival.
05 Jul 2017
Imagen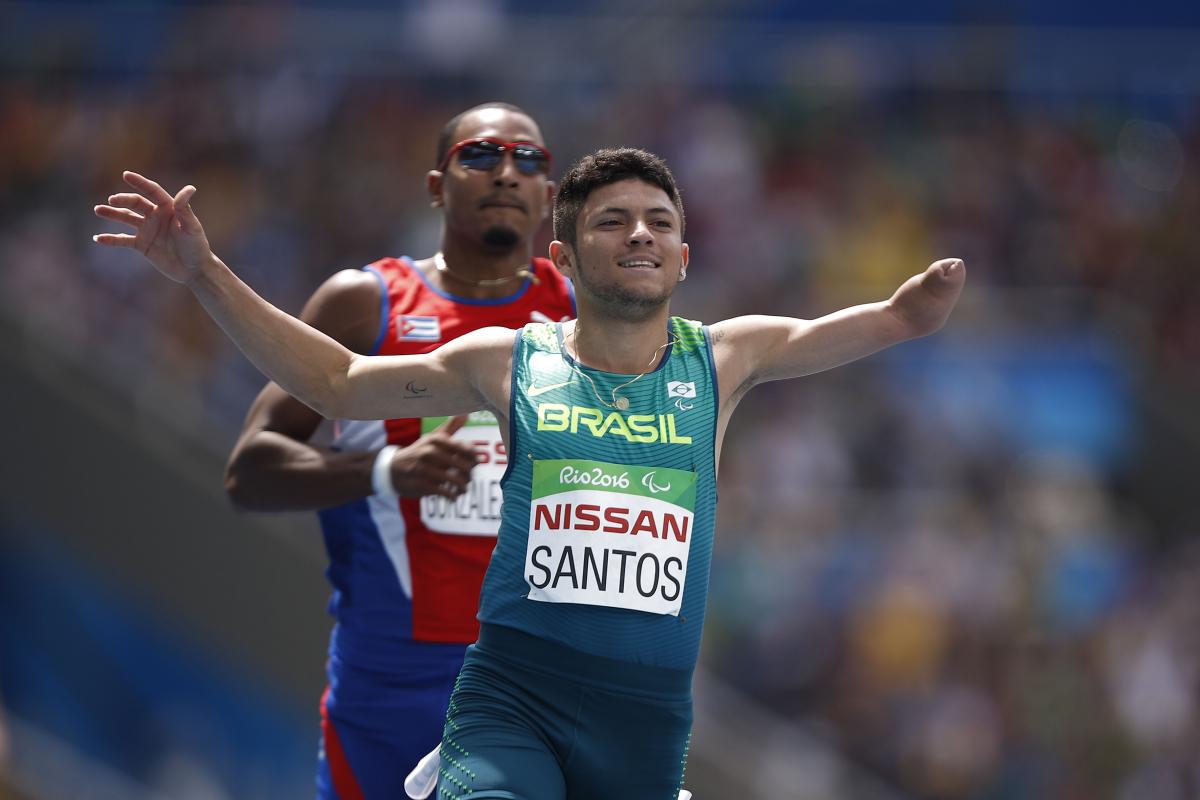 ⒸWagner Meier for the IPC
By IPC
Brazil's young sprint star Petrucio Ferreira struck gold at his home Games in 2016, smashing the 100m T47 world record twice on his way to claiming the Paralympic title.
The 20-year-old saw off his teammate, 2011 world champion Yohansson Nascimento, as well as Poland's two-time world champion Michal Derus – the trio meet again at the World Para Athletics Championships which get underway on 14 July.
Ferreira, who lost his left arm below the elbow aged two after an accident with machinery on his father's farm, also won 400m T47 and relay silver at Rio 2016. London 2017 will be his first chance to go for global gold after he missed the 2015 World Championships due to injury.
For Nascimento, a return to London will no doubt stir mixed emotions. The 29-year-old made headlines at the Games in 2012 when he proposed to his girlfriend after winning 200m T46 gold by unfolding a written note and displaying it to a television camera. Days later he injured his hamstring during the 100m - he brought the crowd to their feet as he limped tearfully, but determinedly, to the line.
IPC: How much did your Rio experiences mean to you and what did you learn there?
Ferreira: My medals mean that it was worth it not to give up on my dreams. I had this dream of representing my country - I have achieved just that last year in Rio 2016, where I got those three medals. The legacy the Games left on me was all about not giving up, always fighting until the end.
Can you remember your first race against Nascimento?
The first time I competed side by side with Yo was in my first Brazilian Championship, in 2014. I was a bit nervous because I had watched on TV what he had done in London 2012, so racing him gave me goose bumps at that time. I was competing against someone I really looked up to, he was my role model. He was also way more experienced that I was, so it really made me feel nervous back then.
Do you get on well?
Yes, we are really good friends. He has always mentored me with his experience, telling me of what he has been through in all those years representing Brazil around the world. He taught me to always keep my head up no matter the situation. We always have to keep going forward.
What is it like racing against a fellow Brazilian?
This is a hard question, because racing against a teammate, another Brazilian, representing the same flag, is hard. I don't train with him, so I hardly know how well he is going into a competition. We just try to give our best efforts every time around. It is a hard part of our job to try to beat someone who represents the same country you do.
Did you watch his races in 2012?
Yes, I had watched his feats in London 2012 so I knew what he was capable of. This motivated me even more, because I had a teammate who was more experienced and could give me a blueprint of how I should handle my career. There are some things I am still figuring out, so it is a pleasure to be around him.
What have you learned from him and what do you admire about him?
The main thing he taught me was about how to approach a competition. You need to stay calm and never allow a rival to get into your mind. I think happiness, sympathy and humility are what stand out about him.
Do you feel you can follow in his footsteps?
Not only do I believe I can, but I also think we can keep doing it together for a long time.
As for Derus - what do you make of him?
Michal Derus I would say is someone we really have to be aware of, because the guy is definitely fast.
What do you think it will take to win in London?
It is going to take probably the best times of life both in the 100m and in the 200m. I will really have to lower my marks or get really close to it if I want to get those world titles.