London 2017 Head-to-Head: Rheed McCracken
Australia wheelchair racer on facing four-time world champion Walid Ktila
01 Jul 2017
Imagen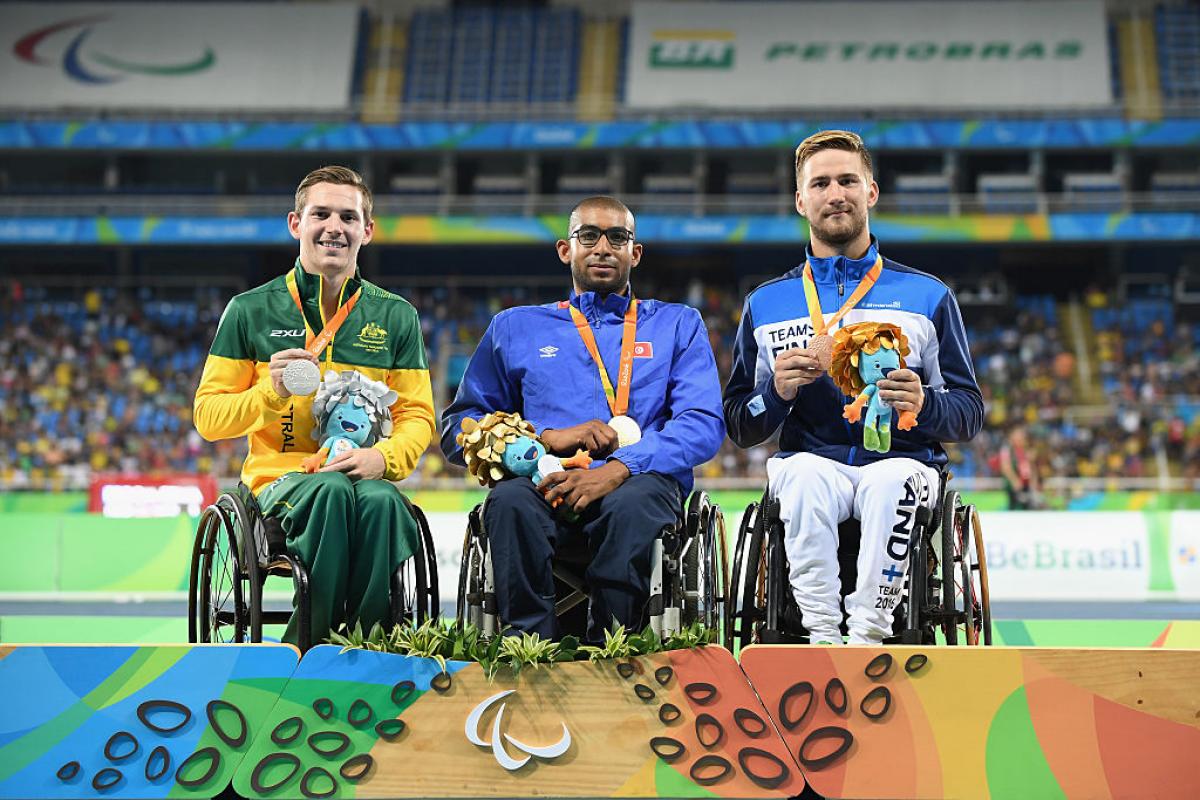 ⒸAtsushi Tomura - Getty Images
By IPC
With less than two weeks to go before the start of the World Para Athletics Championships, we take a look at some of the big rivalries expected to unfold at the London Stadium.
Kicking off the series is Australian T34 wheelchair racer Rheed McCracken, who faces the likes of Tunisia's 31-year-old track star Walid Ktila – the most successful Para athlete from the 2015 World Championships, with four individual titles to his name.
At the London Games in 2012 Ktila won two golds and McCracken – then just 15-years-old – clinched 100m T34 silver and 200m T34 bronze.
Four more medals followed for the promising youngster at the World Championships in 2013, but he failed to finish on the podium in Doha, Qatar, two years ago. However McCracken believes that experience made him hungrier for success – he went on to secure 100m silver and 800m bronze at Rio 2016.
IPC: When did you first race against Walid Ktila?
McCracken: The first time was in 2012 in Switzerland and I actually got a win. I was pretty young – I was 15. The next time that I ended up beating him was 2014 in Switzerland again, and I was able to win in 2016 and 2017 in Switzerland too. So it seems like I just haven't been able to get my timing right in terms of major championships! But eventually my time will come, I'm hoping – that's what we are working for.
When you began racing were you aware of him?
I had no idea. I came in to the competition completely unknown and it wasn't until after London 2012 that I started to realise that he was a very strong athlete. But when I line up against him I don't look at him as being any stronger than me. I'm doing what I need to do and I know in myself that I can be a strong athlete too.
Ktila has won eight world titles; at Rio 2016 he won 100m gold, but suffered a rare defeat and had to settle for 800m silver.
What's it like racing against someone of that calibre?
McCracken: I think we all knew that he could be beaten it's just that the competition is getting faster and stronger. He's been at this level for so long and I have a mountain of respect for him and what he's been able to achieve. But eventually people are going to catch up and I think he knows that as well. I think at the World Championships we are going to see the strongest Walid Ktila we have ever seen and I think it's going to be the job of everyone else to be as strong - if not stronger.
At 20-years-old you are one of the youngest in your class – does that make a difference for you?
Careers are getting longer but I don't know if it makes any real difference, I think everyone is pretty equal. In some races there may be certain things that a more mature mind is better at - sometimes we make crazy decisions that are just down to being young and inexperienced. But over 100m it is much of a muchness, I don't think being 20 or 30 makes too much of a difference.
What are Ktila's strengths, and what are yours?
His strengths are his confidence and power; his speed over the distance. He's an all-round good athlete and that's why he's got what he's got. But everyone is beatable. I love the pressure of racing. We train very hard for those moments and I just enjoy it. Walid has been able to bring out the best in me, competition wise. He's been able to push me to personal bests and world records.
You broke Ktila's 100m world record in Switzerland earlier this year - how much confidence has that given you?
It does give me confidence but records are there to be broken and I know eventually someone potentially will go faster. I think a gold medal is more than a world record as no one can take that away from you.
How important was it to race in Switzerland and check out your opponents before London 2017?
It's always a great chance to see where everyone is at so I was really happy we got the chance to race there. There were surprises - I surprised myself! But for the 100m I was pretty happy with where everyone was at and where I was at.
What do you make of Mohamed Al Hammadi, the new 800m T34 Paralympic champion?
He's another great athlete. His 800m is absolutely on fire. He's definitely going to be one of the favourites in the 800m - he's got the world record and he's pushed to a whole different level of speeds in that event.
What will it take to win in London?
In the 800m, a good start and a well put together race I think will be what we need to get there. I don't know what will happen but I do know that it'll be fast and it'll probably be pretty tactical. I won't say what I think is going to happen – but I'll be ready for all scenarios.