London 2017 Head-to-Head: Jo Butterfield
GB thrower on facing rival Rachael Morrison in front of her home crowd.
03 Jul 2017
Imagen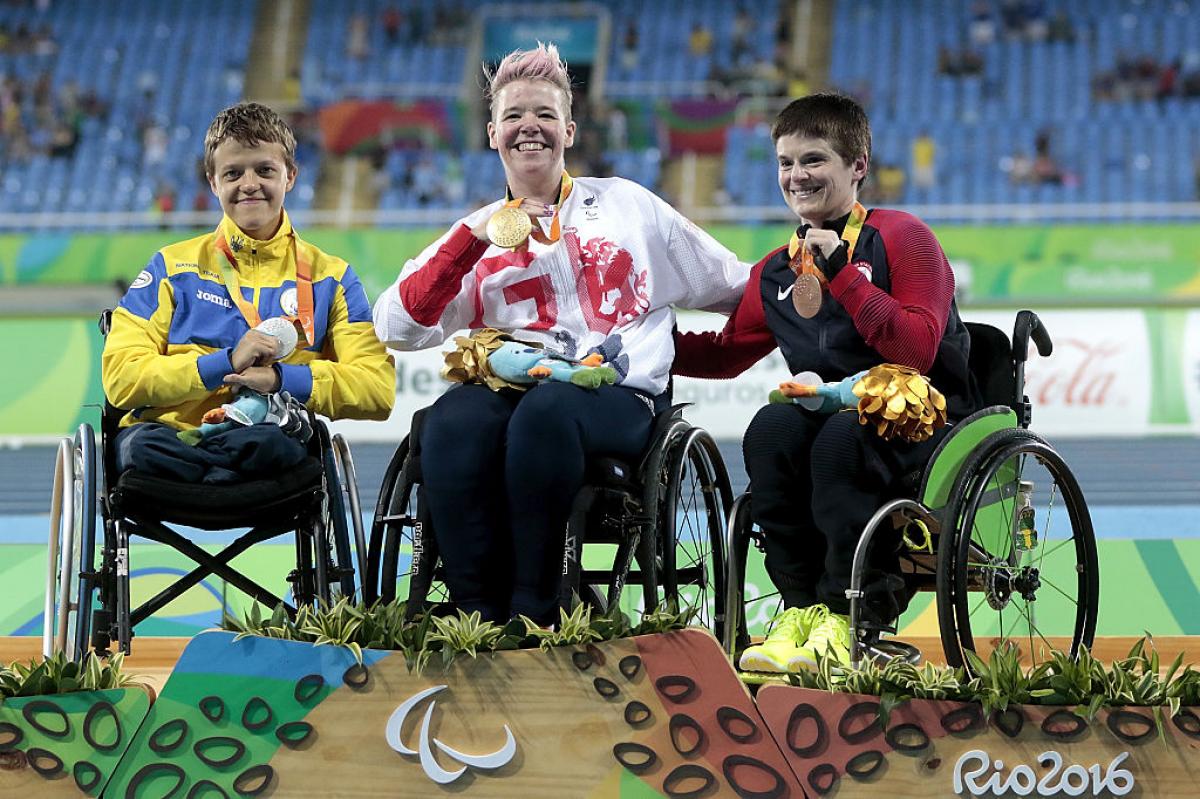 ⒸGetty Images
Great Britain's Jo Butterfield goes head to head with US Para athlete Rachael Morrison in the club throw F51 on Friday 14th July – the first day of competition. The question is, who will win?
Butterfield, 38, is the reigning world and Paralympic champion - after missing the early part of this year due to injury, she returned to competition last month and threw a personal best of 23.46m.
Morrison, who won club throw silver behind the Briton at the last World Championships in 2015 meanwhile threw a massive world lead 23.82m in April this year. The 30-year-old is also the reigning world and Paralympic discus F52 champion. The stage is set for another thrilling encounter.
IPC: How tough is it going to be at the World Championships?
Butterfield: When you look at the rankings and what happened in Rio (Butterfield won gold with 22.81m, Ukrainian Zoia Ovsii took silver with 22.21m and bronze went to the USA's Cassie Mitchell with 21.84m), there are four people there who could easily win that gold medal. But I know I'm the one that's consistent, I know I'm the one that's got the home crowd and that's going to spur me on. And my aim is to throw a big one out there.
Do you pay any attention your rivals throughout the season?
Yes and no – you can't not. You see it splashed on social media that someone has broken a world record – it's there. I do know what's going on but I also know that I am my own rival. I can only do as good as I can do and I'll do my best. I can't control them. At the end of the day if someone throws further than me it is because they're better. I can make sure that I'm in the best place that I can be and hopefully that will be the furthest.
How did you feel when Morrison threw a world lead 23.82m earlier this year?
I'm not going to lie, it was a bit of an 'Okay then, this is not going to be easy' moment. But I do like it, I like that challenge and I like that competition. It makes me appreciate what I do, it makes me realise that I've got to work hard – it's extra motivation. I've had a really unsettled year which is frustrating, but the distance that has been thrown by Rachael doesn't scare me. It's going to be a push, it's going to be a challenge, but I'll see what happens.
You both began throwing in 2014 – what is it like developing as athletes alongside one another?
It's pretty freaky really, the fact we started around the same time. We are quite similar but quite different as well. It was a bit weird because I came from nowhere and was throwing what would have been world records, and then I got classified and the week after she went out and threw a massive world record. I was like 'Come on, give us a chance!' – I'd never heard of this person before which was a bit weird. But it just shows how much the event has come on.
What are both of your strengths?
Rachael is very relaxed, which I think is a very strong point. You can see when she goes in she enjoys what she does. She has a long lever – she has long arms; she's naturally physically built for the event which is definitely a bonus. It means she can launch it pretty far. Rachael is very good at a big throw, and you know it's there at any time. That's the danger; it could always happen. But from a consistency point of view if you look at the results across the years and the different competitions, then I'm solid, which gives me confidence.
Do you get on?
We get on quite well which is great. When I'm out on the field I do try and keep myself to myself but as soon as we are finished we will chat. I think we are both pretty similar in that we enjoy what we do and we do it for that reason first and foremost. But she's getting big – she's got strong, you can tell that. She's definitely been working in the gym I am sure; her discus is phenomenal. There is no way she is just doing it for fun. She's definitely out to win it – we all are.