Lyon 2013 - Day five evening review
Mandy Francois-Elie brought the home crowd to its feet at the 2013 IPC Athletics World Championships in Lyon, France.
25 Jul 2013
Imagen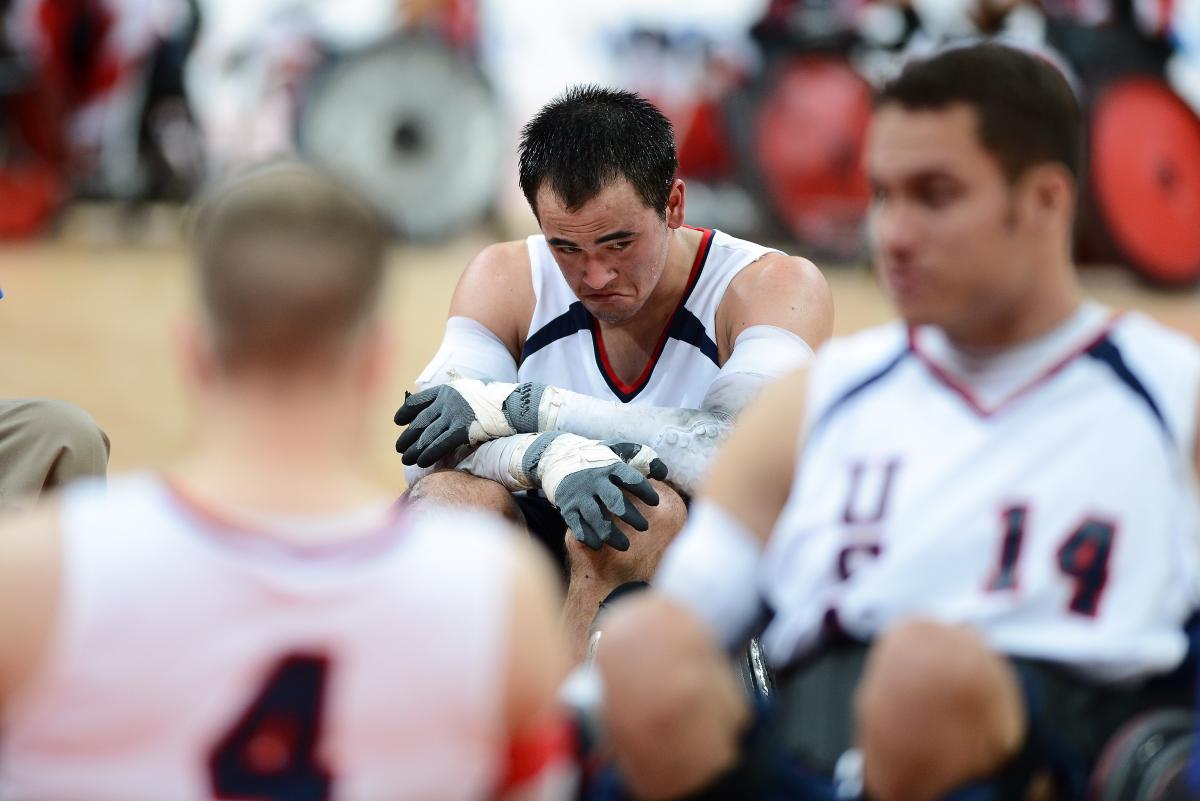 ⒸGetty Images
By IPC
"I am euphoric. It has been another really tough race. I made it with the amazing support of the crowd. My family and friends were here to support me and it gave me strength to do it. I hope to win more medals and cannot wait for the next Paralympics in Rio."
Mandy Francois-Elie brought the home crowd to its feet at the 2013 IPC Athletics World Championships in Lyon, France on Wednesday (24 July) by winning her second gold medal for the host country with a blistering 100m T37 run.
The 23-year-old showed the form that won her London 2012 gold in this event by demolishing the field with a time of 13.72 seconds. Although it was fractionally outside the championship record she set in yesterday's heats it was more than half a second ahead of Germany's Maria Seifert (14.30) in silver and bronze medallist Johanna Benson (14.35) of Namibia.
"I am euphoric. It has been another really tough race," said Francois-Elie, who also won 200m gold on Monday. "I made it with the amazing support of the crowd. My family and friends were here to support me and it gave me strength to do it. I hope to win more medals and cannot wait for the next Paralympics in Rio."
In a session dominated by sprints, a new star was born in the form of Great Britain's Sophie Hahn in the women's 100m T38. Competing at her first major international event, the 16-year old, who won 200m silver on Monday, showed the composure of a veteran sprinter to win gold and smash the world record with a 13.10 run. She beat her Brazilian rival Veronica Hipolito (13.26), the previous record holder, who never recovered from a poor start. Bronze was won by China's Junfei Chen (13.55).
"I cannot believe it, I am so happy!" said Hahn who celebrated victory with a "guns salute" made famous by British team captain Richard Whitehead. "I need to thank my coaches, without them it would not have been possible. I cannot wait to go home and tell all my friends I did it!"
Swiss 'Silver Bullet' Marcel Hug said he was back to his best after he showed the tactical knowhow of his absent British rival David Weir to win a thrilling 5,000m T54 race, his third gold from four events. He was part of a breakaway group of three and with 300m to go kicked for home successfully to take gold in 10:20.16, a championship record.
"I am really happy. It's been an interesting race. The pack stayed together but at the end I had the better sprint," said Hug who finished ahead of Japan's Kota Hokinoue (10:20.95) and Australia's Richard Colman (10:24.09).
The closest race and finish of the day was in the men's 100m T46 when just 0.06 seconds separated the three podium finishers and the top five were within 0.20 seconds of each other. Poland's Michal Derus won in 10.93, a championship record. He was marginally ahead of Australia's Michael Cole (10.96) and Yohansson Nascimento (10.99), the Brazilian 200m world champion.
Germany's Paralympic champion Markus Rehm arguably put in the performance of the day leaping out to 7.95m to not only break his own long jump F44 world record by 60cm but to beat his closet rivals by over one metre.
"I never ever thought such a jump was possible. I always said maybe sometime in the future it might be possible to jump close to 8m, but not now. I knew I could jump the 7.50m, but that, I just can't believe it. It was the perfect jump," said Rehm whose leap would have given him a top ten finish at the last IAAF World Championships.
Silver and bronze were won by Ronald Hertog (6.78m) of the Netherlands and Poland's Maciej Lepiato (6.49m).
The afternoon started with two 200m races which saw Russian winners complete the sprint double.
In the T36 class three-time London 2012 Paralympic champion Evgenii Shvetcov cruised to a championship record 24.69 seconds. His time was just 0.04 outside the world record but was enough to see off Ukraine's Roman Paylyk (24.99) and Hong Kong's Wa Wai So (25.20).
In the T37 class Andrey Vdovin broke new ground by becoming the first man to go under 23 seconds in his class. The 19-year-old ran 22.77 to beat the previous world record holder Fanie Van Der Merwe (23.16) of South Africa and Algeria's Sofiane Hamdi (23.45) into second and third.
As expected the men's 200m T38 went to form with four-time Paralympic champion Evan O'Hanlon storming home in a championship record time of 21.95 to complete the double double, having won the 100m and 200m world titles in 2011. South Africa's Dyan Buis (22.85) took silver while Great Britain's Lee Whiteley (23.00) was delighted with a personal best and a bronze medal.
Canada's Brent Lakatos was in sensational form in winning his second gold of Lyon 2013 in the men's 200m T53. His time of 25.46 took more than half a second off his own championship record set in Tuesday's heats. China's Huzhao Li (26.66) took silver and France's Pierre Fairbank (26.84), who shaved 0.01 off his personal best, was a popular bronze medal winner with the home crowd.
The men's 200m T54 was an absolute classic with London 2012 400m silver medallist Kenny van Weeghel (25.10) coming out on top against 100m Paralympic champion Leo Pekka Tahti (25.51) of Finland. Bronze went to Thailand's Saichon Konjen (25.58).
Russia's Artem Arefyev, who was beaten on the line earlier in the week by Paul Blake in the 800m T36, got revenge by smashing the British runner's 1,500m world record. The 29-year-old's golden run saw him finish in 4:32.89, almost 20 seconds ahead of his teammate Pavel Kharagezov (4:51.17) who won a sprint finish to the line to beat Spain's Jose Pampano Cillero (4:51.91).
The men's 1,500m T38 saw Michael McKillop complete the middle distance double as he did at last year's Paralympics and also the 2011 World Championships. Having won the 800m on Sunday, McKillop was unchallenged from two laps out as he strode to victory in 4:10.17, a new Championship record. Silver went to Tunisia's Abbes Saidi (4:12.78) whilst a personal best was good enough for 17-year-old Australian Deon Kenzie (4:14.21) to take bronze.
Walid Ktila of Tunisia completed the sprint double winning a thrilling men's 100m T34 in 16.07 seconds. Silver and bronze went to Australia's Rheed McCracken (16:29) and Stefan Rusch (16.62) of the Netherlands.
China, who topped the London 2012 medals table, took only their fifth gold of Lyon 2013 when Guohua Zhou broke her own championship record with a time of 12.19 in the women's 100m T12. Britain's Libby Clegg (12.23) and Ukraine's Oxana Boturchuk (12.30) took the other podium positions.
The women's 100m T13 saw Olena Gliebova win gold in 12.32, a championship record. South Africa's Ilse Hayes (12.60) had to settle for silver as she did in London 2012 whilst Paralympic champion Sanaa Benhama (12.77) could only manage bronze this time round.
Clearly inspired by watching teammate Francois-Elie from the field, France took a third gold of Lyon 2013 in the men's javelin F44 courtesy of Tony Falelavaki (54.39m). Cape Verde's Marcio Fernandes (53.87m) and Iran's Ali Omidi (51.89m) took the other podium positions.
There was a world record in the women's club throw F31/32/51 when F32 athlete Maroua Ibrahmi of Tunisia landed a distance of 24.15m (1030 points). Canada's Becky Richter set an American F51 record (15.00m/1018 points) and Britain's Josie Pearson (14.01m/951 points) set a personal best for bronze, her second Lyon 2013 medal.
A season's best throw of 12.23m (1,000 points) earned Kamel Kardjena gold in the men's shot put F32/33. In an Algerian one, two, three Karim Betina (10.37m/976 points) took silver and Mounir Bakiri (10.13m/965 points) bronze.
After five days of competition Russia stand atop the medal standings having won 29 medals, including 13 golds.
The 2013 IPC Athletics World Championships, featuring over 1,000 athletes from nearly 100 countries, runs through until Sunday 28 July. It is the biggest gathering of international athletes since London 2012 and is being streamed each day live via www.ParalympicSport.TV.
Live results can be found at the Lyon 2013 IPC Athletics World Championships website whilst updates and behind the scenes pictures can be found at twitter.com/IPCAthletics and facebook.com/IPCAthletics. More pictures can be found at flickr.com/photos/ipc-athletics-lyon2013.