Lyon 2013 - Day seven evening review
Popow and Reardon to share gold after sensational 100m battle.
27 Jul 2013
Imagen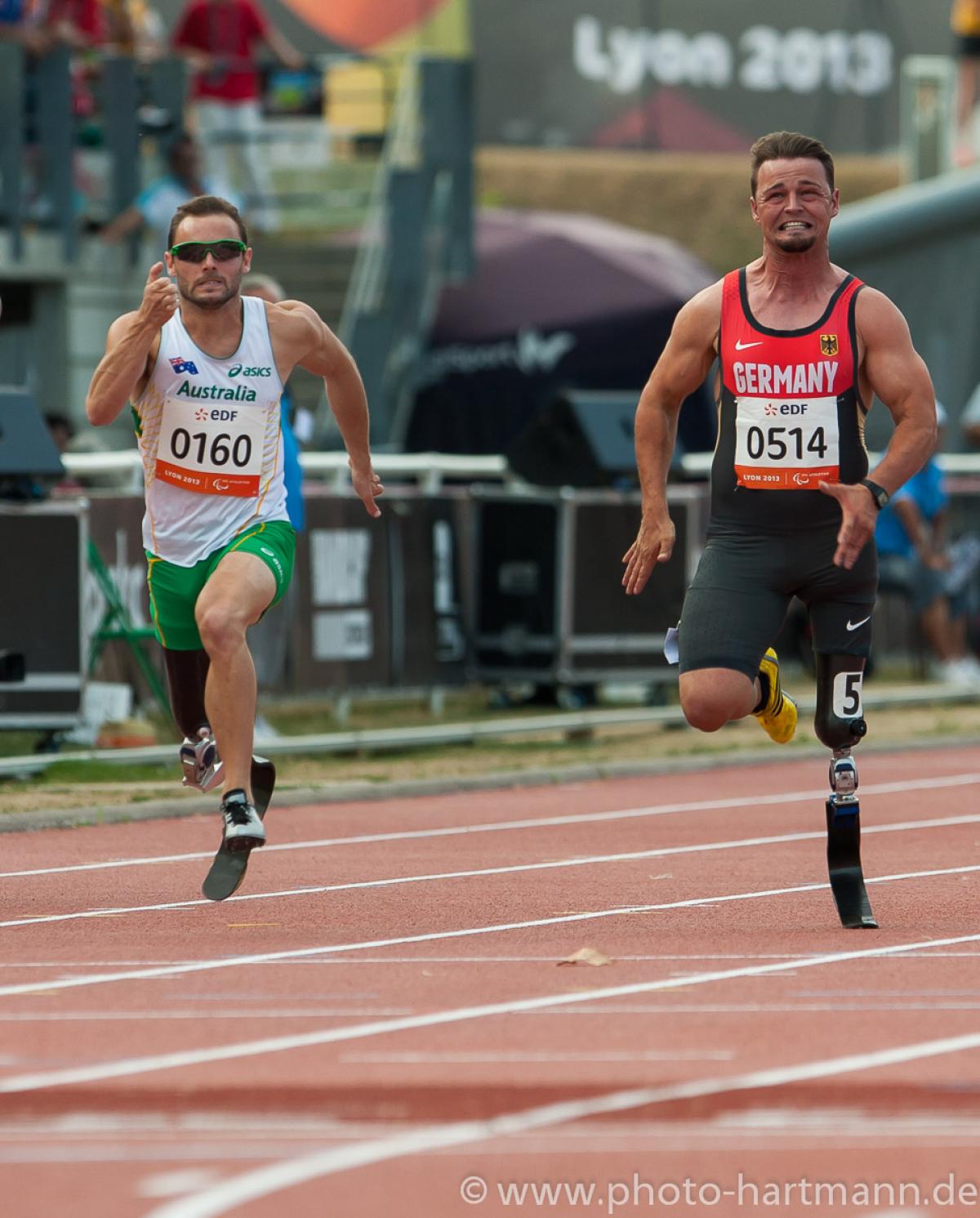 ⒸMarcus Hartmann
By IPC
Germany's Paralympic champion Heinrich Popow and his great rival Scott Reardon of Australia shared the spoils in a thrilling 100m T42 race at the IPC Athletics World Championships in Lyon on Friday 26 July.
Both athletes clocked 12.68 in the windy conditions and endured a nervous wait as the positions were decided. Reardon had started well and held a slim lead as the pair battled hard towards the line.
But with gritted teeth and just metres remaining, the German defending champion fought back and dipped shoulder to shoulder alongside Reardon.
The title was initially given to Popow, although following an appeal by the Australians, both runners were awarded gold.
Speaking immediately after the race, Popow said: "Lucky win, the competition with Scott made me go faster. If it keeps going this way it's going to be a tough future for me."
There were no fewer than four hat tricks won on the seventh afternoon of competition, with Brazil's Alan Fonteles Cardoso Oliveira picking up his third gold after clocking 48.58, a championship record in the 400m T44.
The 20-year-old powered down the back straight like he had done in his semi-final, but kept enough in the tank this time to finish comfortably clear of Americans Blake Leeper and David Prince, who took silver and bronze respectively. On crossing the line Prince was told his wife was in labour.
"I was so happy when I crossed the line and I saw the time," said Oliveira. "To run 48 when I don't train for this distance was great. I bet my coach now asks me to do more 400 metres.
"After what I did on the 200m, I was very happy with myself and very confident for the 400m. I only realised when I looked at the big screen and saw my opponents so far behind that I could run 48 seconds. I'm completely thrilled to go back home with three golds."
Brent Lakatos clinched his third victory in Lyon with a win in the men's 100m T53 final. The Canadian clocked a championship record 14.51 into a strong head wind to finish 0.04 off the world record held by Great Britain's Paralympic champion Mickey Bushell who finished with silver.
"Wow, one silver and three golds!" exclaimed Lakatos. "I made a very fast start and gave everything in the last 20m. I had a very specific training for this race with a focus on the power I can develop. Everything went as planned as I will come back stronger for the next Games."
Evan O'Hanlon smoothly made his way round the track in the men's 400m T38 final to take his third gold of the Championships in 50.55.
The 25-year-old looked in complete control as he went one better than his silver medal position two years ago, with South Africans Dyan Buis and Union Sekailwe taking silver and bronze.
Egvenii Shvetcov made it a hat trick of gold medals as he added the 400m T36 title to the 100m and 200m crowns he picked up earlier this week.
The Russian was made to work hard though by Great Britain's 800m T36 champion Paul Blake, crossing the line just 0.45 seconds clear in 56.27.
With the Paralympic champion Marieke Vervoort of Belgium absent in the women's 100m T52 after injuring her shoulder in a crash with Stilwell in the 800m earlier this week, it was a straight forward win for the Canadian.
Stilwell, accelerating away from the field to win in a time of 20.45, into a strong headwind, returns to the track tomorrow in a bid to secure her third gold of the Championships.
"I'm so moved!" she exclaimed. "I came to win the gold medal. I've been quite bothered by the wind that slowed me down, but finally the victory is mine."
Flying Finn Leo Pekka Tahti made amends for his 200m defeat to Kenny van Weeghel two days ago when he beat the Dutchman to the line in today's 100m T54 final.
Tahti, who set a new world record in taking Paralympic gold last year, stopped the clock in 14.11. Van Weeghel had to be content with silver this time (14.33) with Marc Schuh clinching bronze (14.70).
"I did exactly what I wanted here in Lyon, I did a perfect race. This is not a very fast track and with the wind we had this afternoon this victory tastes a lot better," said Tahti.
Brazil made it a one-two in the men's 100m T11, with the world record holder and defending champion Lucas Prado taking the title in 11.45 to add to the 200m he won on Sunday (21 July). Compatriot Felipe Gomez took silver with Ananias Shikongo of Namibia taking bronze.
Sanaa Benhama of Morocco took the title in the women's 200m T13 with a season's best 26.42.
Gunther Matzinger recorded a season's best of 49.45 to improve on his silver from 2011 and take gold home to Austria in the men's 400m T46. Ettiam Calderon of Cuba took silver with a personal best 49.68, with bronze going to Sri Lanka's Pradeep Uggl Dena Pathirannehelag.
"I'm so tired," said Matzinger. "I suffered a lot from the heat, the last 100m looked like hell but I stayed focussed on the finish line."
Chermen Kobesov ran a brilliant race in the men's 400m T37 final to take victory in world record time (51.88). Just 17-years-old, the Russian showed great maturity as the South African pair Fanie van der Merwe and Charl du Toit raced ahead at the gun.
With 200m to go Kobesov hit the accelerator and raced for home, leaving Algeria's Sofiane Hamdi and du Toit to take silver and bronze respectively.
Swiss Silver Bullet Marcel Hug punched the air as he crossed the line to take his fourth gold of the Championships, winning the 1,500m T54 in 3:08.16.
The 27-year-old had stayed tucked in behind Korea's Gyu Dae Kim for most of the race, before striking for home with 250m remaining. Thailand's Rawat Tana and Japan's Masayuki Higuchi completed the podium line up.
"It means a lot to me, I made a perfect race," he said. "This is actually my favourite distance, very tactical. I'm very happy tonight."
In the field events, Mohamed Mohamed won Syria's first gold of the World Championships with victory in the men's shot put F56/57. His throw best of 14.12 (989) came in his final attempt, and marks a new championship record.
It was also gold number one for Chinese Taipei, as Chih-Chung threw a personal best of 59.29m in the javelin F12/13 to clinch gold ahead of a talented field that included all three medallists from New Zealand.
Alphanso Cunningham earned Jamaica's first Championship gold as he won the men's javelin F52/53 in style, breaking the defending champion's Abdolreza Jokar world record with a best of 24.30 (1105 points). The Iranian took silver with 21.28 (953 points).
Liu Fuliang made it a 'double double' as he set a new championship record to take the triple jump T46 title alongside the long jump crown he won on the opening day of competition.
The 21-year-old also won double gold at the Paralympic Games last year and underlined his dominance in with a best of 14.76m today, a new championship record.
Ewa Durska of Poland clinched her second consecutive world title with victory in the shot put F20. The 36-year-old threw 13.18m, the only athlete to go beyond the 12m mark, to add to the Paralympic gold she won last year. Xia Dong set a new championship record of 16.15m to add the world title to her Paralympic gold from 2012 in the shot put F37.
South Africa's Hilton Langenhoven won the long jump F12 with a best of 7.28m, whilst Brazil's Jonathan Santos took the title in the discus F41.
The 2013 IPC Athletics World Championships, featuring over 1,000 athletes from nearly 100 countries, runs through until Sunday 28 July. It is the biggest gathering of international athletes since London 2012 and is being streamed each day live via www.ParalympicSport.TV.
Live results can be found at the Lyon 2013 IPC Athletics World Championships website whilst updates and behind the scenes pictures can be found at Twitter.com/IPCAthletics and Facebook.com/IPCAthletics. More pictures can be found at Flickr.com/ipc-athletics-lyon2013.