Lyon 2013 - Day six evening review
McFadden the master as she wins her fourth and fifth world titles.
26 Jul 2013
Imagen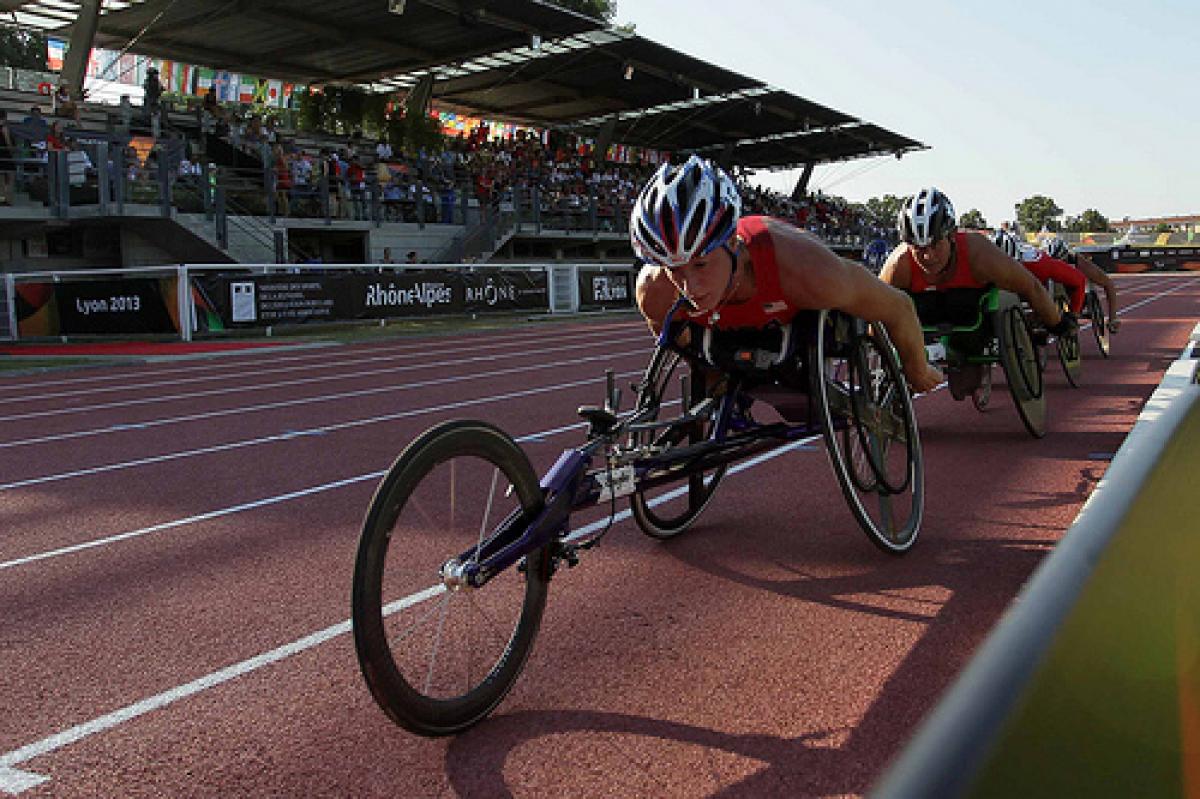 ⒸG-Picout
IPC
American track star Tatyana McFadden made it a spectacular five out of five – with one to go – as she clinched gold in the 1,500m and 100m T54 on the sixth day of competition at the IPC Athletics World Championships.
The 24-year-old has already won gold in the 200m, 800m and 5,000m at Lyon 2013 and just has the 400m remaining as she aims to secure a remarkable six world titles.
Racing the 1,500m first, McFadden took an early lead then dropped back after two laps to let her rivals take on the hard work at the front.
But it was clear she was just waiting for her moment, and that came with 300m remaining as the triple Paralympic champion cruised past three racers before pushing hard to the line in a time of 3:34.06. Wakako Tsuchida of Japan and Switzerland's Edith Wolf shared the silver medal position.
With just enough time for a quick massage and a visit to the restroom, McFadden was soon back out on track to contest the 100m T54 final.
And the 2011 bronze medallist was made to battle hard to the line, after China's Wenjun Lui tore off at the gun. But the American's power and determination brought her through just in time, stopping the clock at 16.42.
"It's unbelievable!" said McFadden. "Today was my toughest day with the 100m and the 1,500m which are two very different races requiring different focusses.
"I knew the 1,500m would be hard and exhausting, I was feeling really tired today, it is really tough. The 100m is the hardest race for me – my start was just okay and I still need to work on it."
Raymond Martin is another American dominating his events at these World Championships, as the 19-year-old delivered yet another gold medal, his fourth so far, in the 200m T52. Martin has just the 400m left to complete his set.
"This race went well, this event is my favourite," said Martin. "I got off the blocks perfectly and after 90m I knew I would win. I was feeling confident before the race, now I have one more to go so I have to refocus. I'm looking forward to tomorrow."
Another dazzling display of sprinting by double Paralympic champion Jason Smyth meant he goes home with yet another major sprint double to add to his collection. The Irishman's blistering speed meant he broke his own championship record to win the 100m T13 well clear of the field in 10.61.
"Coming to a major championships is ultimately about winning, the times are irrelevant," said Smyth, who remains unbeaten in Paralympic competition. "I'm delighted – I've put a whole lot of hard work in to this."
Poland's Mateusz Michalski also secured his sprint double, winning the 100m T12 in 10.79 four days after taking gold over 200m.
Marlou van Rhijn of the Netherlands upset French hopes of another gold when she beat home favourite Marie-Amelie Le Fur to the top of the podium in the 100m T44.
The 21-year-old was just 0.06 seconds shy of the world record she set in Berlin last month, clocking 13.02 to take her first of two possible golds in Lyon.
"That was really cool," said van Rhijn. "I was quite nervous, it' such a competitive race and I really wanted to win. It was a tough one, because every time I start they start faster. So I have to be confident to get there in the end. Every time that happens it's such a good feeling."
Odair Santos gave a masterclass in middle distance running as he stretched the field in the 1,500m T11. The Brazilian enjoyed a convincing lead throughout, and crossed the line comfortably ahead of Cristian Valenzuela from Chile to take his country's tenth gold of the Championships.
There was a slow start in the men's 1,500m T46 with the pack staying tightly together through 800m until Australia's Michael Roeger took to the front. But the Australian couldn't hold off Algeria's Samir Nouioua and with 200m to go, the defending champion duly sped past, taking gold in 4:05.61. Brazil's Alex Pires accelerated down the home straight for silver, with Roeger having to settle for bronze.
It was Morocco's Abdelillah Mame who looked the man to beat in the 1,500m T13, starting strongly at the gun and stretching the field. But with just under 700m to go Mame pulled up, leaving his compatriots Tarik Zalzouli and Youssef Benibrahim to battle it out with Algeria's Abdellatif Baka for gold.
Baka, who won 800m T13 earlier in the week, outclassed his opposition, sprinting clear in the closing stages to cross the line in 3:53.05, a new championship record. Benibrahim went one better than his 2011 bronze, taking silver ahead of Zalzouli.
Brazil's Yeltsin Jacques put on a terrific display as he held his own against Tunisia's Paralympic champion Abderrahim Zhiou throughout the first three laps of the 1,500m T12.
But despite his valiant attempts to get the better of the world record holder, Zhiou showed his class and put his foot down with 100m to go to take home yet another gold medal.
Jacques took silver with a personal best of 4:03.52, whilst Semih Deniz of Turkey won bronze.
Cuba's Paralympic champion Yunidis Castillo tore through the field in the women's 200m T46, clocking 24.66 - 0.02 seconds faster than her own championship record - to take her second title in Lyon. In fact it was a repeat of the podium from London 2012 as South Africa's Anrune Liebenberg tool silver and Alicja Fiodorow of Poland, the bronze.
Terezinha Guilhermina's bid for a hat trick of individual gold medals at her second consecutive World Championships is still on track as she won the 400m T11 with ease. Silver went to Maria Silva of Angola with Miroslava Sedlackova of the Czech Replubic picking up bronze. Next up for the 34-year-old is the 200m semi-finals on Friday 26 July
In the men's 800m T34, Ktila Walid secured his third gold of the Championships with a win in the 800m T34. The Tunisian controlled the race to cross the line ahead of Mohamed Hammadi of the United Arab Emirates in a time of 1:51.25.
In the women's discus F35/36, Mariia Pomazan of the Ukraine bettered her own world record set in London last year to notch up Ukraine's ninth gold out in the field with a throw of 31.42 (1024 points). Qing Wu set a new F36 championship record (25.78/925 points) to secure silver, with Australia's Katherine Proudfoot winning bronze.
Spain's two-time double world champion David Casinos Sierra, who won discus F11 on the opening day of competition, was the only competitor to go over 13m in the shot put F11.
Casinos Sierra's mark of 13.07m in the second round was enough to secure gold ahead of Vasyl Lishchynskyi of the Ukraine, and Sergei Mikhalev of Russia who joined him on the podium.
"I'm really moved to earn my second medal within two shots. It has been more painful this time, but it also tastes better," he said. "I'm looking forward to the European Championships."
Russia's Alexey Ashapatov also scored a discus-shot put world double for the third consecutive time, after winning the shot put F58 title with 15.41m, whilst Great Britain's Scott Jones - only 15 years old - set a new world record in his international debut, winning the shout put F34 with 13.38m.
Lahouari Bahlaz set a new world record of 37.51m (1048 points) to retain his club throw F31/32/51 title, and Helgi Sveinsson of Iceland set a championship record of 50.98m for javelin F42 gold.
The 2013 IPC Athletics World Championships, featuring over 1,000 athletes from nearly 100 countries, runs through until Sunday 28 July. It is the biggest gathering of international athletes since London 2012 and is being streamed each day live via www.ParalympicSport.TV.
Live results can be found at the Lyon 2013 IPC Athletics World Championships website whilst updates and behind the scenes pictures can be found at twitter.com/IPCAthletics and facebook.com/IPCAthletics. More pictures can be found at flickr.com/ipc-athletics-lyon2013.com.