Making a splash: Michalentzakis surprises himself
The 18-year-old swimmer from Greece stunned the men's 100m butterfly S9 finals at Rio 2016.
04 Nov 2016
Imagen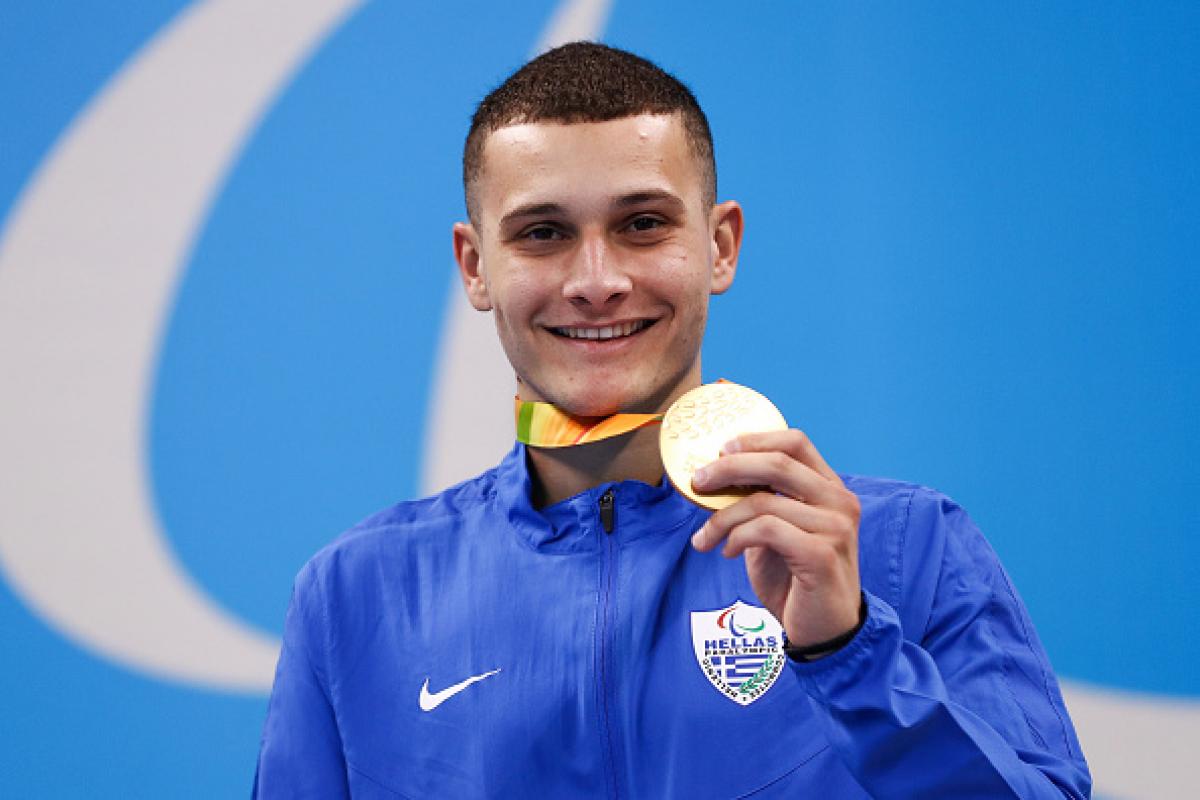 ⒸGetty Images
By IPC
"I believe the key factors for my success was hard training and good psychological support from my coach and my sister,"
Greece's Dimosthenis Michalentzakis emerged as the unexpected gold medallist in the men's 100m butterfly S9 at the Rio 2016 Paralympic Games. Not even he, nor many others, thought he would make a splash at just 17 years old.
"I did not expect to win the gold medal," said Michalentzakis, who recently turned 18 in mid-October. "So it was a great surprise even for me. But I gave it my best and at the end of my race I had still a little more to give. I'm very happy that I won and will continue to get stronger."
Rio 2016 was an experience of its own, but Michalentzakis said he still needs to compete in more events for more experience.
He is, anyway, targeting Tokyo 2020. Before then, it would be interesting to see how he follows up at the Mexico City 2017 World Para Swimming.
"Certainly my goal is to go to the Tokyo 2020 Paralympic Games," he said. "I know it is a long and difficult way until then, and I hope to be healthy and stay without injuries until then. But I am still young, I just turned 18 and I believe I will not stop in Tokyo but continue.
"The reception was huge [after Rio 2016]," he added. "When I arrived in Alexandroupli Airport and late at my hometown there where thousands of people, friends relatives and supporters but also simple people and fans that I did know waiting for me and cheering."
He missed the podium at the 2015 IPC Swimming World Championships in Glasgow, Great Britain, by nearly two seconds.
At Rio 2016, he was up against Hungary's back-to-back defending champion Tamas Sors and Italy's world record holder Federico Morlacchi, who finished with the bronze and silver, respectively.
Michalentzakis appeared to start the first 50 metres with loads of young energy, as he was coming second off the turn. And while that energy was expected to fade in the final metres, he managed to out-touch World Championships runner-up Morlacchi by a quarter of a second for the gold.
"I certainly respect my opponents," Michalentzakis said. "Both Federico Morlacchi from Italy and Tamas Sors from Hungary are very accomplished swimmers and excellent opponents. I would like to thank them for the exceptional competition.
"I believe what counts is being part of the competition and sharing this unique experience. During our race I fought with my body and soul and I wanted this medal really bad. It was the dream of my life. So I am very grateful to all that it became reality."
Michalentzakis has maternity paralysis in his right arm, and started swimming when he was very young. He wants to encourage more youths with impairments to swim, giving others like him growing up some company in the pool.
So far, the winning formula for his success have been those close to him.
"I believe the key factors for my success was hard training and good psychological support from my coach and my sister," he said.
"I believe my coach," Michalentzakis said when asked who has been the most influential in his life. "He is like a second father to me. Thanks to him I have accomplished everything and I would like to thank him."