Making a Splash: Wenpan overcomes rookie blues
The five-time Paralympic champion looks back on a series of stunning performances in 2016 and sets his sights on 2020.
23 Nov 2016
Imagen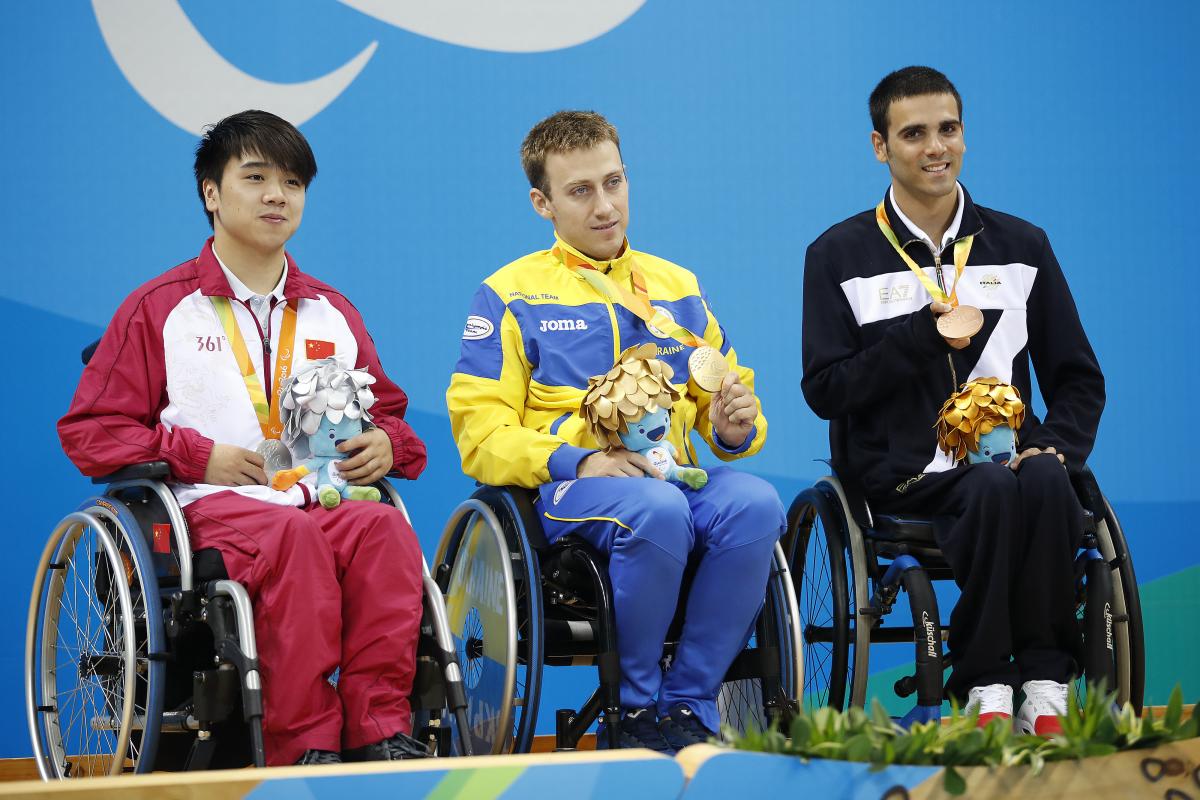 ⒸWagner Meier
By Sophie Feng | For the IPC
Huang Wenpan exceeded every expectation when he swam his way to five Paralympic titles and four world records at his international debut, becoming the most decorated Chinese athlete at the Rio 2016 Paralympic Games.
"I like the title [of most decorated Chinese athlete at Rio 2016], and I like how it reflects all the hard work, but I won't be proud of it," he said.
Dipping into the international pool for the first time, Huang admitted the road to Rio was a long and arduous one. But once racing began, his fears vanished. He just wanted to do his best and soak in the fact he had made it to Rio.
"The preparation was stressful at times, the training was difficult, but I didn't feel that nervous coming into the Games. I was in a good physical and psychological place," he said. "Brazil was also not nearly as scary as everyone had described it."
For Huang, born with cerebral palsy, the most challenging part of his Paralympic journey was the demanding schedule awaiting him at the Olympic Aquatics Centre.
As a rookie on the national team, Huang felt his lack of experience on the international stage made racing every day on multiple occasions gruelling.
"I had one day off, and then at least two races on every other day for the entire week [of competition]. Other countries' athletes had massage therapists and ice baths, but we didn't have that. I just had to grind my teeth and keep going," Huang said.
"Every day, I would wake up, eat breakfast, sit for hours, warm up, go to my first race, get out of the pool, eat lunch, nap, sit for more hours and then go back in the pool until the end of the night. I was exhausted," he said as he described his schedule in Rio.
Still, Huang prevailed, winning four of his individual events (50m and 200m freestyles S3; 50m breaststroke SB2; and 150m individual medley SM3), second in the 50m backstroke S3; and helping China break the world record in the first ever 4x50m 20pts mixed relay at the Paralympic Games. In the 200m freestyle, his time of 2:40.19 was over seven seconds faster than the previous world record, established in 2010.
"It is a strange, but funny feeling. All of a sudden, people knew who I was. People I had never spoken to came up to me. People who had looked down on me started acting like we were close friends," he said.
The pressure, the excitement and the competition are what pushed the swimmer from rural Szechuan to perform well. Ukraine's Dmytro Vynohradets closely trailing behind him only pushed him to be faster. Huang even picks his favourite event based on how challenging the race is to him.
"My favourite [event] is definitely the 150m individual medley," he said. "It's the one with the most pressure, the one I want to do the best in."
Going home after a spectacular performance under the spotlight, Huang has had to re-adjust to his post-Games life.
"I've gained nearly 20 pounds since coming back to Szechuan. A local television station interviewed me after I came back, and I briefly mentioned I love eating Chinese hot pot. Since then, every day, someone has bought me hot pot," he said.
He also faced the unexpected attitude his parents showed him when he flaunted his six Paralympic medals.
"They took them and wrapped them in plastic wrap! My medals! I still can't believe it," he recalled with incredulity.
"Once things slow down, I want to travel again. It's one of my favourite hobbies," he added. He cited Jiuzhaigou, a national reserve in Northern Szechuan that borders the Tibetan Plateau; and the Potala Palace in Lhasa, Tibet, as his favourite places to visit.
Then, the 21-year-old wants to devote himself completely to training for the Tokyo 2020 Paralympic Games.
"I vow to train even harder than I did [for Rio] and do the best that I can in the next four years, so that I can be selected to represent my country again and defend my titles in Tokyo in 2020."