Malle 2017: Van Dorpe draws on experience
Former able-bodied fencer has competitive fire that could lead to Worlds medal in one month's time
21 Sep 2017
Imagen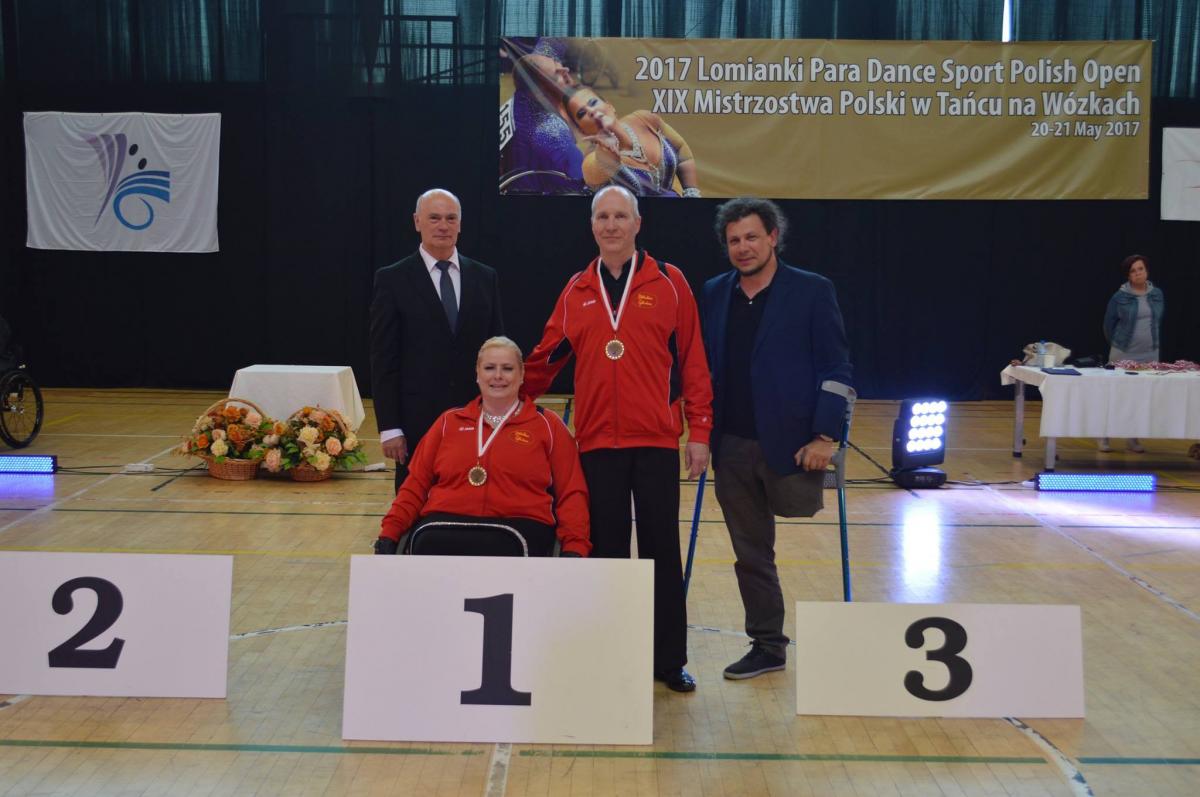 ⒸIPC
By IPC
"I prefer wheelchair dancing. It's a little more elegant"
Although youth may not be on their side, Para dancer Roswitha Van Dorpe believes her and her husband's experiences as high-performance athletes is what got them their No. 1 ranking in the combi standard class 1.
It might also give them an edge at their home World Championships in Malle, Belgium, which open on 21 October, exactly one month from now.
"We are very driven by training," the 52-year-old said. "When we go to training, we are working. My husband [Jean-Claude] is a worker. He needs more time to learn a new movement. But even if it takes 100 times, he will try it."
The couple met during a fencing World Cup competition in 1986 in Paris, France.
In 1997, Roswitha Van Dorpe was diagnosed with a severe case of Multiple Sclerosis, and a car accident that followed left her in a wheelchair. She tried wheelchair fencing, but her disease affected her left hand, which was her dominant side. During rehab, she was recommended to try wheelchair rugby or Para dance sport, both which she had qualified impairments for.
"Rugby is not my sport. I prefer wheelchair dancing. It's a little more elegant," she laughed.
While the couple had been part of a dance club in Belgium for a while, they only began competing in World Para Dance Sport sanctioned events last year.
The 2016 European Championships in Kosice, Slovakia, were their first major competition. They finished seventh in the combi freestyle class 1. Roswitha Van Dorpe took sixth and seventh in the women's singles freestyle and standard, respectively.
The first year was more for experience and getting to know the other competitors, Van Dorpe said.
This year, she saw improved results.
"It was not perfect but we did what we could do," Van Dorpe said. "We learned a lot. I had problems with orientation and things like this. But it is experience. And now that we are one year further, I think we are better now. I see it in the other competitions. It will not be easy, but we hope that we can perform what we can do."
The couple competed in three events so far this season, with their best result being third in the combi standard class 1 at May's Para Dance Sport Polish Open.
"You can dance either at 70 or 80 years old in a wheelchair and we wanted to learn to dance together at party like during the marriage of our children, something like that. So we started with wheelchair dancing," she said.
Van Dorpe knows the competition in that event will be stiff at Malle 2017, and a medal is unlikely. But she believes she has a chance in the two women's singles events – both of which she has medalled in this season; she is currently ranked No. 1 in the women's single class 1.
"My husband is very competitive. We are not the best. But we are one of the couples that are training the most. In combi, it will take some time. Perhaps we won't get to the level as the younger people," Van Dorpe said.
"I think we always have fun. Most of the younger people are very serious and thinking too much," Van Dorpe said. "We have a lot of fun. … We have great pleasure in dancing."
The Malle 2017 World Para Dance Sport Championships will be held 21-22 October. More information can be found on the event website.