Marcel Hug and Catherine Debrunner do it again at London Marathon
Swiss pair triumph in the men's and women's wheelchair races in the British capital to replicate their victories seven days earlier in Berlin
04 Oct 2022
Imagen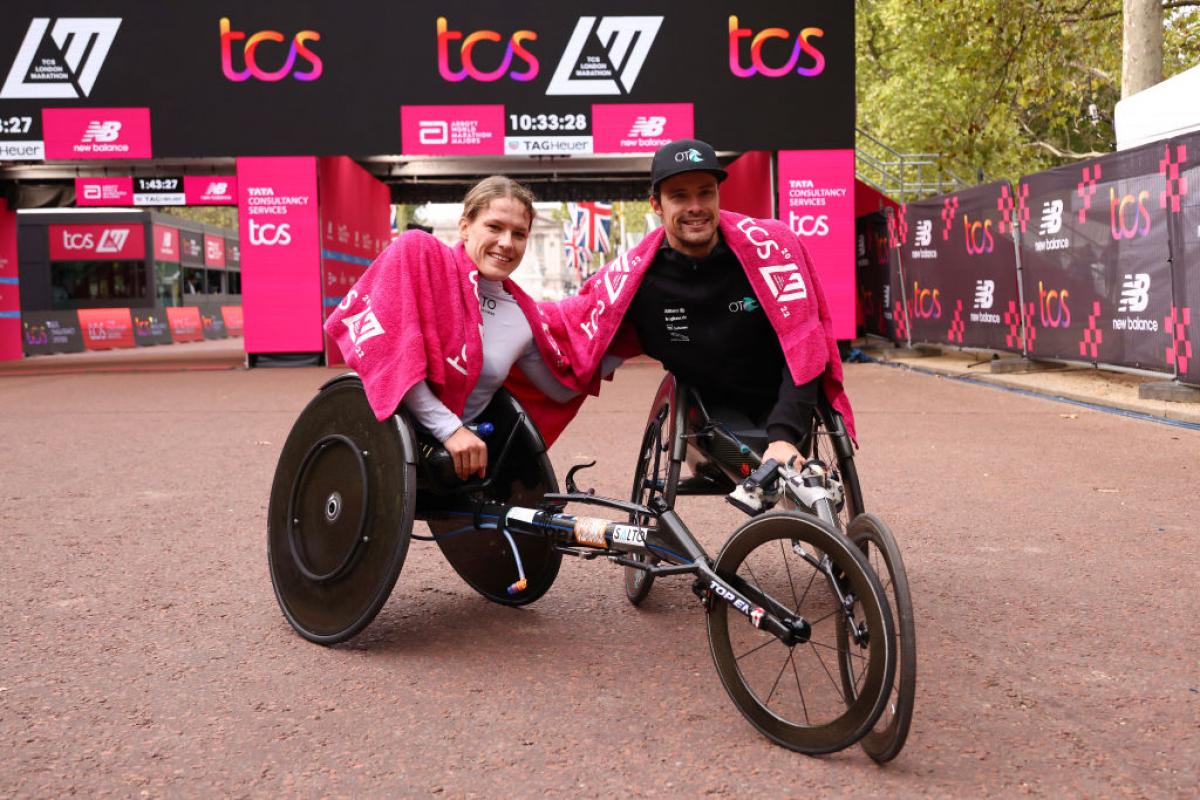 ⒸPaul Harding/Getty Images
By Abbott World Marathon Majors
Different city, same result.
Swiss pair Marcel Hug and Catherine Debrunner won the men's and women's wheelchair races at the TCS London Marathon on Sunday (2 October) to replicate their victories seven days earlier at the BMW Berlin Marathon.
Their triumphs could not have come in more contrasting fashions.
Hug was made to scrap every inch of the 26.2 miles by his great rival Daniel Romanchuk, who glued himself to the Abbott World Marathon Major (WMM) Series champion's back wheels and refused to move.
That meant it came down to a sprint as they rounded the final corner onto The Mall. Romanchuk went for a gap on the inside which Hug was just about able to close, with the pair almost touching as the finish came into view.
Hug's move paid off, causing Romanchuk to slow for a moment and give the Swiss the chance he needed to edge ahead.
"It was the toughest race I've had for long time," said Hug. "I tried everything and attacked so many times, but had no chance to get away, he's too strong. In the end I was very happy to make the sprint first. I didn't even try to let him lead, I tried to keep up the pace and make him tired, that was the plan."
Transition and triumph
Debrunner, meanwhile, continues her transition from track to road as though she was to the manor born in these big city marathons.
After the late withdrawals by favourites Manuela Schaer of Switzerland and Australia's Madison de Rozario, the race was wide open.
Debrunner took full advantage, escaping early and roaring home to a course record win to move herself into contention for overall Abbott WMM Series XIV honours.
"It was a different route [to Berlin], a difficult one," said Debrunner. "I spoke with Susannnah [Scaroni of USA] and we planned to work together, but I think early on, on the downhill, I saw her far behind and thought I have to go myself, but I really suffered. It's the toughest race I've ever done. I never expected to win, it's quite cheeky but unbelievable."
The World Marathon Majors season continues moves now to USA with the Chicago Marathon taking place on Sunday (9 October).