"Me and my coach" with Switzerland's Marcel Hug
The T54 world record holder has been with his coach for 20 years and the pair are now gearing up for Hug's fourth Paralympic Games.
05 Jun 2016
Imagen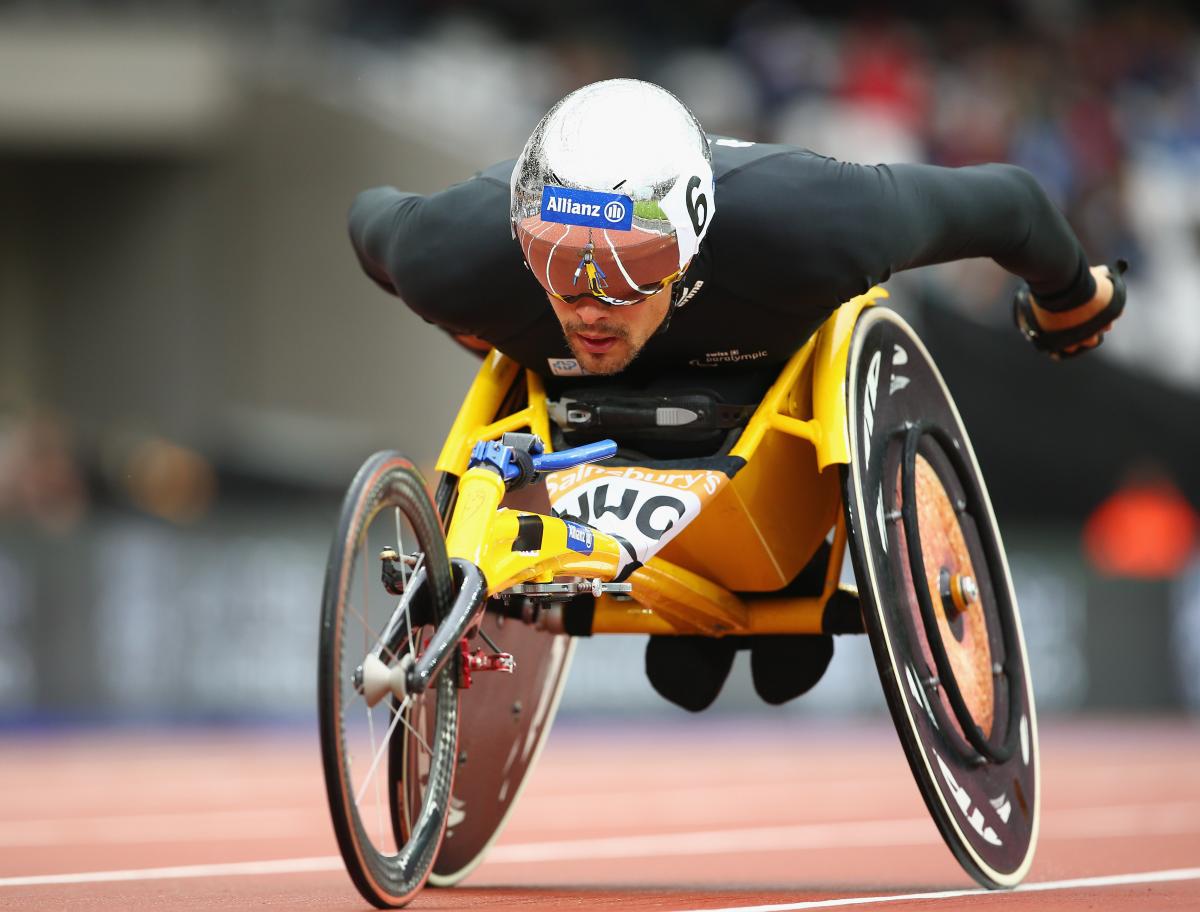 ⒸGetty Images
By IPC
"One important thing is that we trust each other, and that he gives me such great support."
In June's edition of 'Me and my coach' Swiss wheelchair racer Marcel Hug and his coach Paul Odermatt reveal how their partnership has stood the test of time.
__
"Sometimes we don't need any words," smiled Paul Odermatt.
Swiss wheelchair racer Marcel Hug and his coach Odermatt often know exactly what the other is thinking; they don't have to speak, they understand each other so well.
It is no surprise really – the pair have worked together for a remarkable 20 years.
Hug was only 10-years-old when he first met Odermatt, but his coach knew immediately that the young Swiss had bags of potential.
"I saw Marcel for the first time at the Schenkon marathon, at the kid's race," recalled Odermatt, who was coaching other junior wheelchair racers from the area at that time.
"I thought he was a nice boy, he pushed well, he wanted to do sport. Then he had a problem with his chair and somebody said to his parents 'Call Paul – he can help you.'"
The following week Marcel and his parents visited Odermatt at his training base in Nottwil, and they met for the first time. That race in Schenkon was Hug's first competition – but it had been enough for Odermatt to know that he had found someone special.
"He was particularly attentive; even today, he doesn't speak much, but he is listening all the time. And when he asks, he asks special things. Sometimes he asked questions - and it was very interesting what he was asking," said Odermatt.
What has made their relationship last?
"A very big part is from Marcel – he, and also his family, had trust in me," acknowledged Odermatt.
"For the first two or three years I went to him at his home, first once a week and then a little bit more. He was always ready to work hard. He grew up and I grew up too – both of us together."
Hug is quick to agree.
"One important thing is that we trust each other, and that he gives me such great support," said the seven-time world champion.
"Not only in training, but also in my personality. I feel that he has a lot of knowledge in training; how to train but also he knows the circuit. He knows everything in wheelchair racing.
"I feel he gives so much for my success. He spends so many hours supporting me so that we can develop my performance."
Hug and Odermatt have trained together six times a week for the last 10 years – once or twice a day.
Inevitably, they sometimes disagree – "We have some discussions but in the end we find a conclusion," said Hug, who acknowledged that their relationship almost feels like family.
"He knew me as a child so it's a really close relationship. He also supported me when I was in education."
They may know each other well, but they are both still careful to have time off away from each other.
"It's right that Marcel is in my mind – it's very important. Because we have been together for so many years. But he has his time off and his private life, and I do too," added Odermatt.
Watching his charge compete still stirs up many emotions for the 63-year-old – even if he tries to appear relaxed.
"For me it is very close," admitted Odermatt. "Maybe you can't tell – I can be cool, but inside I'm very under pressure."
There is no doubt Hug has already achieved a tremendous amount in his Para athletics career. He won five world titles in 2013, then three European titles in 2014. The World Championships in 2015 may not have gone to plan – the Swiss Silver Bullet failed to top the podium, returning home with a silver and a bronze – but there also remains one major omission – Paralympic gold.
The 30-year-old won two bronze medals at Athens 2004, then clinched silver behind Great Britain's David Weir on two occasions at London 2012.
For Odermatt, seeing his athlete win a Paralympic title would be "the best."
He explained: "It has been our goal for 20 years. First it was a vision, and now I think it can be reality. When Marcel won the first bronze medal in Athens that was for me also a very special moment."
Thinking back to 10-year-old Marcel, can Odermatt believe what he has achieved?
He doesn't hesitate; he only needs one word: "Absolutely."
__
Sport fans from around the world can now buy their Paralympic tickets for Rio 2016 from authorised ticket resellers (ATRs)
The IPC's Global ATR is Jet Set Sports, and Rio 2016 tickets and packages can be purchased on the CoSport website.
Residents of Brazil can buy 2016 Paralympics tickets directly from the Rio 2016 website.