Mexico City 2017: Closing Ceremony speech
IPC President Andrew Parsons brings to an end the World Para Swimming Championships
08 Dec 2017
Imagen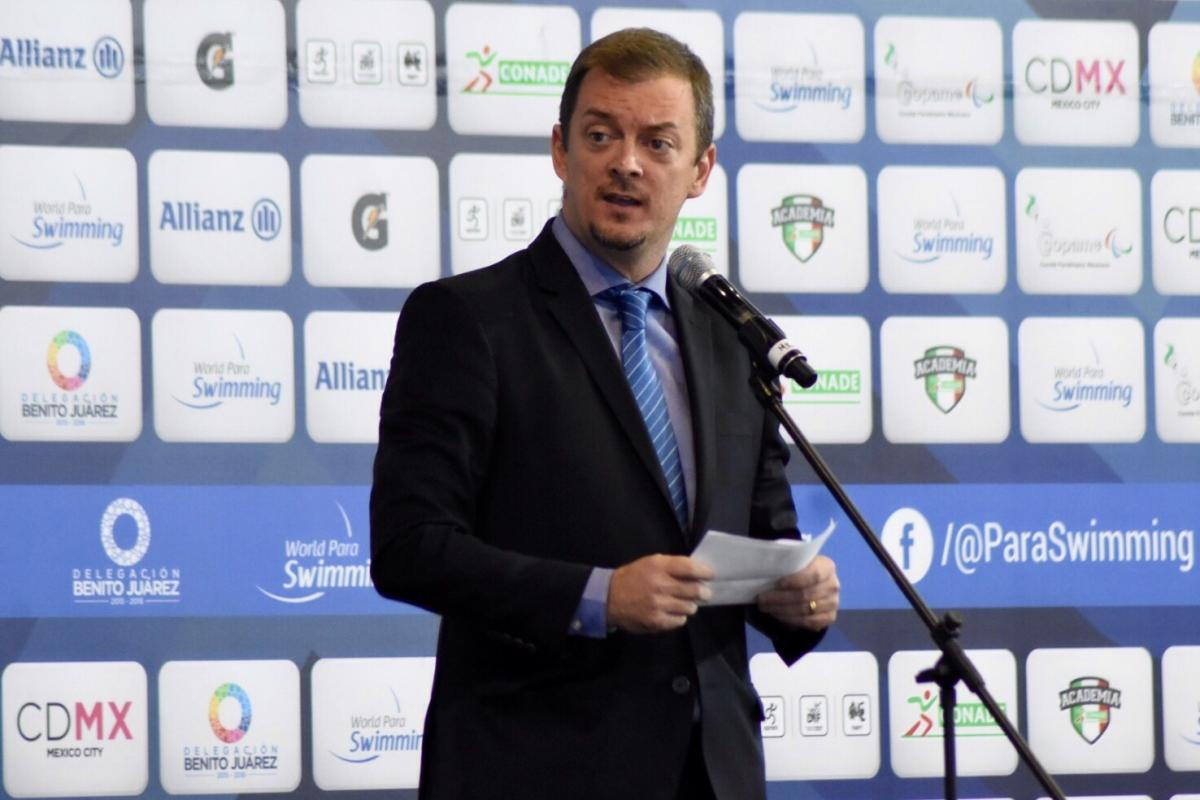 ⒸMiguel Alvarez
ENGLISH
Good evening Mexico City!
It gives me great pleasure to be here for the Closing Ceremony of the 2017 World Para Swimming Championships.
Over the last months, more than ever here in Mexico City, we have seen the true meaning of the Paralympic Spirit, the unique human energy source that powers the Paralympic Movement, making the impossible possible.
Back on 19 September a terrible earthquake struck this beautiful city. Lives were thrown into turmoil and the future of the World Para Swimming Championships was hurled into doubt.
The Paralympic Movement was united in our support for you. We saw your passion, courage and character shining through and we were deeply touched that you made staging this event a matter of principle and a matter of honour.
By staging this Championships you have made the impossible possible. You organised an event that you can be rightly proud of and an event that we were equally proud to be part of. The festive atmosphere at this historical venue, with the public chanting and supporting their favourite athletes helped the athletes give their best.
Your commitment has been rewarded with fantastic athletic performances with seven world, 36 Championships and 42 regional records falling in just six days of sensational sport.
On behalf of the IPC, I would like to personally thank every single athlete and nation that has attended this event so late in the season. You have shown true support for your sport and shown tremendous solidarity for the people of Mexico City.
Thank you to the Mexico 2017 Organising Committee, City and Federal Government, Mexican Paralympic Committee, Moveolab and every single delivery partner for overcoming adversity and hosting this event.
Thank you to the World Para Swimming staff, classifiers, technical officials and of course the amazing volunteers. Without you events like this simply would not happen.
To the media and broadcasters covering this event; thank you for sharing the stories of the athletes and thank you for showing the world that Mexico City is open and ready for business.
Finally, the time has come for me to declare the Mexico City 2017 World Para Swimming Championships closed. I call upon Para swimmers all over the world to meet again in Kuching, Malaysia, in 2019 where, once again, you will inspire and excite the world with your sporting excellence.
Thank you!
ESPANOL
Discurso Ceremonia de Clausura – Campeonato Mundial de Para Natación 2017
¡Buenas noches México! Boa noite, México! Good evening, Mexico!
Es un gran placer para mí estar presente aquí hoy en la Ceremonia de Clausura del Campeonato Mundial de Para Natación 2017.
Durante los últimos meses, hemos podido presenciar en la Ciudad de México el verdadero significado del espíritu Paralímpico, esa energía humana única que le da la fuerza necesaria a todo el Movimiento Paralímpico.
Un devastador terremoto azotó esta hermosa ciudad el pasado 19 de septiembre. Como consecuencia, la vida de centenares de personas fueron afectadas y la celebración del Campeonato Mundial de Para Natación fue puesta en duda.
Pero el Movimiento Paralímpico entero se mantuvo unido en ese ferviente deseo de brindarle todo nuestro apoyo a México durante esos difíciles momentos. Pudimos apreciar la pasión, el coraje y la bondad de todos los mexicanos en su máxima expresión, y nos sentimos conmovidos al saber que la realización de este evento era para ustedes una cuestión de principios y honor.
Al celebrar estos Campeonatos, el pueblo mexicano ha hecho posible lo imposible. Pueden sentirse orgullosos del evento que organizaron, de la misma manera que nosotros nos sentimos orgullosos de haber sido parte de él.
Los pasados seis días, este histórico recinto deportivo se sumergió en una atmósfera festiva, con el público divirtiéndose y apoyando a sus deportistas preferidos, quienes dieron lo mejor de sí motivados por semejante demostración de afecto.
Por todo eso y mucho más, ¡muchas gracias México!
Su compromiso fue premiado con actuaciones realmente fantásticas. Un total de siete récords mundiales, treinta y seis récords de Campeonato y cuarenta y dos récords regionales fueron establecidos en solo seis días de competencia.
En nombre del Comité Paralímpico Internacional, quiero agradecerle personalmente a cada uno de los atletas y naciones que asistieron a este evento tan cercano al final de la temporada. Han brindado un enorme apoyo a su deporte y demostrado gran solidaridad con la gente de la Ciudad de México.
Gracias al Comité Organizador de Ciudad de México 2017, a los Gobiernos Nacional y de la Ciudad, al Comité Paralímpico Mexicano, Moveo-Lab y cada uno de los socios por superar la adversidad y organizar este evento.
Gracias al staff de World Para Swimming, clasificadores, oficiales técnicos y, obviamente, a los voluntarios. Sin ustedes, este tipo de eventos no podrían hacerse realidad.
A los medios y televisoras cubriendo este evento, gracias por compartir las historias de los atletas y gracias por mostrarle al mundo que la Ciudad de México está de pie.
Finalmente, ha llegado el momento para mí de declarar cerrado el Campeonato Mundial de Para Natación Ciudad de México 2017. Los invito a todos ustedes nadadores del mundo a reencontrarse en Kuching, Malasia, en 2019, donde sin dudas inspirarán y emocionarán al mundo con su excelencia deportiva una vez más.
¡Gracias! Obrigado! Thank you!