Montreal 2013 - Day one review
Courtney Jordan went from US flag bearer to world champion in the space of two hours at the IPC Swimming World Championships.
13 Aug 2013
Imagen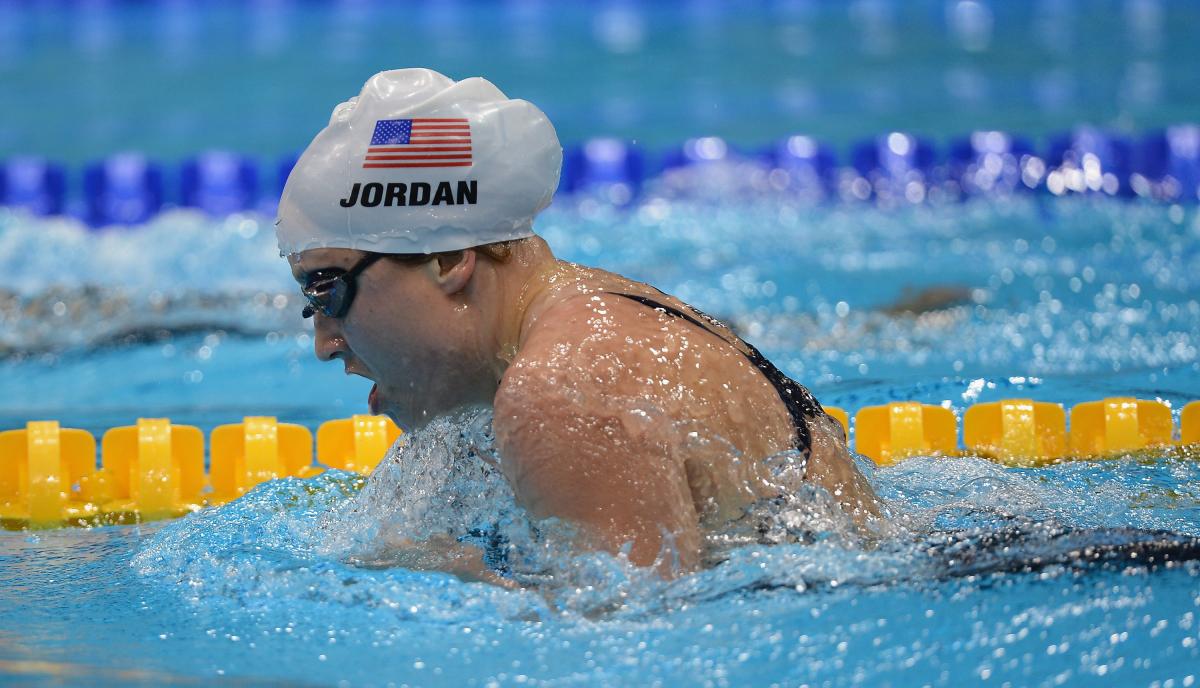 ⒸGetty Images
By IPC
There was a shock in the men's 50m butterfly S5, with 23-year-old Roy Perkins of the USA just beating 25-year-old world champion Daniel Dias of Brazil to the wall in 34.55 seconds.
Cortney Jordan enjoyed a dream first day at the 2013 IPC Swimming World Championships in Montreal, Canada going from US flagbearer during the Opening Ceremony to world champion in the space of less than two hours.
The 22-year-old, who took silver in the 400m freestyle S7 at London 2012, went one step further on Monday (12 August) taking gold in 5:19.60. In doing so, she finished ahead of Great Britain's Susie Rodgers and Ukraine's Ani Palian.
There were 24 medal events on day one of competiton and 19-year-old Irishman Darragh Mcdonald (5:19.23) kicked off proceedings in style adding the 400m freestyle S6 world title to the Paralympic gold he won last year. He was followed by Columbia's Nelson Crispin and Japan's Kyosuke Oyama in silver and bronze.
Great Britain's Paralympic champion Ellie Simmonds (5:24.02) retained her 400m freestyle S6 world title with a convincing win over 19-year-old Mexican and Brazil's Susana Ribeiro who both picked up their first championship medals in second and third.
Belarusian Ihar Boki (2:03.79) smashed his own world record in the 200m individual medley SM13, taking nearly three seconds off the time he set at London 2012. There was also a new oceanic record set by Australia's Sean Russo in fourth place. Laroslav Densysenko of Ukraine finished second and Roman Dubovoy of Russia in third.
In the women's equivalent, Canada's Valerie Grand'Maison was pipped to the wall by 18-year-old Rebecca Anne Meyers of the USA. Meyers (2:30.04) was just too strong for Grand'Maison in in the last 25m whilst Australia's Teigan van Roosmalen collected bronze, improving massively on her sixth place at London 2012.
There was a world record for Russia's 24-year-old world and Paralympic champion Konstantin Lisenkov (1:03.32) in the men's 100m backstroke S8, whilst teammate Denis Taraksov collected silver. Great Britain's Ollie Hynd finished set his second personal best of the day to claim bronze.
One of the closest races of the evening came in the men's 400m freestyle S7. Great Britain's Josef Craig took the lead right from the start, but Russia's Andrey Gladkov got a nose on Craig at 300m. On the turn into the last 50m, Gladkov just had the edge. But Craig managed to pull it back in the last 25m for the gold and a new world record time of 4:39.14, just 0.05 seconds ahead of Gladkov, with Craig's teammate Jonathan Fox in bronze.
It was nearly a Ukrainian clean sweep in the men's 100m freestyle S12 with London 2012 champion Maksym Veraksa (51.80) reclaiming the world title he first won in 2006. Russian Alexandr Nevolin-Svetov stood between Verkska and fellow Ukrainian Danylo Chufarov in silver and bronze, respectively.
In the absence of world-record holder and Paralympic champion Oxana Savchenko, fellow Russian Darya Stukalova (59.71) took gold in the women's 100m freestyle S12 ahead of Great Britain's Hannah Russell of Great Britain and Germany's Naomi Maike Schnittger in silver and bronze.
Ukraine's Paralympic champion Hennadii Boiko (1:13.05) is now men's 50m backstroke S1 world and Paralympic champion after finishing in front of teammate Anton Kol and Christos Tampaxis of Greece.
It was another Ukrainian gold for Eskender Mustafaiev in 37.96 seconds in the men's 50m freestyle S4, followed by Gustavo Sanchez Martinez of Mexico and David Smetanine of France. Martinez improves on his bronze medal from Eindhoven, whilst Smetanine gives up his world title to Mustafaiev.
Mexico's Nely Miranda Herrera managed to convert her fastest qualifying time and world record into a gold with a time of 42.53 seconds. Trimi Arjola of Italy and Lisette Teunissen of Netherlands started to build up the medals for the Europeans in silver and bronze.
There was a shock in the men's 50m butterfly S5, with 23-year-old Roy Perkins (34.55) of the USA edging out defending champion Daniel Dias of Brazil. Dias had aimed to get six golds at Montreal 2013 and this was his first shot at that goal. He will surely be hoping for a better show on day two, whilst Great Britain's Andrew Mullen collected bronze.
Norway's Sarah Louise Rung (43.74) eased to victory in the women's 50m butterfly S5 to retain her world title. Natalia Shavel of Belarus repeated her silver medal from Eindhoven in 2010 and Brazil's Joana Maria Silva again finished in bronze, as at London 2012 and Eindhoven 2010.
Reigning world champion Dmytro Vynhohradets (3:36.82) of Ukraine claimed victory in the men's 200m freestyle S3, followed by Spain's first medal of the day from Miguel Angel Martinez Tajuelo in silver and Ioannis Kostakis of Greece.
Reigning world champion Patricia Valle of Mexico lost her 200m freestyle S3 title to 23-year-old Olga Sviderska of Ukraine (3:52.93), but still finished in silver ahead of Haidee Viviana Aceves Perez of Mexico in bronze medal position.
Australian Matt Cowdrey (55.33) missed out on breaking his own world record by 0.03 seconds in the 100m freestyle S9, but still put in a strong performance to fend off a last ditch advance by Jose Antonio Mari Alcaraz of Spain to become world champion. Teammate Rowan Crowthers finished with bronze.
The retirement of South African world champion Natalie Du Toit and injury to Australia's Paralympic champion Ellie Cole meant the women's 100m freestyle S9 was wide open. Victory was claimed by Great Britain's Stephanie Millward (1:04.41) who touched in ahead of silver medallist and teammate Amy Marren. Spain's Sarai Gascon completed the podium.
Paralympic champion Dmytro Zalevskyy (1:08.75) of Ukraine added to his country's haul of medals, winning gold in the 100m backstroke S11. His teammate Oleksandr Mashchenko has not medalled in this event since winning silver at the 2002 world championships and he repeated that performance on Monday. Canada's Donovan Tildesley, spurred on by his home crowd, won bronze.
Mary Fisher (1:20.31) improved on her silver at London 2012 in the 100m backstroke S11 to claim New Zealand's first gold of Montreal 2013 in a thrilling finish which went to the last 10m. Germany's Daniela Schulte also improved on her bronze in 2010, touching in for silver and ahead of Ukraine's Maryana Piddubna.
Andre Brasil (51.57) is a two-time world and Paralympic 100m freestyle S10 champion after holding off 17-year-old Ian Silverman of USA, who improved markedly on his seventh-place finish at London 2012. Phelipe Andrews Melo Rodrigues of Brazil could not quite equal his London performance to finish in bronze.
In the women's 100m freestyle S10, 20-year-old New Zealander Sophie Pascoe touched in first to claim her second ever world title in a world record time of 1:00.15. Elodie Lorandi won France's first silver medal of the competition in a European record time of 1:00.47 and 17 year-old Canadian Aurelie Rivard finished in bronze medal position.
Australian Daniel Fox (1:59.30) is the men's 200m freestyle S14 world champion after finishing aheadof Iceland's Jon Margeir Sverrisson, who broke a European record (1:59.30), and Korea's Wonsang Cho.
In a thrilling climax to the evening, Jessica-Jane Applegate of Great Britain claimed gold in the women's 200m freestyle S14 in 2:09.88, just ahead of Bethany Firth of Ireland in silver and Corry Taylor of Australia in bronze.
The 2013 IPC Swimming World Championships run from 12-18 August and feature around 500 of the world's best athletes from nearly 60 countries - the biggest gathering of swimmers since London 2012. Follow @IPCSwimming on Twitter or like us at Facebook.com/IPCSwimming for behind the scenes pictures, updates on results and world records, or visit the 2013 IPC Swimming World Championships live results page.