My Toughest Opponent – Jonathan Broom-Edwards
Great Britain high jumper on his hopes of beating rival Maciej Lepiato at London 2017.
17 Jun 2017
Imagen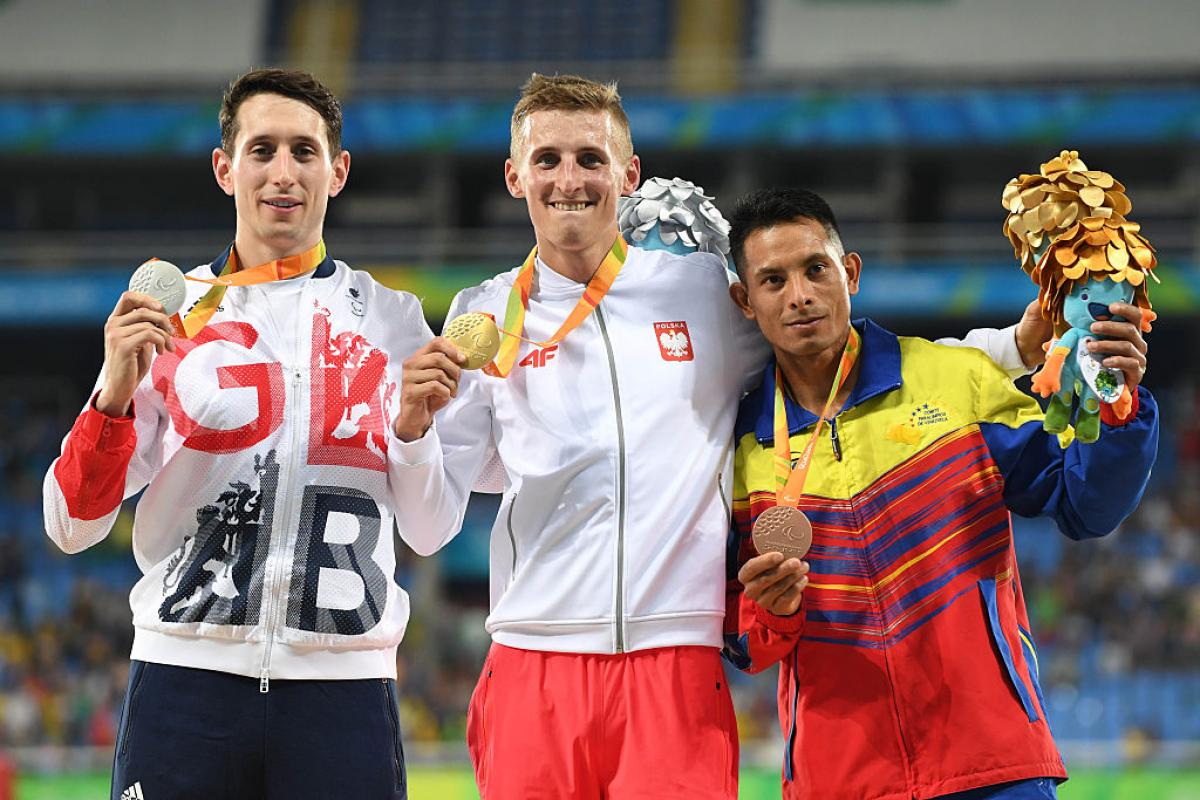 ⒸAtsushi Tomura - Getty Images
"I'm my biggest competition at the moment – that's the way I've got it in my mind: whether I can jump my best on the day."
Since the World Championships in 2013, two men have been battling it out for gold in the men's high jump T44.
Up to now, one man has prevailed – Poland's Maciej Lepiato. But Great Britain's Jonathan Broom-Edwards is determined to change all that.
The 29-year-old has had to settle for silver behind his Polish rival at two World Championships, the 2014 European Championships and most recently, the Rio 2016 Paralympic Games, where he finished nine centimetres behind Lepiato, who cleared a world record 2.19m for gold.
Now, Broom-Edwards is determined to be the one at the top of the podium – and what better place than on home turf this summer at the 2017 World Para Athletics Championships in London, Great Britain.
"Gold on home soil – it would mean the world to me. I'm sick of silvers and to do it in front of family, friends and the home crowd, that would be phenomenal," admitted Broom-Edwards.
It's clear the Briton bears no resentment towards the man who has denied him major titles time and time again, ever since they first jumped against each other in Lyon, France four years ago.
Instead, Broom-Edwards regards Lepiato as a friend. His biggest competitor, he believes, is now himself.
"We always talk at competition time," explained Broom-Edwards.
"Lepiato's English is pretty good but my Polish is terrible, but he's a really decent guy and it's more that I'm my biggest competition at the moment – that's the way I've got it in my mind: whether I can jump my best on the day.
"I'm trying to get away from the other competitors – it's me and the bar. If I start thinking too much about what the competition is doing, it distracts me from my objectives and my own presence in the competition.
"I'm not worried about what (Lepiato) can do because on my day, when I get it right, I'm quite confident I will take the gold medal. But I've got to get to that level - which is what I'm working at now."
But what does it feel like to face someone who always excels at major competitions? After all, Lepiato won both his 2013 and 2015 world titles, as well as European gold in 2014 and Paralympic gold in 2016, setting new world record heights each time.
There is no frustration. Surprising though it may seem, Broom-Edwards is untroubled.
"It's been nice to push him," admitted the Rio 2016 silver medallist.
"I believe he's got 2.20m at least in him, so the more I can push up to that height the more I'm going to bring out his true capacity as well. It encourages me to be better.
"I like his consistency and his 'hang time' in the air, which is something I've been working on recently. But there are still elements of his high jump I think even he could maybe improve."
In a bid to get the better of the reigning Paralympic and world champion, Broom-Edwards has changed coach and taken things 'back to basics' since Rio 2016.
The results are already showing, with indoor personal bests this year. His outdoor personal best stands at 2.15m, but he believes he is now in a position to raise the bar even further.
"Ultimately I'm excited to see what I can do now. I had a bit of a stagnant year prior to Rio and I really want to take it to the next level," added the Loughborough-based Para athlete.
"I'm now a different athlete. If I look back a year ago I was in a bit of a bad way. But I've got my mojo back. Me now, compared to a year ago - I have so much more enjoyment, so much more focus and I'm so much more driven.
"Regardless of what happens in London, I know I'm in a place now to push it beyond where it was in the past."