New world records for Omolayo, Huseynov at Almaty 2015
Nigeria's Omolayo and Azerbaijan's Elshan Huseynov both beat reigning world champions to top the podium at the 2015 IPC Powerlifting Asian Open Championships.
29 Jul 2015
Imagen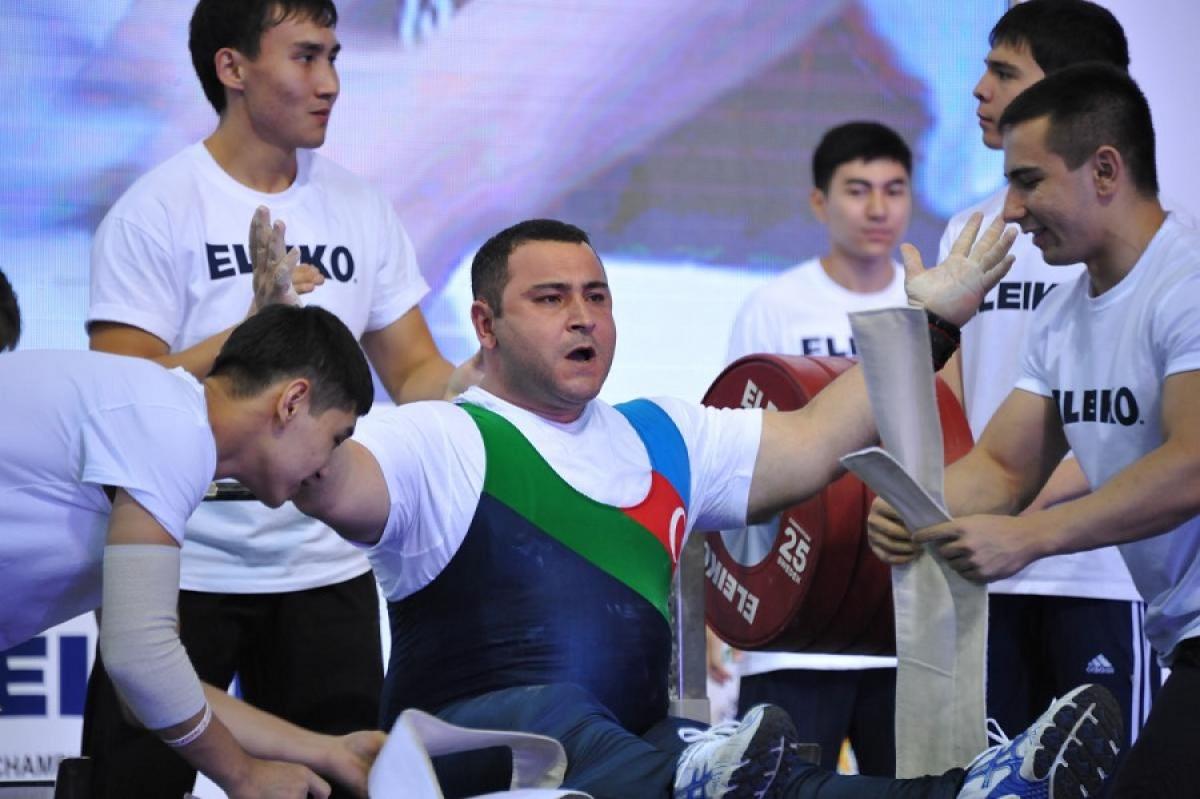 ⒸKonstantin Kniazevych & Anatoly Kudyakov
By IPC
Azerbaijan's Elshan Huseynov and Nigeria's Bose Omolayo headlined the 2015 IPC Powerlifting Asian Open Championships on Wednesday (29 July), breaking world records to beat reigning world champions to gold in Almaty, Kazakhstan.
Huseynov was in great form in the men's up to 107kg, stylishly clearing three lifts to win his country's first medal of the competition. His 242kg new world mark adds 2kg to the previous world record of Greek world champion Pavlos Mamalos.
Iranian Ali Sadeghzadehsalmani attempted to match Huseynov's lift, but had to rely on his second Asian record attempt of 234kg for Open silver and Asian gold.
Mamalos (233kg) settled for Open bronze, 7kg adrift of his previous world record. China's Pingguang Tian (225kg) took Asian silver, and Jordanian Jamil Elshebli (205kg) completed the Asian podium.
Omolayo dramatically took gold in the women's up to 79kg, waiting until the third round before lifting 137kg, to add 8kg to the previous world record.
After the first attempt, China's eventual Open silver medallist Lili Xu led by 1kg after a 124kg lift.
Omolayo, who debuted in 2014, failed to complete a 130kg second attempt.
As Xu (133kg) built pressure by completing her third good lift, 26-year-old Omolayo pulled off the 137kg haul to leave Xu with the Asian title. Chinese Taipei's former world record holder and world champion Tzui-Hui Lin (120kg) finished with Open bronze and Asian silver.
Indonesia's Siti Mahmudah Kasimin (117kg) collected Asian bronze.
China's Taoying Fu added 14kg to the Asian record to take gold in the women's up to 73kg.
Fu surpassed the previous best with her first round lift of 125kg, loading 9kg onto the mark. She then completed a second round lift of 130kg to finish a good day's work at the Baluan Sholak Sports Palace.
Nigeria's Ndidi Nwosu (123kg) claimed silver, as Mayogozel Ekeyeva (107kg) won Turkmenistan's first medal of the competition with bronze.
China stormed to their latest gold courtesy of London 2012 silver medallist Qi Dong, who lifted 230kg to win the men's up to 97kg title.
Both Dong and the UAE's silver medallist Mohammed Khalaf Khamis (228kg) completed three good lifts, but Dong had the overall edge.
His teammate Huichao Cai (225kg) made a last round attempt to steal gold but could not manage the feat, finishing with bronze.
On the penultimate day of competition, China have 16 medals, including eight gold, five silver and three bronze, to secure their place as the No.1 country in Almaty. Nigeria remain second with four gold and four silver medals, whilst Iran retain their third place with two golds and three bronze.
The Almaty 2015 IPC Powerlifting Asian Open Championships will run until 30 July and feature more than 220 athletes from 32 countries in one of the biggest Asian Championships ever.
Live results and coverage are available at Almaty2015.com and updates and news published at IPC Powerlifting Facebook and Powerlifting Twitter.
Following Almaty 2015, powerlifters will head to the IPC Powerlifting European Open Championships in Eger, Hungary, from 24-28 November.