For Rahman, the 300kg mark at Almaty 2015 is coach's call
The Iranian powerlifter has not revealed his plans ahead of the Asian Open Championships, where he can attempt the big lift.
23 Jul 2015
Imagen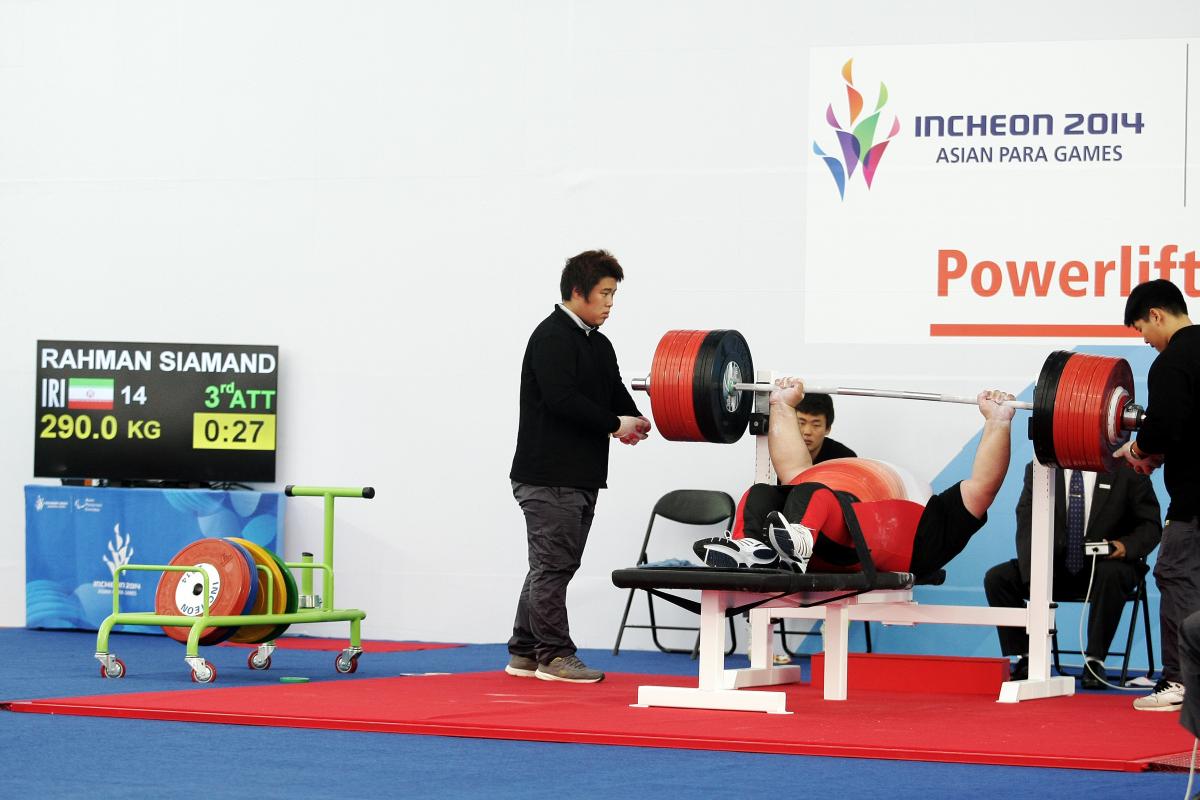 ⒸIncheon 2014
By Caryn Maconi | For the IPC
Iran's Siamand Rahman has a chance to eclipse 300kg, a mark he has been working toward for years, at the IPC Powerlifting Asian Open Championships held 26-30 July in Almaty, Kazakhstan.
However, the question is not if the Iranian powerlifter can lift that much, but if he will even attempt that feat in Almaty.
No rush
The defending world champion and current world record holder at 292kg, Rahman has taken his time to the big 300kg. He did not attempt the lift at the 2014 World Championships in Dubai, United Arab Emirates.
Instead, Rahman – who dominates the men's up to 107kg weight class – choose to settle for a then-world record of 285kg.
Ever since that dominating performance in Dubai, where he took the world record from fellow Iranian Mansour Pourmirzaei, Rahman has stayed comfortably atop the IPC Powerlifting World Rankings. At the conclusion of 2014, Rahman's heaviest lift of the year was 25kg more than that of Pourmirzaei, who was ranked No. 2.
After the World Championships, Rahman broke his own record three additional times at the 2014 Asian Para Games in Incheon, South Korea. Still, he closed out his final attempt just 8kg short of the 300kg mark.
Rahman seems to be in no rush, explaining that he has yet to determine his strategy for Almaty 2015.
"Making the decision about setting a new record in Almaty depends on the coaches' decisions," Rahman said. "For the athletes who are (hoping to go) to Rio, the current year will draw our destiny."
Everything for Rio 2016
For Rahman, nothing but gold in Rio will be satisfactory. He finished atop the podium at the London 2012 Paralympic Games, where he competed in the up to 100kg class. Since 2012, he has only become stronger – and more eager for victory.
In fact, every move Rahman makes in the next year is in preparation for his ultimate goal of becoming a two-time Paralympic champion.
"All of my efforts target Rio 2016, where I intend to lift even more than 300kg to make history in powerlifting," Rahman said. "My dream is to secure a historical record of around 305 or 310kg to deliver my promise."
Strong support system
Rahman believes that when encouraged by friends, family and coaches, he can reach any goal he sets for himself.
"In camps, I have my technical staff and coaches," Rahman said. "In general, my main supporters are my parents, whose support cannot be forgotten. Their kindness, which is dedicated to me, is not comparable with any affection in the world."
Even if Rahman surpasses the 300kg goal, he will not stop there.
He has said he hopes to break the open all-time raw world record currently held by an able-bodied athlete. One day, he would even like to even become the first man to bench press 400kg in competition.