Nikko Landeros: From accident to ESPY nomination
Find out how the right sledge hockey equipment has helped this US athlete get to the highest level in his sport.
12 Jul 2016
Imagen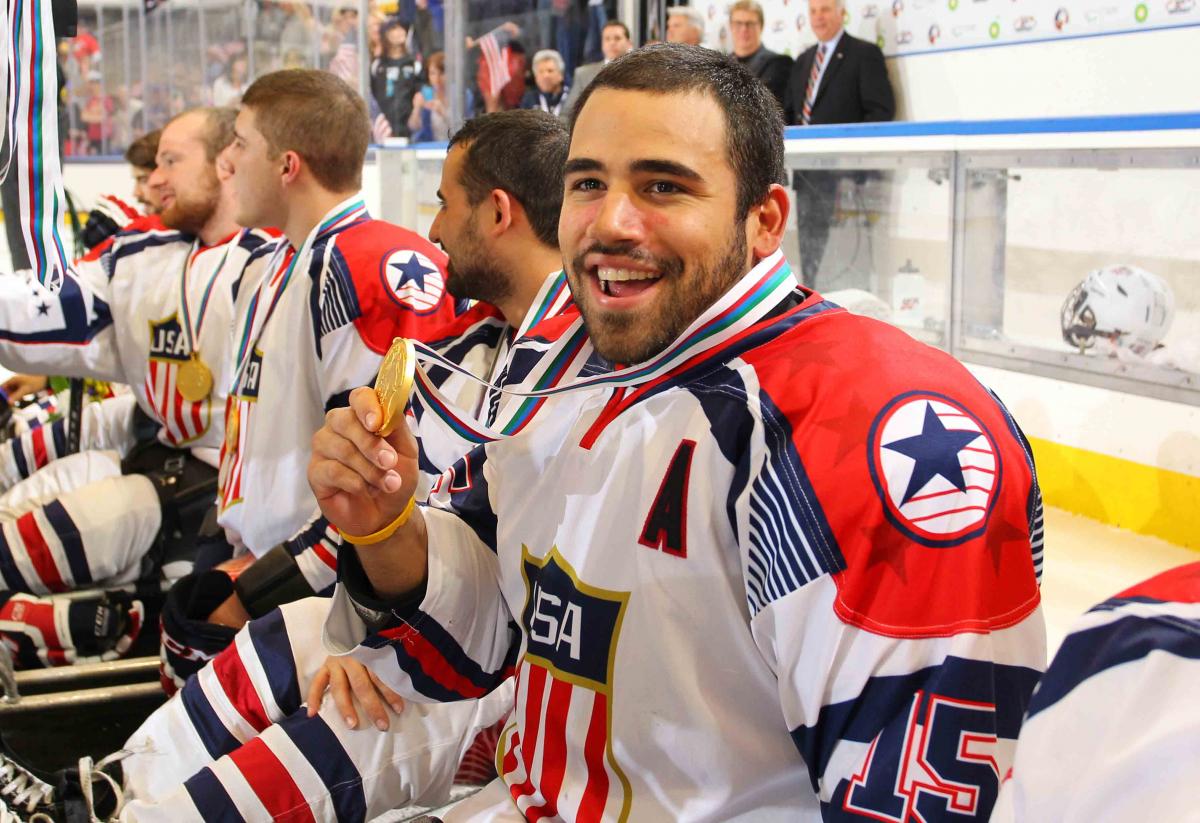 ⒸBill Wippert
By Stuart Lieberman | For the IPC
"It's a huge honour for me, especially because we've had a bunch of sledge hockey players in the past who have been nominated and won."
Two-time Paralympic champion Nikko Landeros from the USA's ice sledge hockey team is one of the nominee's for Wednesday's (13 July) ESPY awards in the Best Male Athlete With a Disability category.
Landeros had a stellar 2015 in multiple facets. He was named the US player of the game in the team's gold-medal victory over Canada at the IPC Ice Sledge Hockey World Championships A Pool, led the Colorado Avalanche to their second consecutive sledge hockey national title at the US club level and also earned a silver medal in the mono skier X discipline in his Winter X Games debut.
The ESPYs (Excellence in Sports Performance Yearly) are ESPN's annual awards show that honours athletic achievements, both on an individual and team basis. The winner will be determined by fan voting and revealed at the ESPYs at the Microsoft Theater in Los Angeles, California.
In his seventh year with the US national ice sledge hockey team, Landeros helped the programme claim its third world title on its home ice in Buffalo, New York, in addition to winning the World Sledge Hockey Challenge in Leduc, Canada.
"It's a huge honour for me, especially because we've had a bunch of sledge hockey players in the past who have been nominated and won," Landeros said of the ESPYs. "It's about getting the name of the game out there and getting people to follow our careers.
"It's cool to be recognised with people like Lebron James, Steph Curry and Sidney Crosby. Even just being able to go to the red carpet and hang out with those people is pretty cool."
The ESPYs have historically been very kind to ice sledge hockey players, as Landeros is the fourth US athlete from the sport to have been nominated for the award, with Steve Cash (2010) and Declan Farmer (2014) previously winning the category and Josh Pauls (2015) having also been nominated. Additionally, Josh Sweeney was honoured during the 2014 ESPYs when he received the inaugural Pat Tillman Award for Service for his dedication to his country and helping others.
Before heading to the red carpet in Los Angeles, Landeros explained to Paralympic.org how having the proper equipment throughout his career has been a massive underlying factor in his ice sledge hockey success.
The Colorado native became a bilateral amputee after being hit by a car while changing a tire in high school in the same accident that injured current US ice sledge hockey defenseman Tyler Carron.
Landeros, 27, considers himself blessed, in that he received so much public exposure from the accident that he received top of the line sledge hockey equipment – including a customized sledge bucket and carbon-fibre sticks – right away to get him started in the sport.
"Just like they mold your legs for prosthetics, they mold your butt into a bucket," Landeros said. "I would tell anyone who's starting to play sledge hockey that if they're really serious, they need to get a bucket."
From a sledge and sticks to gloves and a helmet, Landeros had it easier than most when taking up the sport, which he admitted can be pricey to start without donations or grants.
Landeros had an answer for up-and-comers in the sport when it comes to funding their development pathways as athletes.
"I know in the disabled community a lot of younger kids don't want to get a job because they're a little scared, but I think if you get over that fear, that's what will also help you become a better sledge hockey player."