Nottwil Grand Prix: Peter Genyn vs. Toni Piispanen
Great wheelchair racing rivals will face off on Swiss track
23 May 2018
Imagen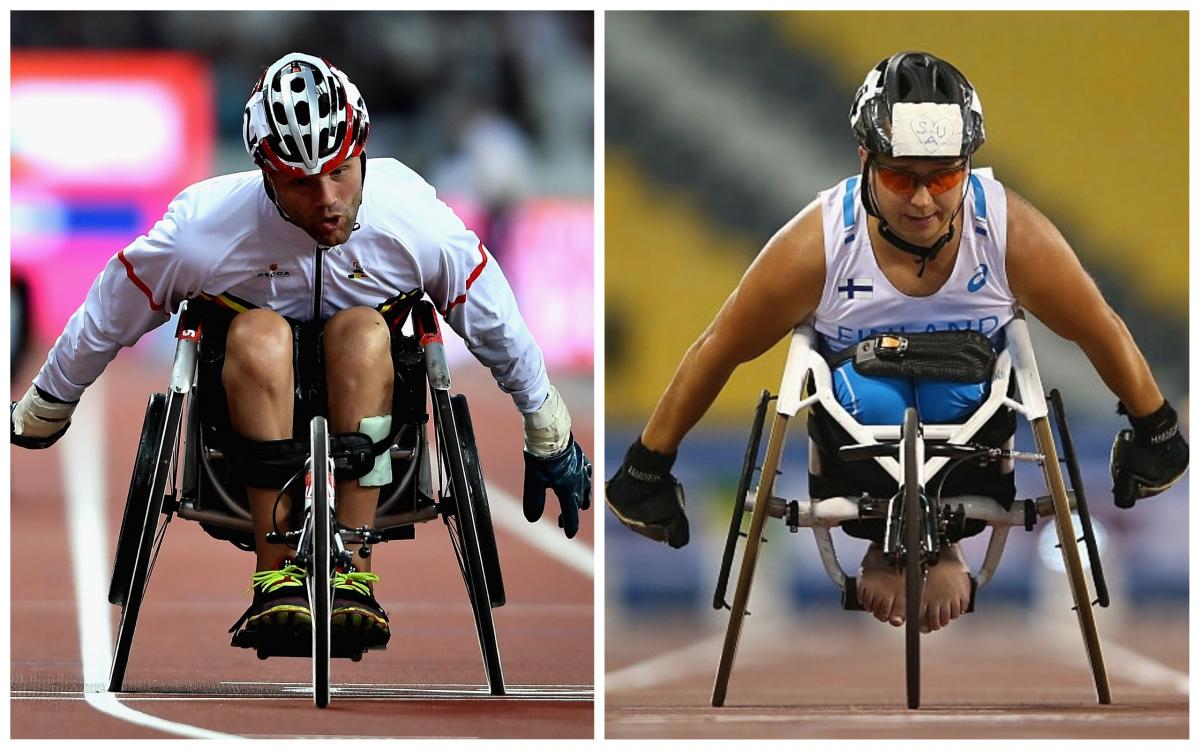 ⒸGetty Images
By IPC
"It's also really nice to know that both of us are so motivated, with a little bit of tension in the air before the race. We both know we have to give 100 per cent to be the best."
Belgium's Paralympic and world champion Peter Genyn believes the Nottwil Grand Prix, which starts on Friday (25 May) in Switzerland, will provide the perfect dress rehearsal for this summer's European Championships.
Genyn will face his great rival Toni Piispanen on the Swiss track – the man whose world, Paralympic and European T51 track titles he has claimed over the last three years – and he's feeling more ready than ever.
"If I have a good race it's going to be tough for him to beat me, so I just have to focus on myself. If he's better than me he might beat me but he will have to have a perfect race," said Genyn, who lost out to Piispanen over 100m in Nottwil last year.
It's no wonder the Belgian is full of confidence – three weeks ago in Bruges (Belgium) he broke Piispanen's 100m T51 world record which had stood for three years, taking a substantial 0.29 seconds off his personal best in the process.
"I hope I can keep this shape and prove that the world record was not a fluke," added the 41-year-old, who has broken the 200m T51 world record in Nottwil the last two years running.
"If I can do that in the Swiss series then I can probably do the same at the Europeans. If you can come on top out of this I think it's always a good start.
"I feel very confident at the moment, but I'm always going to keep Toni in my sights because you are never done with him. It's always going to be close but I think at the moment I'm the favourite."
The pair will take on the 100m and 200m T51 in Nottwil in what will be Piispanen's season opener, but after a successful winter behind him, the Finn is certainly not troubled by his rival's form.
"It doesn't affect my feelings," said Piispanen, who underwent shoulder surgery after Rio 2016, where he finished fourth, to fix a long-standing injury. "It's about time to break that record, within two years it will get even better.
"I'm feeling really good and I forgot the Rio disappointment when I realised after my shoulder operation that I still have the chance to be the best, so that drives me to keep going.
"It's also really nice to know that both of us are so motivated, with a little bit of tension in the air before the race. We both know we have to give 100 per cent to be the best."
The last time the pair met was at the Memorial Van Damme Diamond League in Brussels, less than six weeks after the London 2017 World Championships. Piispanen won – much to the disappointment of Genyn's legion of home fans.
After analysing his progress throughout the year, Piispanen and his coach had come to realise that his results varied significantly – "too many bad days and one good day each week," and introduced changes to his training and seating position.
"We continued our training as scheduled and it worked at the Diamond League in Brussels. After that we were very confident that development would be much better and in the right way," he explained.
"It gave me a lot of confidence - right after that training continued to go even better and it was psychological I think. Everything was so easy after that.
"I'm still getting better all the time; I am without any pain right now, the balance between my right and left shoulder is really good. So I should be in good shape right now."
Genyn may be confident, but if there is one man that can stop him, it's Piispanen.