Novi Sad 2012 in review
Here's a quick review of what we learned from last week's 2012 IPC Ice Sledge Hockey B Pool World Championships in Novi Sad, Serbia.
19 Nov 2012
Imagen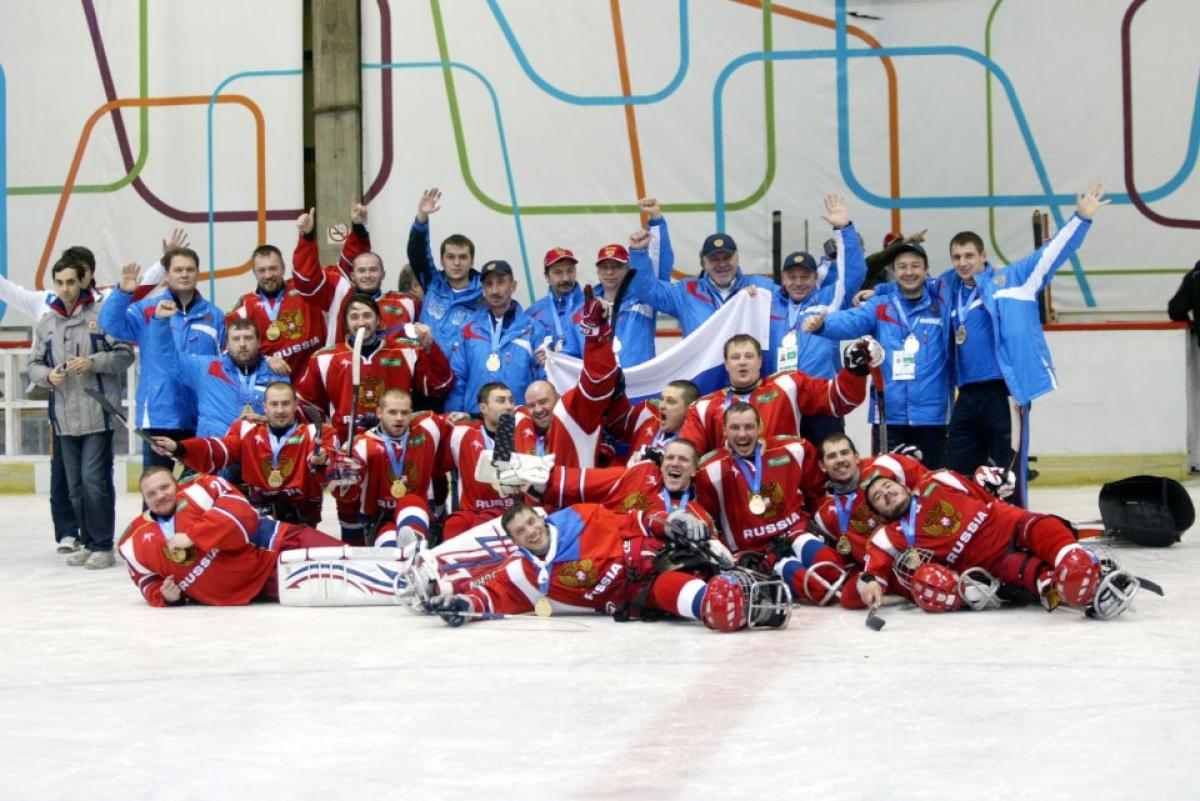 ⒸDusan Babovic
"It's good for us that the next Games will be in Sochi. We're now encouraged by this result, as we have a mindset to compete with the world's best in our own country in Sochi."
What we learned
After just starting up their programme two years ago, Russia have already become one of the elite ice sledge hockey teams in the world with less than a year and a half to go until they host the Sochi 2014 Paralympic Winter Games.
Russia outscored their opponents 20-2 in Novi Sad, recording nearly one-third of the 61 goals scored on the ice throughout the entire tournament.
The Russians, coached by Sergey Samoylov, are able to practice together almost 200 days out of the year, making their team chemistry one of the best. Couple that with their speed, agility and aggression on the ice, and they could be a dark horse to medal not only at next year's A Pool World Championships in Korea, but also at Sochi 2014.
"It's good for us that the next Games will be in Sochi," Samoylov said. "We're now encouraged by this result, as we have a mindset to compete with the world's best in our own country in Sochi."
Meanwhile, after having medalled at every Paralympics from 1994-2002 but missing the podium every time after that, we learned that Sweden could be back in the spotlight for good.
Despite many of their top players being fairly young, Sweden are not a team to look over. The team only allowed four goals in Novi Sad and are now headed back to the A Pool with their heads held high.
Many fans in Novi Sad also kept a close eye on Austria, who were participating in their first IPC event after starting their programme in 2011. Although they only scored two goals in total at the Championships, Austria has potential to become a well-established programme within the next few years.
Under the leadership of head coach Zdenek Vanek – father of NHL star Thomas Vanek – rising star Sandro Kalegaris, 23, showcased his quickness and superb shot on the ice throughout the week. If Vanek's able to find the pieces to put around him on the ice, he could build up a top team by the next Paralympic Games cycle.
Best game
Without a doubt, Russia's 3-2 win over Germany in a shootout on Day 2 of the Championships was a highlight of the week. The Russian side were very nervous in their World Championship debut, but thanks to Dmitry Lisov's two goals during regulation they kept the score even to force and overtime period and then a shootout.
Several shots nearly found the back of the net during the shootout, but it was Russia's Ilya Volkov who had the only successful attempt, giving his team their first win of the week.
Biggest shock
Everybody was highly anticipating Sweden's semi-final matchup with Germany, though many were surprised to see the former come away with a 3-0 victory and move on to the finals.
The first two periods were scoreless, though Germany were the ones to come out aggressive and strong from the get-go. Yet Sweden came alive in the third period, recording seven shots on goal and scoring on three of those attempts to pull out the victory.
Top performers
Engeny Petrov (Russia): While Russia proved they have a variety of options on the ice, it was Petrov who proved himself as a clutch player down the stretch. During the tournament, he scored four times and recorded 16 shots on goal, with his most important shot coming as the only goal scored in the gold-medal game against Sweden.
Per Kasperi (Sweden): Nineteen-year-old, Kasperi has quite the future ahead of him in ice sledge hockey. Everybody saw major improvements in Kasperi since he competed at the Vancouver 2010 Games, as he led his team with six goals and 26 shots on goal in Novi Sad. For a small, young athlete, he definitely does not go unnoticed by his opponents anymore on the ice.
Sebastian Kessler (Germany): The Germans were able to dominate their bronze-medal game against Poland thanks to Kessler, who scored three of their goals on 12 of his attempts in their final contest. In total he had four scores and 21 shots on goal during the tournament, and he seemed to always be where the puck was.
Sylwester Flis (Poland): As Poland's player-coach and ice sledge hockey veteran, Flis led his team with five goals and 13 shots on goal, in addition to his top play on the defensive end in the squad's win against Austria.
Michael Ten Hoeve (Netherlands): The Dutchman earned Player of the Game honours three times during the Championships, and finished the tournament with two scores and 19 shots on goal – 14 of those shots coming in the fifth-place game against Austria.
Sandro Kalegaris (Austria): The 23-year-old forward scored Austria's first two goals at an IPC event and is the star of their new programme. With a bright future ahead of him, Kalegaris will now try to lead Austria in their path to try to compete with some of the world's best.
Road to Sochi 2014
The ice sledge hockey teams will now compete in the A and B Pool World Championships next spring, as they try to qualify for Sochi 2014. The top five finishers from the A Pool World Championships will qualify, while the bottom three finishers will be sent to the qualification tournament later next year to face the top three finishers from the B Pool World Championships. Two or three teams will advance to Sochi 2014 from there, depending on where Russia finishes, as they will automatically qualify as the host nation.
Related Images