Odivelas 2018: South Korea sweep team events
World Championships come to an end in Portugal
19 Nov 2018
Imagen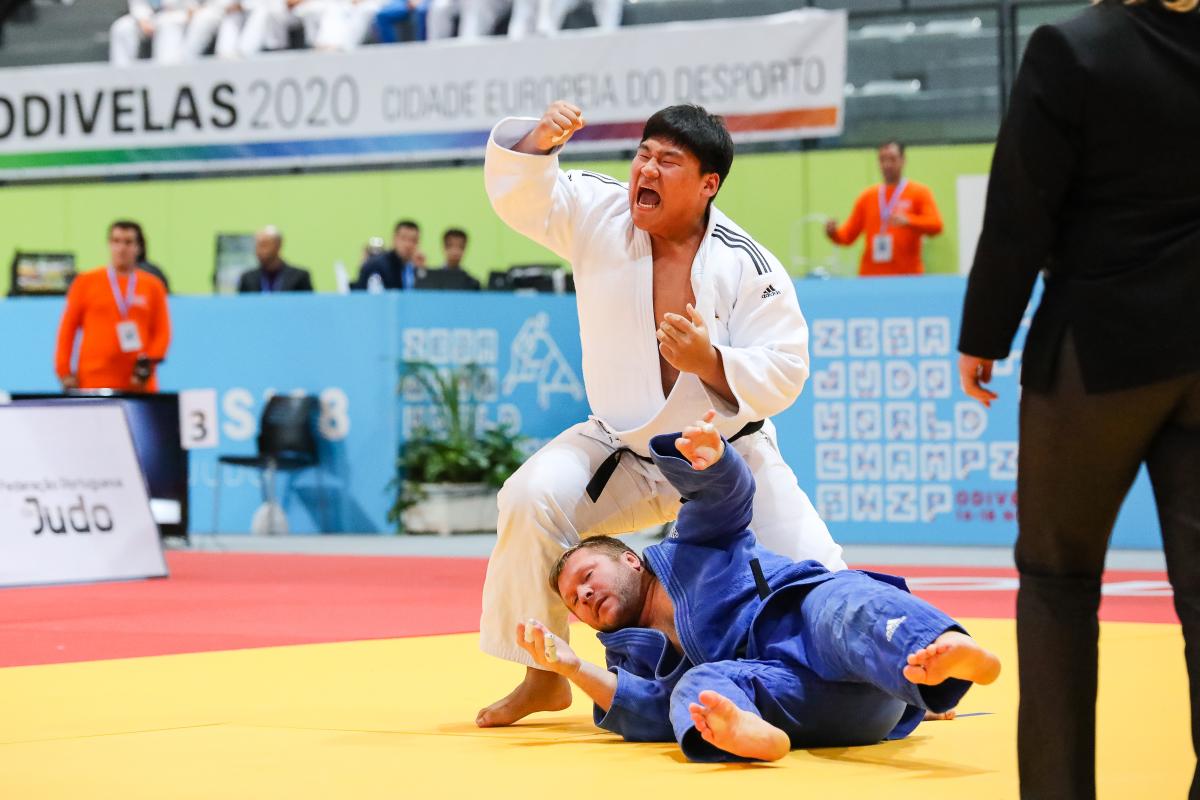 ⒸRui Telmo
By IBSA
"The team gold means much more than an individual gold because we achieved it as a team. We will now go back and get even stronger for Tokyo 2020"
South Korea were unstoppable in the team events at the 2018 Judo World Championships in Odivelas, Portugal, claiming both titles on offer on the final day of action (18 November).
In the women's event, China's Li Liqing lost by default with three shidos against up to 48kg world champion Soohee Choi of South Korea.
Another win followed after Song Lin Jin showed exactly why she is the up to 63kg world champion against Yue Wang to secure the gold for South Korea.
Over 70kg world champion Hongyu Wang achieved an ippon in the final combat against Hayeong Park to take a consolatory win for China.
Azerbaijan's team of Sevda Valiyeva, Khanim and Zulfiya Huseynova overcame France's Sandrine Martinet, Manon Cellier and Prescilla Leze 3-0 for bronze.
On the other mat Brazil's Karla Cardoso, Lucia Araujo and Rebeca Silva beat Turkey's Ecem Tasin, Duygu Cete Artar and Raziye Ulucam to the final podium spot. Brazil add to their silver from 2014.
Narrow win for men's team
The men´s team rounded off the Asian country´s participation with another title. Min Jae Lee, Seungjin Yang, up to 81kg world champion Jung Min Lee and Woohyeok Song, the over 100kg silver medallist, chalked a 3-2 victory over Ukraine.
Ukraine had a strong team that included new up to 90kg world title holder Oleksandr Nazarenko, Davyd Khorava, Dmytro Solovey, Olexandr Kosinov and Oleksandr Pominov, but could not hold back a South Korean team on the march.
"The team gold means much more than an individual gold because we achieved it as a team," Min Lee said before sending a warning ahead of the next Paralympic Games: "We will now go back and get even stronger for Tokyo 2020.
"We have a training centre where our team can train very hard the whole year. That is basically how we are able to get stronger and stronger."
Russia's* Artem Merkulov, Vasilii Kutuev, Shamil Magomedov, Malik Kurbanov and Gaidar Gaidarov took victory over the USA's Ronald Hawthorne, Robert Tanaka, Adnan Gutic, Nathan Ostergaard and Robert Anderson for bronze.
An all-star Azerbaijan team featuring four individual medallists, Vugar Shirinli, Ramil Gasimov, Huseyn Rahimli, Rovshan Safarov and Ilham Zakiyev won all their contests against Spain to also claim a podium place.
The double gold brought South Korea's overall medal total to seven, including three individual wins.
With them occupying first place in the medals table, Ukraine finished second with two golds and one silver. Azerbaijan ended third, securing one gold, two silvers and three bronze.
Full results are available on the Judo World Championships website.
*Editor's note: The International Paralympic Committee suspended the Russian Paralympic Committee on 7 August 2016 https://www.paralympic.org/russian-paralympic-committee-suspension for its inability to fulfil its IPC membership responsibilities and obligations, in particular its obligation to comply with the IPC Anti-Doping Code and the World Anti-Doping Code (to which it is also a signatory). As a result of the suspension, Russian athletes cannot enter IPC sanctioned events or competitions, including the Paralympic Games.