Ostrava 2021: Norway hold off Slovakia to take second win
Nordic team make step closer towards Beijing 2022 dream in a day with first USA victory and second wins for Canada and RPC in Czech Republic
20 Jun 2021
Imagen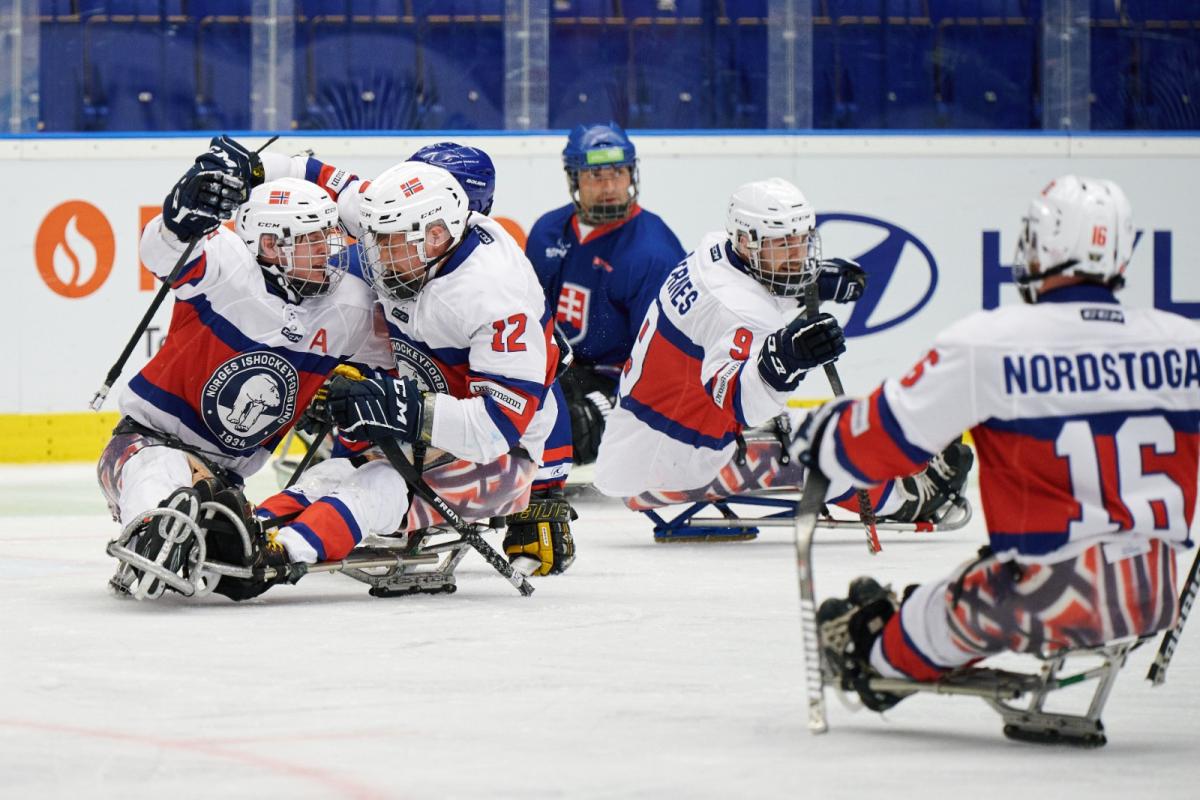 Ⓒparahockey.cz
By Stuart Lieberman and Filip Ozbolt | For World Para Ice Hockey
Norway held off Slovakia in a fiercely fought contest on Sunday (20 June) to remain undefeated after the second day of the 2021 World Para Ice Hockey Championships 
in Ostrava, Czech Republic, while the RPC and Canada also won their second games in as many days.
In Group B preliminary round action, Norway defeated Slovakia, 3-2, with goals from newcomer Martin Bakkejord Skolbekken, two-time Paralympic medalist Morten Vaernes and six-year national team member Ola Oiseth.
"It was a pretty tough game, and we knew that they were going to be physical, so our game plan was to try to defend as best we could," Bakkejord Skolbekken said. "We also have great players whom we know can score at any time."
Vaernes opened the scoring 2:09 into the game on a power-play pass from Oiseth, and seven minutes later, Martin Joppa scored Slovakia's first-ever World Championship goal at the A-Pool level with a whopper of a shot from nearly the blue line. 
Joppa's goal came exactly 10 years after he also became the first player to score Slovakia's first-ever Para ice hockey goal at the international level during an exhibition match against Austria. 
Bakkejord Skolbekken, a former football player and car salesman making his World Championship debut four years after losing his legs in an earthquake, then put Norway back on top in the period's closing minutes. 
Joppa slid right past Norwegian defender Andrea Sundt for a score nearly three minutes into the second stanza to tie it back up, but Oiseth responded from within a crowded crease in the third period to seal the win for Norway.
Johan Groenlie racked up six saves for Norway, and Eduard Lepacek blocked the puck 14 times for Slovakia.
Norway is now guaranteed to finish sixth place or higher at the event, and are eagerly eyeing a top-five finish to automatically qualify for the Beijing 2022 Paralympics. Slovakia can now only finish as high as seventh place and will have to earn its Beijing 2022 spot at the Paralympic Qualification Tournament later this year.
RPC 9, Italy 0
The RPC are tied atop Group B with Norway following a 9-0 victory over Italy, during which they scored five of their goals in the opening period. The RPC has now outscored their opponents 16-0 through two days in Ostrava.
"The game went great but there are always things we can improve on," said assistant captain Ilia Volkov, who notched an assist in the match. "There's no secret to our success though — we have a great team now and we are all friends,"
Six different players scored goals for the RPC, as Nikolai Terentev, the top goal scorer at the last two national championships in his country, netted a hat trick. Forward Evgenii Petrov struck twice, and captain Dmitrii Lisov, along with Mikhail Miachin, Airat Khamzin and Vladimir Rychkov all bagged points.
Miachin and Lisov scored within the first 3:13 of the game and then Terentev, Khamzin and Rychkov piled on three more in the opening period. Petrov got his third goal of the tournament in the second period and fourth goal in the third, with Terentev scoring twice more in the final frame.
RPC's Andrew Kasatkin and Evgenii Plotnikov combined for six saves in the net, and Italy's Gabriele Araudo and Julian Kasslatter together stopped the puck 22 times.
Having lost its first two games, Italy, like Slovakia, will have to earn its Beijing 2022 Paralympic spot at the Paralympic Qualification Tournament later this year.
USA 4, Czech Republic 0
Defending Paralympic and world champions USA picked up their first win of the tournament in Group A with a 4-0 win over the host nation that featured two goals from defender Jack Wallace in his third world championship appearance.
"I thought it was a pretty good game," Wallace said. "We could have capitalised on more chances, but we've been playing alright and are looking to build off this win and take it into the next game."
Following a scoreless first period that featured 17 blocked shots by Czech goaltender Martin Kudela, Wallace rocketed the puck to the top corner of the net off a pass from Noah Grove early in the second to put USA on the board. Two-time Paralympic gold medalist Brody Royal doubled the Americans' lead about a minute later.
Wallace scored again in the third, unassisted, and forward Christopher Douglas rounded out the game with another goal.
Kudela finished with an impressive 51 saves between the pipes for the Czech Republic.
Canada 8, South Korea 0
In other Group A action, Canada remained unbeaten to solidify themselves a semifinal spot in Ostrava with an 8-0 victory over the Paralympic and world bronze medallists South Korea. Canadian captain Tyler McGregor netted a hat trick, dual-sport athlete Liam Hickey added a pair of scores and new national team forward Auren Halbert tallied two goals.
Within a blink of an eye, McGregor and Hickey scored in the opening five minutes — both assisted by three-time Paralympic medalist Greg Westlake — to give the Paralympic and world silver medallists a lead they would hold onto for the rest of the contest. McGregor added another toward the end of the frame.
Hickey and Corbyn Smith increased Canada's lead against in the second before Halbert scored his first career world championship goal. Halbert and McGregor then padded Canada's lead with goals in the third period.
"I was ecstatic," Halbert said of his performance. "It's Father's Day today, and my dad asked for one goal, so I went out and got two for him. Coming out of this game, we have a lot of momentum moving forward."
Goaltenders Dominic Larocque and and Adam Kingsmill split the duties between the posts for Canada to secure the victory. It was Kingsmill first taste of international competition, as he recorded two saves in 22:04 minutes on the ice.
All teams will have a rest day, and then on 22 June, Norway will face RPC (10:30 CEST), followed by Canada-Czech Republic (14:15 CEST), Italy-Slovakia (17:30 CEST) and USA-South Korea (20:45 CEST).
The World Para Ice Hockey Championships run from 19-26 June, with the top eight-ranked teams competing for a world title and five Paralympic qualification spots for the Beijing 2022 Games.
All games are being streamed live on World Para Ice Hockey's website and Facebook page with geo-block restrictions in Canada, Czech Republic, Slovakia and USA. 
The tournament will consist of three days of preliminary pool play followed by two days of playoff matchups and then the medal round. Full results and statistics are available on the Ostrava 2021 microsite.