Othman breaks record four times on way to title
Egypt's Sherif Othman put in an incredible performance on the way to becoming world champion on day two of the 2014 IPC Powerlifting World Championships in Dubai, UAE.
06 Apr 2014
Imagen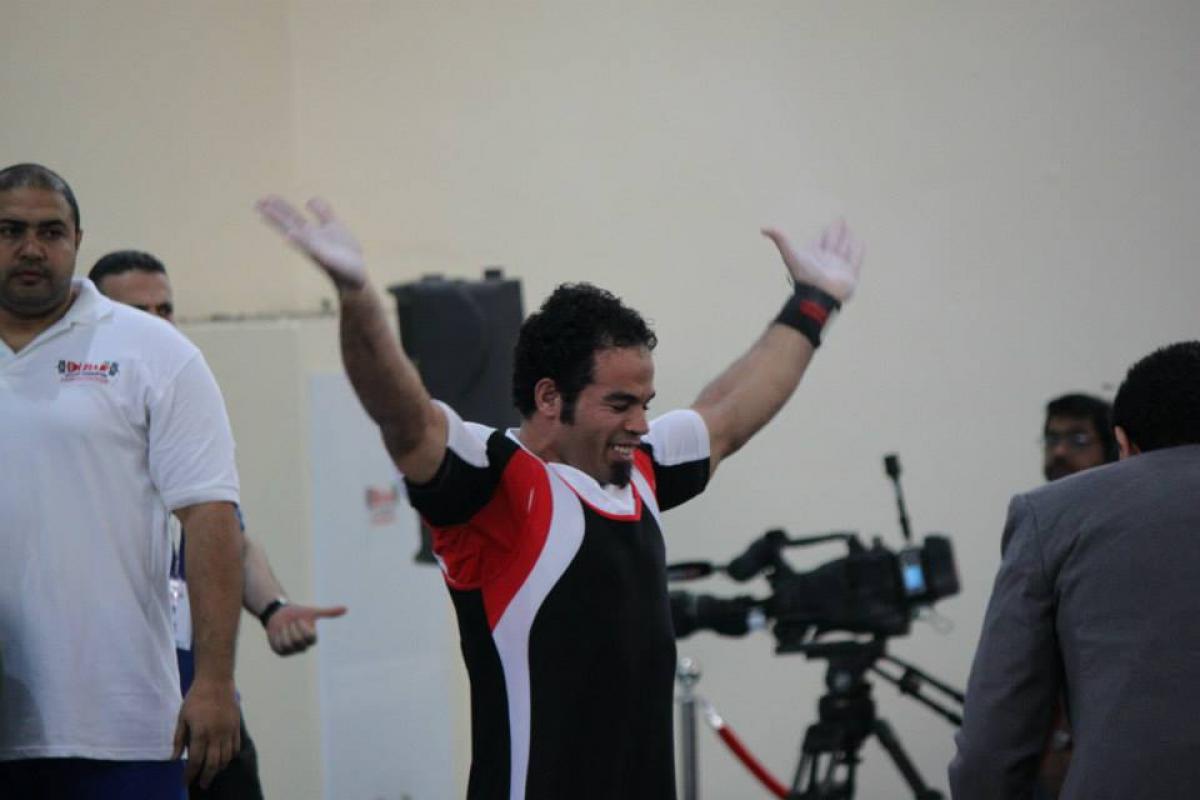 ⒸIPC
By IPC
"Today I got my dream"
Egypt's double Paralympic champion Sherif Othman broke his own world record four times on the way to winning gold in the men's -54kg at the 2014 IPC Powerlifting World Championships in Dubai, UAE, on Sunday (6 April) finishing with an incredible fourth lift of 205kg.
The new mark added an impressive 24kg to his previous record of 181kg set just over a year ago and soon after winning gold, the 31-year-old revealed he is considering a new challenge ahead of the Rio 2016 Paralympic Games.
"Today I got my dream," said Othman who also won gold at the 2010 World Championships.
"After this I will think about entering a heavier weight category, maybe the -59kg. In Rio maybe I will be there."
Stalking the bench on entry to the venue before each lift, Othman's started his record breaking day with a first lift of 187kg, adding 6kg to his previous best. In the next round he lifted 193kg, bettering closest competitor Vladimir Krivulya (180kg) of Russia by 13kg.
The battle for bronze went to the third round of lifts and it was China's Qi Feng (177kg) who eventually managed to push the extra weight required to make the podium.
After Othman lifted 202kg in the third round, he opted for a fourth lift under the watchful eye of IPC President Sir Philip Craven who was later joined by Mohammad Bin Rashid Al Maktoum, UAE Vice President and Prime Minister of the UAE and Ruler of Dubai.
The crowd fell silent before erupting in applause as Othman succeeded in lifting 205kg, almost four times his own body weight.
The junior gold went to Greece's Paschalis Kouloumoglou (144kg). Great Britain's Panagiotis Mamuneas (121kg) took silver and Iraq's Ahmed Al-Majmaie (115kg) the bronze.
The men's -59kg saw a battle between Great Britain's world record holder Ali Jawad and Iran's Hamzeh Mohammadi who, in the first round, bettered Jawad's record of 185kg by 1kg to take an early lead. Jawad responded in the second round with a world record of his own, achieving 190kg, a weight Mohammadi could not match.
In the third round Jawad, knowing gold was secured, attempted 193kg but was unsuccessful. Mohammadi (186kg) took silver and Nigeria's Anthony Ulonnam (183kg) finished with bronze.
Iran's Ahmad Doustdarshahmirzadi won the junior gold (133kg) with Uzbekistani Iksandar Tursunbaev (120kg) in silver.
The biggest upset and closest contest of the day came in the women's -45kg with three of the top four athletes finishing with lifts of 95kg and having to be separated by bodyweight. The eventual winner was Russia's Rayisa Toporkova (96kg) who finished ahead of Poland's Justyna Kozdryk (95kg) in silver and Mexico's Laura Cerero (95kg) in bronze. Egyptian world record holder Zeinab Oteify (95kg) could only manage fourth on account of being the heavier of the three tied athletes.
The 2014 IPC Powerlifting World Championships, featuring over 330 athletes from nearly 60 countries, run from 5-11 April and are the first opportunity for athletes to begin qualification for the Rio 2016 Paralympic Games.
The competition also features the climax to the "Raise the Bar campaign," which has seen powerlifters and team officials take part in education seminars as part of efforts to reduce doping in the sport. A full competition schedule and live results can be found at www.paralympic.org/dubai-2014/schedule.
For more information about the 2014 IPC Powerlifting World Championships, please visit the Dubai 2014 website.
The competition is also being live streamed.