Para-athletics explained: Wheelchair racing
In the third edition of 'Para-athletics explained', renowned Paralympic coach Jenni Banks helps us uncover the intricacies of wheelchair racing.
14 Apr 2016
Imagen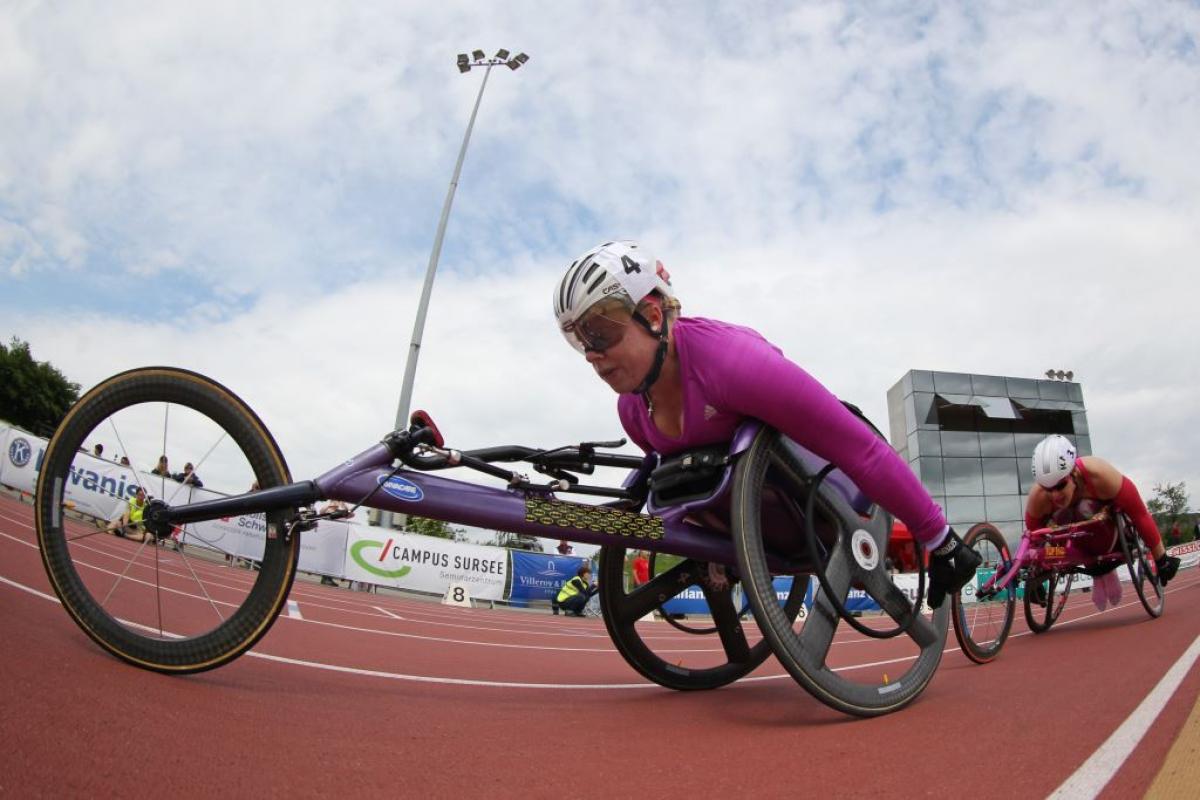 ⒸGetty Images
By IPC
Banks is the Senior Institute Coach for wheelchair racing at British Athletics, and a former High Performance Manager with the Australian Paralympic Committee.
She has been involved in high performance sport for over 30 years, and is a respected author on various aspects of coaching and performance from grass roots to high performance level.
Banks' impressive CV includes coaching six athletes – including the reigning Paralympic, world and European champion Hannah Cockroft – to number one in the world. The Australian has also coached athletes to more than 45 Paralympic, Olympic or world medals, as well as more than 45 world records.
__
What are the essential pieces of kit required for wheelchair racing?
At the elite level - a custom built racing chair (plus a spare, ideally an exact replica, in case of loss or damage), helmet (can potentially be different to suit different events, weather and light conditions), gloves (soft or hard depending on preference, event, weather conditions etc.), spare racing and training wheels - front and rear (can vary at different times of the training year and for different events and wind conditions), chair computer, spares of everything (tyres, gloves, wheels, straps, fork, compensator, dampener...), training rollers - portable and permanent, tool kit, therabands for stretching, pump (track stand and/or electric).
How much has the kit changed in recent years?
Over the last 20-plus years, massively in terms of length, number of wheels, steering, sitting position, and aerodynamics. Over the last few years there have been more subtle, but significant refinements - for example, changes in materials (increased experimentation with carbon fibre) and the aerodynamics of different features of the chair (important as higher speeds are achieved - 20mph plus).
As a coach what do you look for in a wheelchair racer?
At elite level - power to weight ratio; ideally a long trunk and arms; good shoulder, trunk, hip mobility; a good engine (or capacity to develop one); a strong work ethic, someone who takes responsibility for their own performance; professional - prepared to leave no stone unturned; a love of the sport. If you don't love it; adaptability, which is important when travelling to unfamiliar environments.
What should somebody starting out in wheelchair racing focus on first and foremost?
Getting hold of a racing chair that fits them well - a chair should ideally fit them 'like a glove' so that there is no movement in the bucket of the chair that is not contributing to the propulsion of the chair.
Also get advice from an expert to optimise their sitting position in the chair so that they can make the most of their functional ability.
In order of importance: 1. Chair fit/sitting position - optimised to suit the individual and their functional ability; 2. Training/drills to improve pushing technique; 3. A well-structured and progressive training programme to develop required fitness and other technical skills; 4. The extras - carbon wheels etc.
How important is technique versus strength?
Both are important but technique is more important. Flexibility and mobility, especially of the shoulders and trunk, is also important in enabling an optimal (efficient and economical) pushing technique.
What about tactics - how much of a role do they play?
Obviously critical in 800m up. You can be the fittest in the field but if you are not tactically astute (and have great technical skills/bunch skills), you greatly lessen your chances of success.
You must be aware of your own strengths and weaknesses and those of your opponents; be able to adapt to the conditions; have a plan A, B, C and be able to adapt; be able to 'read' the bunch and be able to respond appropriately.
Wheelchair racers take on a variety of distances from 100m up to a marathon. How do you accommodate for this in training and how easy is it for athletes to adapt to a variety of distances?
Athletes still do a variety of distances (e.g., 100m, 400m, 800m) but not the extreme ranges that they did in the earlier days of wheelchair racing, where it was not unusual at all to do 100m to marathon - only a very few do that now, compared to the past. Athletes are tending to become more specialised.
It is much easier to accommodate a smaller range of distances in a training programme but the reality is that most wheelchair racers require a decent base of training for all events, and you can add or subtract from there.
Most athletes tend to be more suited for shorter or longer events and you need to vary the approach you use with them to accommodate this. In other words, there are different ways of preparing for the same event - the approach you use varies according to the strengths and weaknesses of the athlete, it is not a 'one size fits all' scenario.
What types of injuries are common and what can athletes do to limit them?
Shoulder, elbow, and wrist injuries are most common.
Ensure the sitting position and pushing technique are optimal; have a well-structured training programme that progressively develops fitness and skills and provides adequate rest and recovery.
Listen to your body - don't be a slave to your training plan - and address any niggles promptly.
___
Sport fans from around the world can now buy their Paralympic tickets for Rio 2016 from authorised ticket resellers (ATRs).
The IPC's Global ATR is Jet Set Sports, and Rio 2016 tickets and packages can be purchased on the CoSport website.
Residents of Brazil can buy 2016 Paralympics tickets directly from the Rio 2016 website.