Training Tuesday with Brazil's Felipe Gomes
The 200m T11 world champion talks us through his dedication, sacrifices and desires that are driving him towards the Rio 2016 Paralympic Games.
12 Apr 2016
Imagen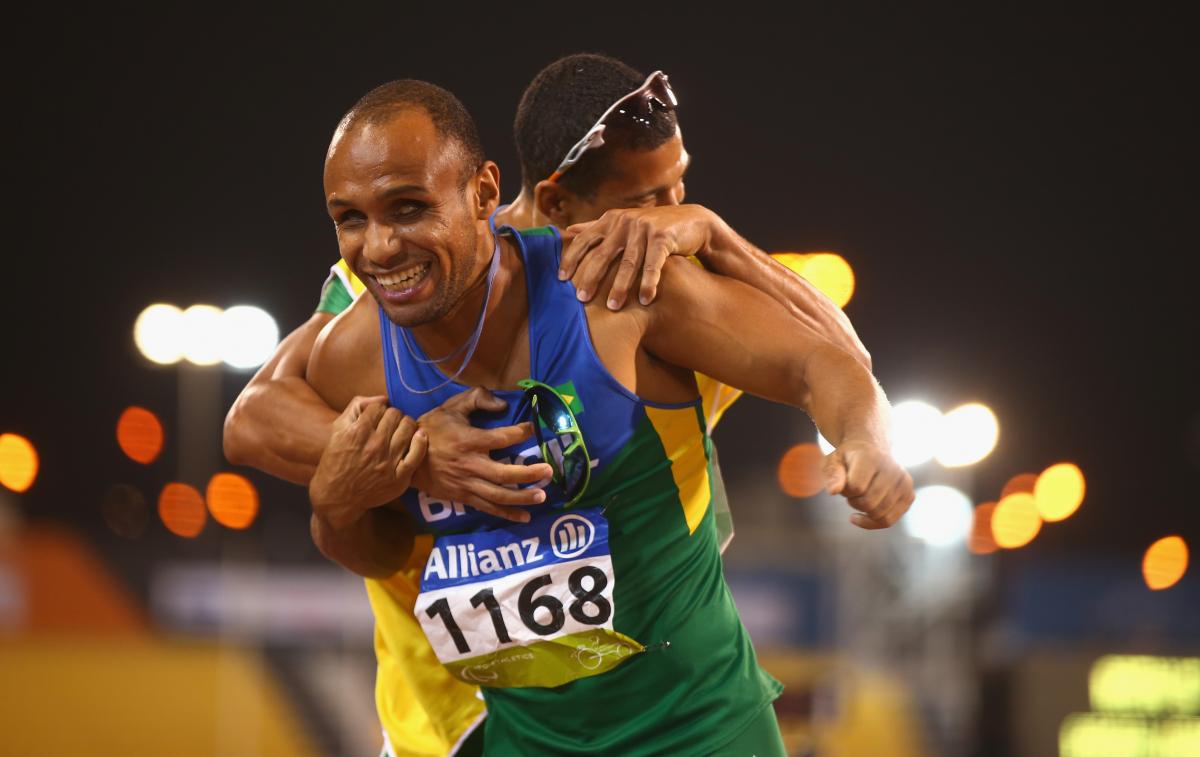 ⒸGetty Images
By Rafael Mendoza | For the IPC
Brazil's Paralympic and world 200m T11 champion Felipe Gomes is undoubtedly one of the top athletes to watch at the Rio 2016 Paralympic Games, not least thanks to his outstanding performances at the 2015 Parapan American Games in Toronto, Canada, and at the 2015 IPC Athletics World Championships in Doha, Qatar.
Gomes won 400m gold and 200m silver in Toronto in August – he was also part of Brazil's victorious 4x100m T11-13 relay quartet. The 29-year-old then headed to the Worlds in October where he defeated US world record holder David Brown to clinch 200m T11 gold.
Here Gomes takes us through a typical training day in the 'Cidade Maravilhosa' as he prepares to take on the world's best once again – but this time, on his home turf at Rio 2016.
----
"I believe that dedication, sacrifice, and the desire to win can take you to another level. Athletes always want more whenever they have passion in whatever sport they compete.
In Brazil, and I guess in all countries in the world, athletes fight. We fight to be part of the national team, then we fight to be in the Paralympic Games, and once we get there, we fight to win a Paralympic medal.
Once you have that medal, you realise how many fights you have won, and that all that dedication and sacrifice was worth it. Certainly, I think that if any athlete wants to succeed they need these three things: dedication, sacrifice and the desire to win. If athletes don't have it they won't be able to accomplish their dreams.
My next dream is to be in the Olympic Stadium listening to my national anthem, with a medal hanging round my neck in Rio de Janeiro. For me, all medals are welcome - but winning a gold medal in Brazil would be a dream come true. That is why I try to train harder every day, so come September I can stand on the Paralympic podium.
My workout routine is similar to many other athletes. From Monday to Saturday - the days I train - I wake up at 05:30. I try to have a really light breakfast, because afterwards I have to leave to start my morning training session.
Rio de Janeiro is a huge city and the public transportation system is not the best in the world. It takes me an hour and a half to get to my training complex - I have to take three buses.
Once I'm there, I start with some stretches and then the warm-up. These two parts of training are crucial for any athlete, because they can prevent injury and let us start our routines as best as possible.
My morning session lasts three or four hours. It's a really exhausting workout on the track, but I love it. Actually, the part that I enjoy the most about my training is when we do short sprints - 10, 20, 30 metres until we reach 150 metres. I train alongside two others, and I consider that very important because training together allows us to push ourselves a little bit further. Most importantly we help and support each other in everything we might need.
Three days a week we have an afternoon session in the weights room. After these sessions I would love to go back home; instead I go to the physiotherapist. It is really important to regularly attend physio, because it helps our body to recover well and avoid injuries. I like to pay close attention to recovery, because before the 2008 Paralympic Games injuries prevented me from reaching my best times.
As I said, sacrifice is a very important factor that affects our development as athletes. For me, it is a great sacrifice not to eat what I love. My nutrition regime is very strict and it is guided by a nutritionist who allows me to eat six times per day, but does not allow me to eat the food I love. Pizza, churrasco, candies and soda are not allowed. Sometimes I would like to eat junk food, but if I do, I won't be able to succeed as an athlete.
After my workout is over, I go back to my house to relax and enjoy the rest of my day. I like to listen to the radio and try to catch up with the news of my country and the world; I also love to listen to Pagode, which is a Brazilian style of music. I spend a lot of time on Facebook and Whatsapp, like many people in the world.
But the moment I enjoy most is when I watch my favorite TV program 'El Chavo Del 8' - an old Mexican TV series that really makes me laugh. These kinds of activities help me to relax before I go to bed and keep my mind fresh for my next training day."
___
___
Sport fans from around the world can now buy their Paralympic tickets for Rio 2016 from authorised ticket resellers (ATRs).
The IPC's Global ATR is Jet Set Sports, and Rio 2016 tickets and packages can be purchased on the CoSport website.
Residents of Brazil can buy 2016 Paralympics tickets directly from the Rio 2016 website.