Training Tuesday with US sprinter David Brown
The US world champion sprinter talks us through an average day at the US Olympic Training Centre.
15 Mar 2016
Imagen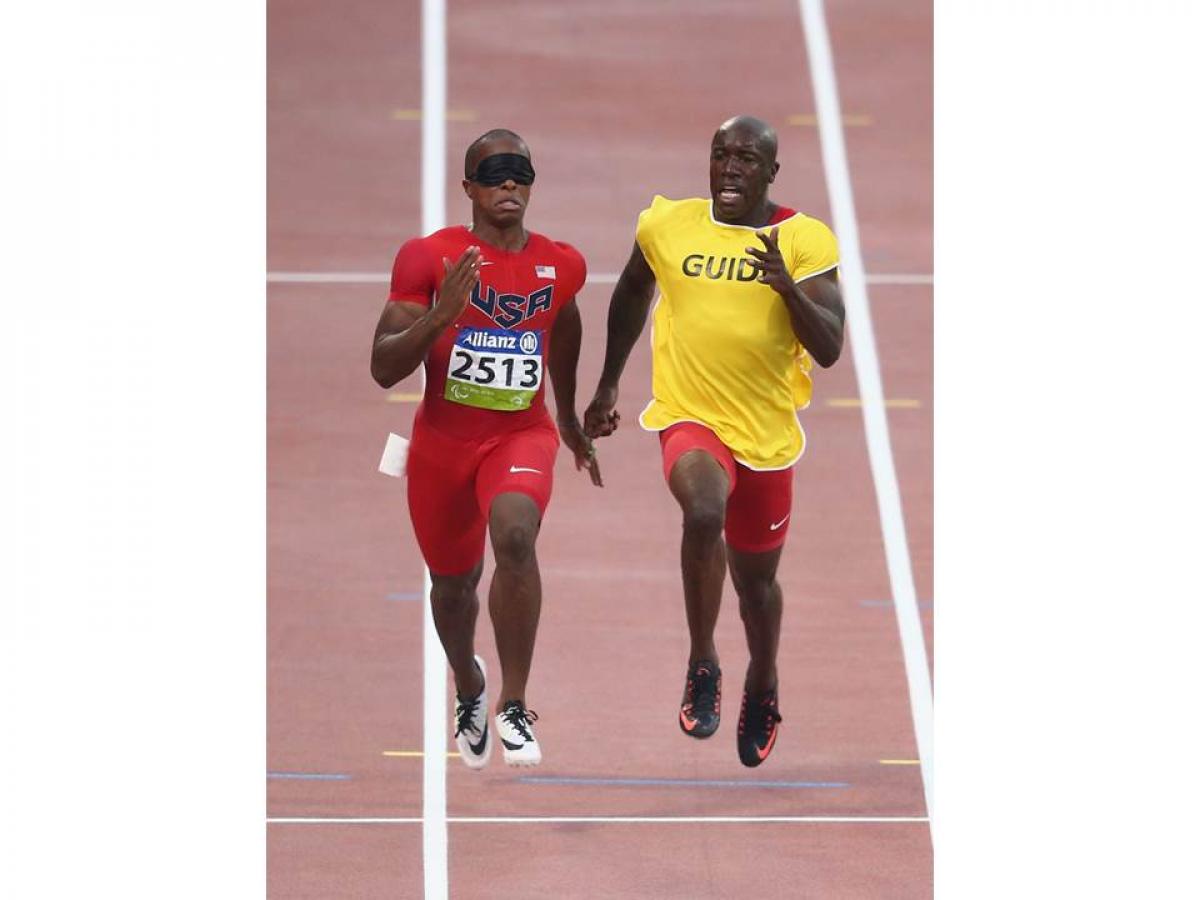 ⒸGetty Images
By IPC
In 2014 David Brown became the first blind athlete to run under 11 seconds for the 100m; the following year he won double sprint gold at the Toronto 2015 Parapan Am Games before adding the world 100m T11 title two months later.
It has been a whirlwind couple of years for the 23-year-old, and he'll be hoping to take 2016 by storm too.
How is Brown preparing for the Rio 2016 Paralympic Games in less than six months' time? Here is his Training Tuesday.
---
"I've started to wake up at 07:30 these days. Depending on how I feel will depend on how many times I hit the snooze button. I jump in the shower and get the water running to wake me up a little bit then I'll go grab some breakfast. I've started eating breakfast a lot earlier so I've had time to digest it before practice comes around.
Watch David Brown training with his guide Jerome Avery here.
Then I go back to my room and take a mini power nap before heading to the track. Yes I sleep after breakfast as well! I live at the Olympic Training Centre in Trula Vista, San Diego, and there is a dining room on the site, so what I have depends on what's available – like pancakes, eggs or some oatmeal and a banana. I always drink two cups of water with my meal too just to stay hydrated, and some honey water before practice.
I get to the track at about 10.00. I've been here for nearly four years, and I can just walk everywhere; walk to the dining hall, walk to the track – when I get there just depends on how fast I'm walking.
We might do hills, or regular sprint stuff – some interval training. I have two guides I run with – Mason and Jerome – we vary it so we get practice with both guides in. I run the 400m with Mason and the shorter sprints with Jerome.
I usually finish training around 12:00 or 12:30 then we'll go to lunch – some chicken or salad, depending how I'm feeling; I tend towards lean meat and veg. Then I'll lay down for a little while or just relax before I get ready for my second session which is usually weights or core work and such. We have a weights room, but I usually do my core down at the track. Usually this lasts about an hour, then I head back to my room and relax, or I might do sports med or rehab, whatever needs to be done.
I like to watch Netflix or do my music to relax – or I might take a nap. Right now I'm actually watching the police show Hawaii Five-0. There's an up-to-date one – I'm not watching the old re-runs from 1970s! After that I go eat dinner –something light – then hang out with my friends or just head back to my room.
Depending on the day I might be tired, so I'll just lay down and text people, or watch Netflix, or play around with my keyboard. I have a mini keyboard that I hook in to my MacBook, then I can also make music on my i-Pad.
Music gets you in to different kinds of moods depending what you listen to, so I do kind of use it as a winding down thing. I usually just plug my keyboard in and start playing around on the keys, then if I feel like I want to make a beat I'll do that.
I try to go to sleep – key word 'try' – around 21.30 or 22.00. But that always varies. The reality is, if I'm not tired yet then I'll just stay up longer. If I'm really tired then I can crash out about 20.30. I can sleep a long time. Unless I'm super tired I might lie there a while, then I'll decide – or my body decides - 'Yeah, you're going to be out – go to sleep.' And I'm like, 'Okay'. I need recovery, and I'm a big proponent of sleep!"'
__
Sport fans from around the world can now buy their Paralympic tickets for Rio 2016 from authorised ticket resellers (ATRs).
The IPC's Global ATR is Jet Set Sports, and Rio 2016 tickets and packages can be purchased on the CoSport website.
Residents of Brazil can buy 2016 Paralympics tickets directly from the Rio 2016 website.