Poli and Maspero celebrate three months-to-go to Grosseto 2016
The IPC Athletics European Championships will take place between 10-16 June, attracting 700 athletes.
14 Mar 2016
Imagen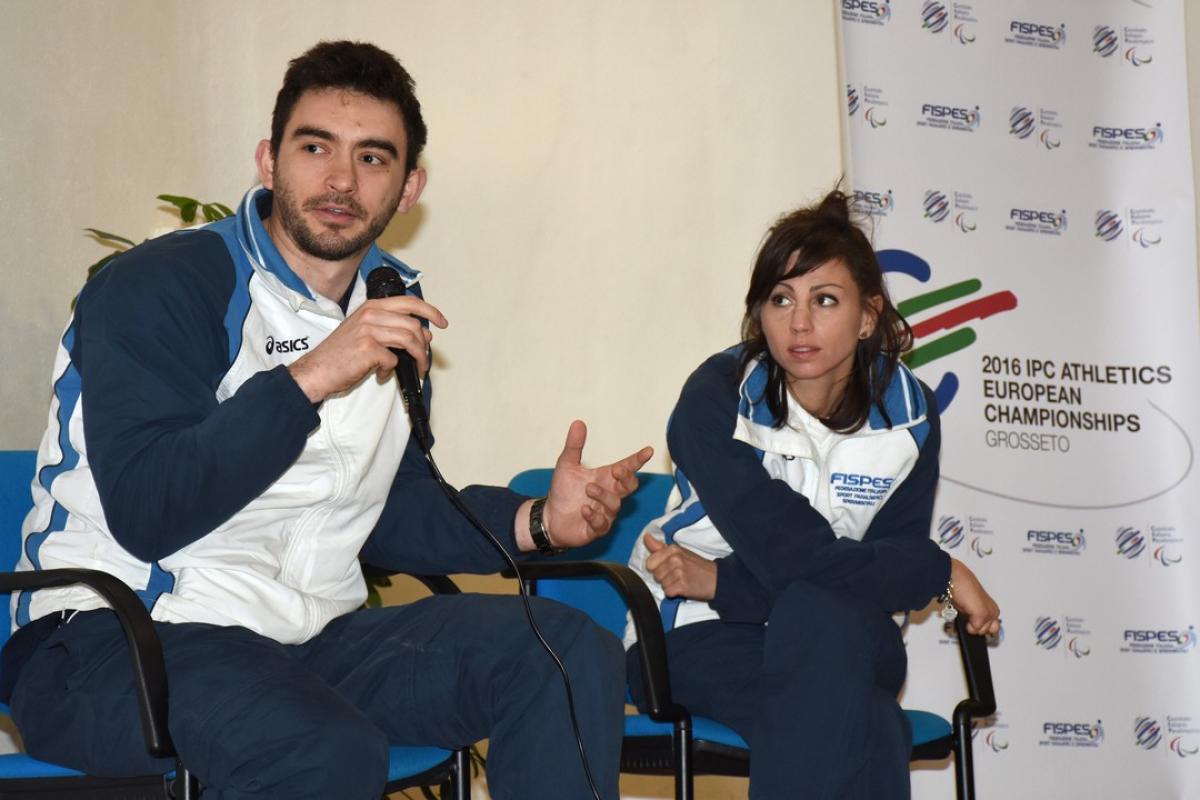 By IPC
Italian athletes Giacomo Poli and Federica Maspero celebrated three months-to-go to the official opening of the 2016 IPC Athletics European Championships in Grosseto, Italy, together with 200 students in a high school of the Tuscan city.
From 10-16 June the Carlo Zecchini Stadium will attract over 700 athletes from all over Europe who will be aiming for titles and qualification slots for the Rio 2016 Paralympic Games. On 8-10 April, Grosseto will also play host of the Italian Open Championships, the fourth leg of IPC Athletics Grand Prix series.
During the meeting which is part of the "A World of Athletics" promotional campaign in schools, Poli and Maspero, both amputees who compete in running and throwing events respectively, talked about their passion for para-athletics, their achievements and the power of sport in their everyday life.
T43 sprinter Federica Maspero was considered a real surprise on the Italian team at the Doha 2015 IPC Athletics World Championships. Setting a national record of 1:07.41, the 37-year-old oncologist placed fourth in the 400m T43/44, where she started training only a few months before.
"At the starting blocks, my only wish was to finish this strenuous race which we usually call the 'death lap' (il giro della morte)," she said. "In Qatar I had a wonderful experience with my teammates supporting me and giving me a push to run with a lighter spirit. Now I want to perform well at the European Championships in Grosseto as well."
The first experience in the national team was significant for F44 javelin thrower Giacomo Poli too.
"At the European Championships in Swansea two years ago (where he came fourth) I was positively surprised by seeing all those athletes having a different impairment but showing the same smile, wearing a different jersey but sharing the same spirit. This is sport," Poli said. "In Grosseto I would like to get the same feeling in a much nicer place (laughing) and live a more special experience."
Maspero, who was hit by meningitis on the day of her 24th birthday causing the amputation of both legs and part of her fingers, told students how she took up para-athletics: "I started in 2011. I was very tired of using only my mind for my medicine university studies. I have never hidden to have lost two legs but after buying my prosthesis I started running to show them more openly. Running gave me a feeling of freedom and I feel the same unique freedom every time I am on a track. Love for life is my inspiration. Sport helped me out to discover the deepest part of myself and changed completely my life, opening up new worlds and new doors."
Before getting into para-sport, Poli was a professional able-bodied handball player and coach. The Italian javelin record holder (44.22m) explained how the car accident changed his life in 1985.
"Every day it's complicated to get up and wear my prosthesis but I don't want to give up. Every day I challenge myself to win my battle. I don't feel I am special because each of us has got their own hurdles to jump but I want to get over them every day a little bit more. Playing with others is a source of emotion, regardless if you have one leg, two legs or any. I had to forget the handball technique to learn how to throw a javelin but I still have the same athlete mindset to make sacrifices and train hard. My dream, I don't want to deny it, is to take part in the next Rio Paralympics".
Sandrino Porru, Grosseto 2016 President, who also attended the three months-to-go celebrations sent a strong message to students: "Athletics is for all. Para-sports are for all. We train on the same track as able-bodied athletes, we don't need any special facilities. You are the future of this society and the European Championships are not only a major event but are a key opportunity to spread the Paralympic spirit in Italy and around the world."