Para equestrian: Q&A with Emma Booth
Get to know the Australian grade II rider ahead of Rio 2016.
01 Sep 2016
Imagen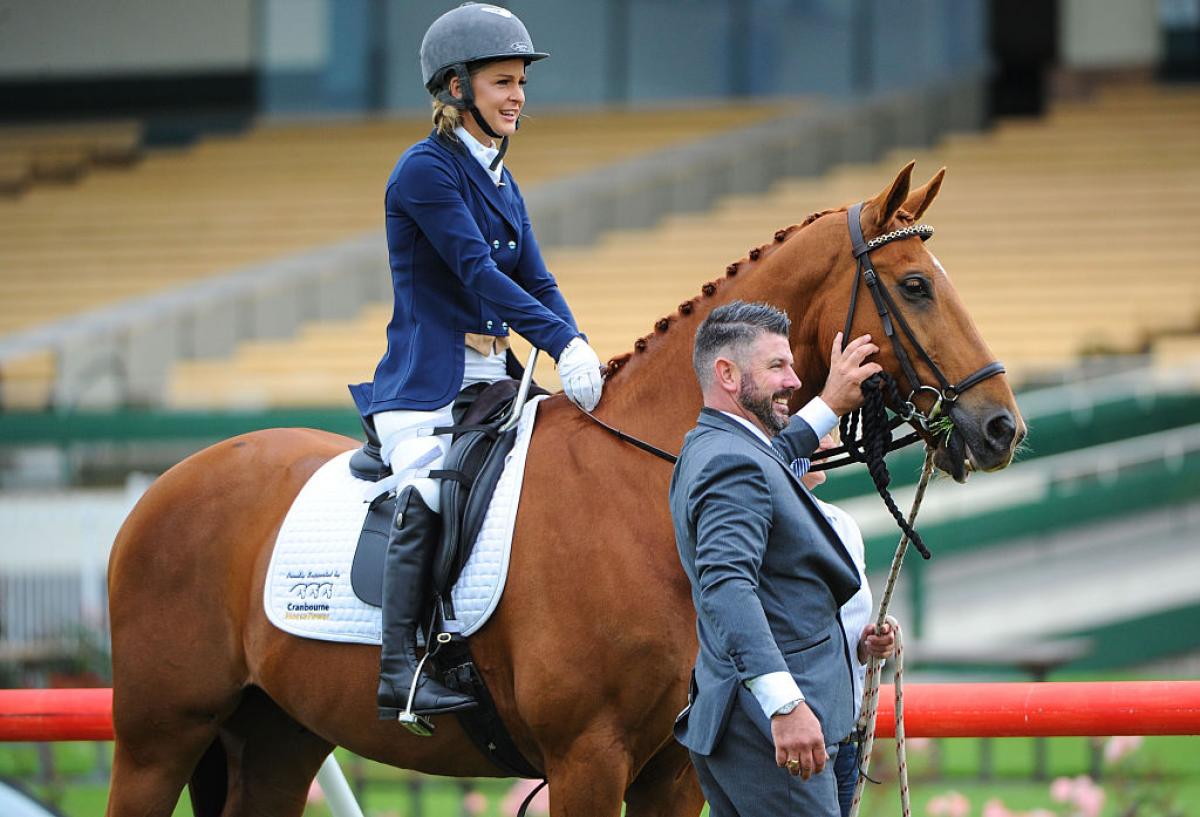 ⒸGetty Images
By IPC
Emma Booth will make her Paralympic debut in Rio in September, competing in Para equestrian dressage for Australia. An accomplished rider who had trained in Germany with one of the country's top dressage riders, Booth sustained near fatal injuries in a car crash in 2013, which left her paraplegic.
Paralympic.org: How did you get into your sport?
Emma Booth (EM): I got into horse riding when I went riding with my aunty as a child, and then I was very lucky to win a pony in a competition from the TV show The Saddle Club at the age of 11 years old.
What does it mean to you personally to represent Australia in Rio?
EM: I'm so proud to be representing Australia, it is a huge honour and only so few people get this opportunity.
How do you feel about your chances in Rio?
EM: We've worked hard and Zidane has never felt better. He's going really well and we're really pleased with him. I say we because Lone Joergensen (my coach) has obviously played a huge role in getting us ready. All we can do now is try our best and strive to score some personal bests.
If you had to pick five words to describe yourself what would they be?
EM: Determined, resilient, fun, relaxed, ambitious.
Who do you see as your biggest rivals in Rio?
EM: I guess our biggest competition would be Natasha Baker as the gold medal winning grade II rider from Great Britain at London 2012. But having met her she is a lovely person so I don't see her as a rival. It's the Paralympics so anything could happen, and it's horses so everyone is our competition at the end of the day.
Do you have any superstitions or routines which you go through when competing?
EM: Not really, I'm a pretty chilled out person and don't really get uptight about things.
What advice would you give any riders starting out in your sport?
EM: Work hard, practice as often as you can afford and set goals big and small so you're always achieving something.
If you could pick one thing about your sport what do you most enjoy?
EM: The bound with my horse. Being on Zidane, the time we have together is what keeps me smiling. He's my legs now and gives me freedom. He is so special to me and if you can find a horse like that they're worth the world.
If you could have dinner with anyone, living or not, who would that be?
EM: Barack Obama.
Who is your biggest inspiration in life?
EM: As a rider, Andrew Hoy (Australian Olympic medallist in eventing) is a champion and a true professional.
Para equestrian competition at Rio 2016 begins 11 September, with medal events taking place 13-16 September, at the Olympic Equestrian Centre in Deodoro.
__
Sport fans from around the world can now buy their Paralympic tickets for Rio 2016 from authorised ticket resellers (ATRs)
The IPC's Global ATR is Jet Set Sports, and Rio 2016 tickets and packages can be purchased on the CoSport website.
Residents of Brazil can buy 2016 Paralympics tickets directly from the Rio 2016 website.
Visa International is the exclusive payment card and the official payment system for the Paralympic Games.