Paris Grand Prix: Petrucio Ferreira on fire in Paris
Brazilian sprinter continues quest to be fastest ever.
15 Jun 2018
Imagen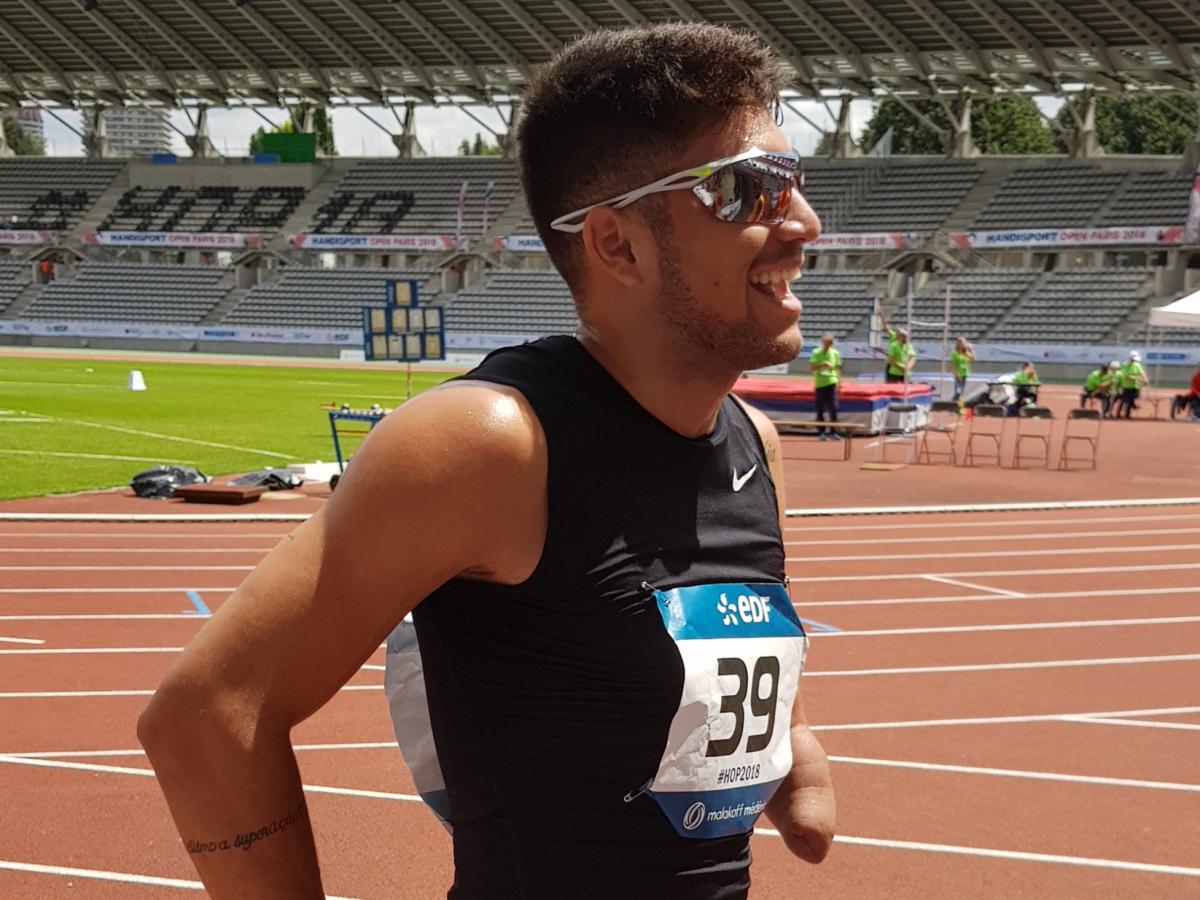 ⒸIPC
Brazil's sprint star Petrucio Ferreira moved even closer to becoming the fastest Paralympian ever as he smashed his own world record on Friday (15 June) at the Paris Grand Prix in France.
Quickly out of the blocks in the men's 100m T47, Ferreira made winning look easy as he crossed the line in 10.50 seconds, a brief glance at the clock confirming a new world record time.
The result means Ferreira is now just 0.04 seconds shy of Jason Smyth's time set at the 2012 Paralympic Games – a mark which earned the Irishman the accolade of fastest Paralympian on the planet.
If Ferreira has his way however, that title will soon become his.
"I want to do 10.46 or under – maybe at the World Championships next year, it is a great event," said the 21-year-old, who set the previous 100m T47 world record of 10.53 at the London 2017 World Championships.
"My target is to always improve, and this time proves that. I'm very proud to represent Brazil in each competition."
In a day dominated by 100m races at the city's Stade Charlety, Ferreira wasn't the only Brazilian in terrific form.
Teammate Vinicius Rodrigues Goncalves (12.15) took the win in the 100m T42/63, underlining just why he is fast becoming the man to beat in the T63 class for single above-knee amputees.
"It's very important to come and compete in Europe because in Brazil we don't have many amputees who compete with prostheses," said the 23-year-old who has already clocked 11.99 this season – the first in his class to go below the 12-second mark.
Felipe Gomes (11.38) got the better of his teammate Lucas Prado (11.51) in the T11 event; Silvania Costa de Oliveira (12.85) added to her long jump win on day one with victory in the women's 100m T11/12; Mateus Evangelista Cardoso (11.56) finished well clear of the field in the men's T37 and Fabio Bordignon (12.71) held off a strong field in the men's T35 event.
Ukraine's triple world champion Leilia Adzhametova (12.01) notched up her second win of the meeting with a convincing victory in the women's T13 event, but she still believes competition will be tough at August's European Championships.
"I'm very happy and very satisfied," said the 24-year-old. "But I don't like to predict my results. I just live for today and today the stars aligned in the sky for me. I was the first with a good result, so only time will tell and I hope for the best in Berlin."
Hungary's T38 Para athlete Luca Ekler (13.14) also impressed one day after winning the long jump as she crossed the line first in the T37/38 race to go second in the T38 world rankings.
Poland's Alicja Fiodorow (12.65) completed her sprint double and there was joy for Argentina's Yaniana Martinez (14.38) who raced in to the world number one spot in the T36 class.
Germany's Irmgard Bensusan (13.01) set a new personal best in the T44 class while Paralympic and world champion Martina Caironi (14.91) was the standout winner in the T63 event, and the Italian was pleased with her season so far.
"I think it's getting better and better. I need to go faster of course but for the moment it's okay, I'm satisfied and happy," she said.
South African's top Para athletes were also in form – Mpumelelo Mhlongo (11.27) and Ndodomzi Ntutu (11.13) maintained their places at the top of the T44 and T12 global rankings respectively.
In the 400m races, Frenchman Julien Casoli (48.38) was first across the line in the T53/54 – Pierre Fairbank (49.53) the best of the T53 wheelchair racers. Local favourite Timothee Adolphe (51.71) claimed a new world lead in the men's 400m T11 and Brazil's Paralympic and world champion Daniel Martins (49.62) was the standout winner in the T20 race.
Germany's triple world champion Johannes Floors (46.78) looked strong as he quickly took control of the men's 400m T47/62.
"To be honest we didn't expect such a quick time so close to my personal best, so I'm very happy about this," said Floors, who clocked a new world lead. "We knew it is a fast track, I trained hard for it; we knew it would be difficult to be that fast, but we managed it somehow."
South Africa bagged further wins courtesy of Charl du Toit (51.26) in the men's T37, Union Sekailwe (54.36) in the men's T38 and Anrune Liebenberg (56.39) in the women's T47.
Liebenberg, who won silver at both the Rio 2016 Games and London 2017 World Championships, was delighted with her performance.
"My plan was just to not race like Rio with too much heart, but to go out and pace it really well. It's quite nice to have that feeling back."
In the day's 1,500m races there were wins and new world leads for Frenchman Redouane Hennouni (4:11.22) in the men's T38 and Julio Agripino dos Santos (4:06.51) in the men's T11/13.
Ireland's world and Paralympic silver medallist Niamh McCarthy (32.67m) continued her impressive run of form ahead of the Berlin 2018 European Championships, extending the European F41 record she set in Rieti, Italy, last month with her sixth and final effort in the women's discus.
Home favourite Alexandre Dipoko-Ewane (1.94m) came out on top in the men's high jump; Algeria's Nadia Medjmedj managed a best of 19.42m in the women's javelin and Briton Stephen Miller (30.07m) took the win in the men's club throw F32.
Brazilian Alessandro Silva (43.49m) took the win (on points) in the men's discus; his teammate, F56 world number one Claudiney dos Santos (39.36m), was first (on points) in the men's javelin.
Germany's Nikko Kappel smashed the world record in the shot put F41 one week ago but he was unable to match that form this time, managing a best of 12.99m.
Still, the Paralympic champion remained upbeat about the forthcoming European Championships.
"My first try, it was really good, the technique was great, but after that I was a little bit tired, so it was not the best performance today. Now I wake up and I have to train hard and be focussed for the European Championships. I want to do better than 14.02m, and I think it's possible."
Full results can be found here.