Patience paying off for Angie Ballard
The Australian will line up at next week's IPC Athletics Grand Prix in Canberra, hoping to show why she is a favourite for Rio gold.
29 Jan 2016
Imagen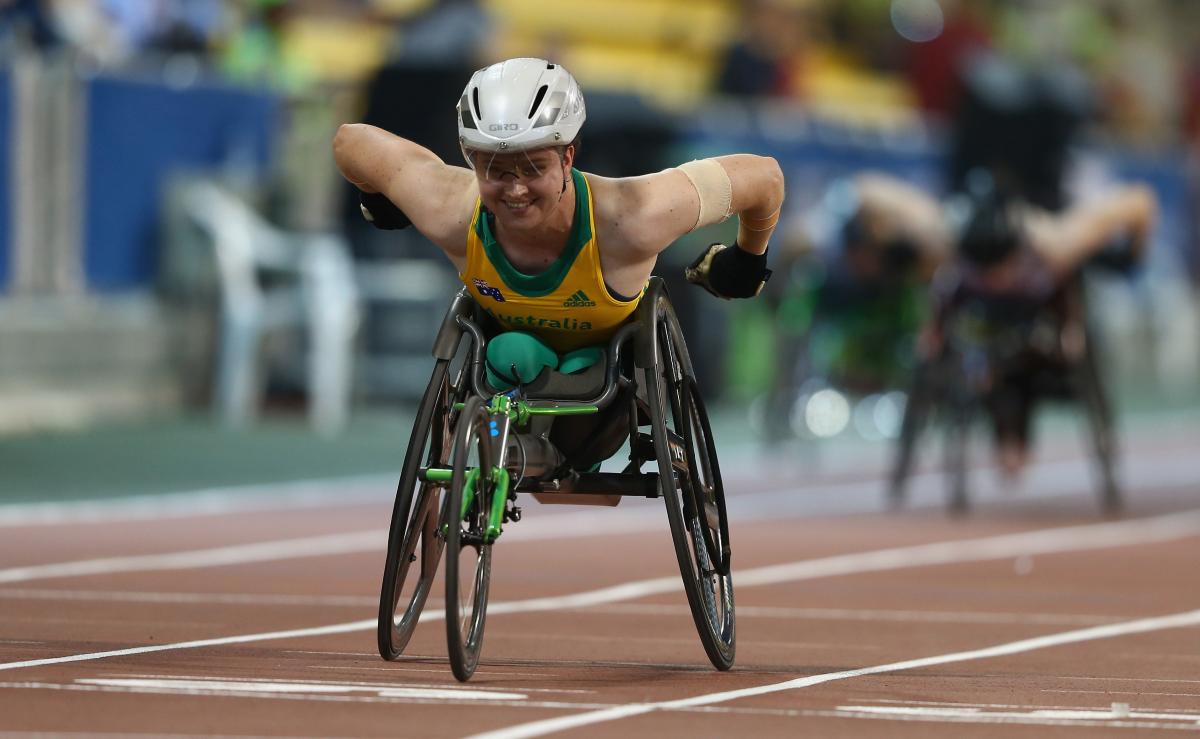 ⒸGetty Images
By IPC
"There's no more doubt that I can do it, it's now a matter of doing it again at Paralympic level."
In less than eight months' time, Angie Ballard will be one of the favourites to win T53 gold at the Rio 2016 Paralympics. The Australian's story is one of determination, willpower and patience – plus a real appreciation of the success that has finally come her way.
Last year at the IPC Athletics World Championships in Doha, Qatar, Ballard stormed to victory in the 200m and 400m T53, and added bronze in the 800m for good measure.
Earlier that year, the Australian broke the 400m and 800m T53 world records. Now, after 18 years of international competition – including four Paralympic Games and six World Championships – Ballard has cemented herself as the one to beat come Rio 2016, where she will go for her first Paralympic gold.
While Ballard may know what to expect in Brazil, this time around she will head to the Games with more confidence than ever.
"I've been in the minor medals for a couple of years now and to make it up to the gold just proves it's possible," she explained. "There's no more doubt that I can do it, it's now a matter of doing it again at Paralympic level.
"I'm more prepared for it than I've ever been. I'm fairly confident in what I can do and I believe that when you get on the line you have to back yourself 100 per cent."
Next week's IPC Athletics Grand Prix in Canberra, Australia, (5-7 February) is a vital stepping stone on Ballard's road to Rio. The 33-year-old will race in every event from the 100m through to the 1,500m, as she prepares to improve on the two silvers and one bronze medal she won at the London Games in 2012.
"I'm just trying to make the best use of the competition that we get and I want to go as hard and fast as I can in Canberra and also try some different things in some of the longer races," said Ballard, who will line up against her training partner Madison de Rozario, who also showed great form when winning the world 800m T53 title three months ago.
Ballard's dogged determination and persistence has seen her overcome a number of hurdles in her para-athletics career. There was disappointment at Beijing 2008 and again at the World Championships in 2011, when her best finish was sixth in the 400m.
However, those setbacks did not stop her from pursuing her dream, even if it did cast a shadow of self-doubt over her abilities.
"I always thought that if I worked hard enough and became a really conscientious athlete that I would be able to have a moment," Ballard said.
"In 2011 I did doubt a lot — I was struggling with injury and struggling with health, and I was actually really struggling with even just turning up to training. No elite athlete gets into this just to make up the numbers and we don't go through all the hard times knowing that it might not work out.
"I had had a few rough seasons but that motivated a lot of change and a lot of re-focus for me. It kind of led to my success now, so a little doubt probably isn't a bad thing; it's just how you deal with it that matters."
This year has started well for Ballard. She recently clocked 54.95 in the Summer Down Under series, achieving the automatic Australian Paralympic standard for Rio.
Her times are consistently faster than 12 months ago. Improving on her 400m personal best (54.70) – which also happens to be the world record she set in Arbon, Switzerland last June, just one week after setting a new world record in nearby Nottwil – is a key target.
"It's funny. I put down 'world record' as a goal at the start of last year. It was one of those dream goals. It wasn't necessarily going to happen, but I did feel that leading into Rio, whoever was going to get the gold needed to be on world record pace. So it was kind of a two year goal.
"I knew as soon as I crossed the line (in Nottwil) that the time was crazy. I'd never gone under 55 seconds before. It was a lovely surprise to be able to hit that pace.
"It's a really lovely part of my career to be in. To be able to be setting world marks is something you always want as an athlete but I wasn't always sure was going to be on my cards."
The first of 10 IPC Athletics Grand Prix events will begin on 5 February in Canberra. More information can be found on IPC Athletics' website.
Sport fans from around the world can now buy their Paralympic tickets for Rio 2016 from authorised ticket resellers (ATRs).
The IPC's Global ATR is Jet Set Sports, and Rio 2016 tickets and packages can be purchased on the CoSport website.
Residents of Brazil can buy 2016 Paralympics tickets directly from the Rio 2016 website.