Peacock prioritising European title over fast time
The British 100m T44 sprinters is aiming to defend both his European and Paralympic titles this summer, starting with Grosseto 2016.
07 Jun 2016
Imagen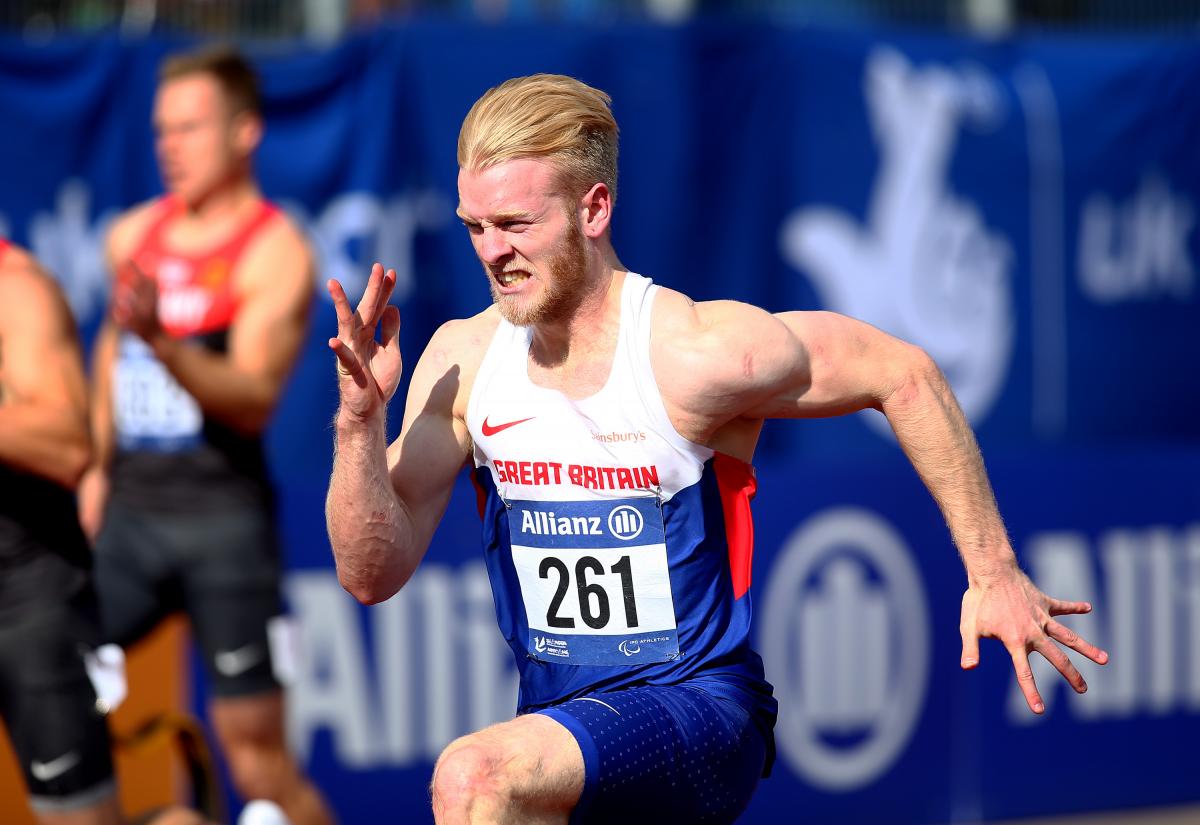 ⒸGetty Images
By IPC
"I'm going in to there thinking first and foremost that I need to win, that is my main concern."
Paralympic champion Jonnie Peacock knows he needs to get faster – and he is hoping to do just that at the IPC Athletics European Championships, which start in Grosseto, Italy, on Friday 10 June.
"The last few years for me have been very interesting, I've been racing consistently, but I've kind of stayed where I was in 2012 and I need to push on now," said the 23-year-old, who missed last year's World Championships through injury.
This season has already seen a number of impressive performances by T44 sprinters from around the world – US sprinter Jarryd Wallace is consistently clocking sub-11 seconds, and with the Paralympic Games in three months' time, Peacock is determined to lay down his marker too.
"I've started training a lot harder - and I know that I'm capable of a lot," said Peacock, who set his personal best of 10.84 back in 2013.
"It's a great opportunity. If we get a good wind and good weather then it could be a fast time which will definitely give the guys something to think about overseas."
The Briton won the last European 100m T44 title in 11.26 seconds in Swansea, Great Britain, in August 2014 and retaining his title at Grosseto's Carlo Zecchini Olympic Stadium is for the time being a top priority.
"I'm going in to there thinking first and foremost that I need to win, that is my main concern," said Peacock who will line-up on Wednesday 15 June.
"For me it's a very important one because before I was any good at anything, all I wanted was to be European champion. I want to retain that, I want to be double European champion.
"I don't really mind about the time – it's a Championships, you go in there with the aim to win. But I know that I am capable of a fast time and I know that that track will give a fast time," he added.
Although the likes of the USA's reigning world champion and world record holder Richard Browne and former world record holder Wallace will not be there, Peacock is still not taking anything for granted.
One of his key rivals in the Tuscan city will be Germany's European silver medallist Felix Streng, who clocked 10.97 (+2.6 w/s) when he finished second behind Wallace at the Great City Games in Manchester, Great Britain, in May.
"Jarryd's been running great all year and he's leading the way so far," acknowledged the Briton.
"But it's not unexpected for me - I was expecting Jarryd and Felix to be doing great things this year. Felix did push Jarryd in Manchester, he pushed him to the line. So I'm expecting something similar at the Europeans.
"I'm not going in to there thinking I've got this handed to me, because Felix is a great competitor and I know that every time I race him he will get better and better.
"He is really growing as an athlete and to see him push Jarryd to the line like that shows me that he's in great form."
The 2016 European Championships will be Peacock's first real challenge this season, and his first Para athletics meeting this year. He believes the set up at the Europeans will provide vital preparation ahead of Rio 2016.
"I love racing two rounds, which for me normally means that I go a tenth or two quicker," he explained.
"I'll be able to clean up a mistake or two that I've made and that's going to be something very similar at the Paralympic Games – there will probably be two or three rounds there.
"It will give me the chance to test myself at a major championships and it's a great confidence boost too if you can go in there early on in the season and come back with a championships already done and already won. For sure that's going to help you for the rest of the season."
Peacock has a reputation for laying down a big performance when it matters. He won Paralympic gold in front of an 80,000-strong home crowd at London 2012, then followed that up a year later with the world title in Lyon, France – after Browne had broken the world record in the semi-final.
"The championships are always great and this is what I'm very comfortable with," said Peacock.
"I've learned over the last few years that when it comes to the bigger stage you get a better performance from me. I'm confident that the Europeans will be a great opportunity to soak up that pressure and really lay it down and use it as a tester for Rio."