Plovdiv 2018: Sylvia Pille-Steppat rows the distance
Former marathon runner naturally adapts to 2,000m change
07 Sep 2018
Imagen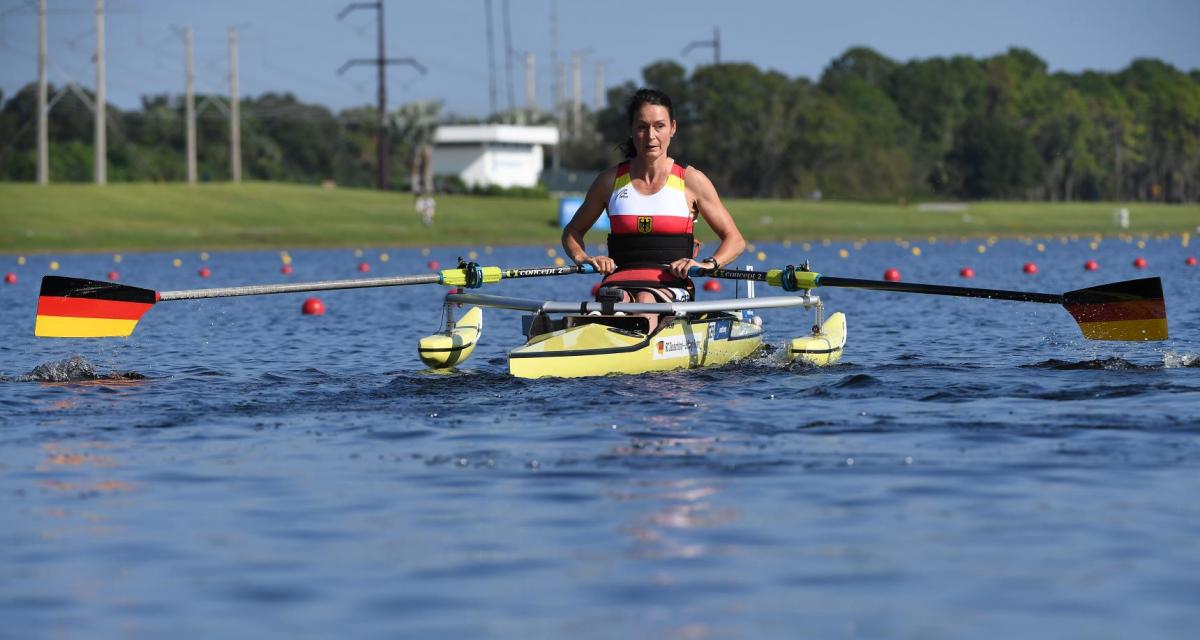 ⒸRudern.de
By IPC
"So it was obvious for me to start rowing and it was the best decision ever"
While the increase from 1km to 2km races was an adjustment for many Para rowers, it actually suited Germany's Sylvia Pille-Steppat perfectly ahead of the 2018 World Championships that begin on Sunday (September 9) in Plovdiv, Bulgaria.
The German was an avid marathon runner, so enduring long distances came naturally for the 50-year-old.
"I really like long distances," Pille-Steppat said. "The switch to the 2,000m in Para rowing was not bad for me. Since then, I won several medals."
After the Rio 2016 Paralympics, the sport's international federation announced it would double the Para rowing distance to integrate with the able-bodied events.
Looking back, Pille-Steppat commended the change, not just because it led to more medals.
"Before the change, our races took place at more unfavourable times, when there were almost no spectators," she said. "But now, our final is on Sunday with many viewers and a good atmosphere. That`s very encouraging for me."
Perfect pairing
The combination of more spectators and her passion for endurance challenges has led to podium success.
She won bronze at the 2017 World Championships in Sarasota-Bradenton, USA. It was her first major medal in the sport since 2014.
"I never expected to win a medal at the World Championships. But after the heats, I realised that I could do it," she explained. "At first I couldn´t believe it, I was so happy. And it was a great honour for me to be on the podium with the stars like Birgit (Skarstein) and Moran (Samuel)."
Her success carried over into 2018, where she medalled at both World Cups this season in the PR1 women's single sculls (PR1 W1x). However, Norway's reigning world champion Skarstein has proven to have the stronger stamina so far.
"The World Cup at Linz (Austria) was very interesting for me, because of the qualification for the Paralympics next year," she explained. "In the final it was a hard fight for the silver medal, unfortunately I lost with two seconds behind. But I think that`s what makes sports interesting, it isn´t predictable."
Dream revived
Having failed to reach the A-Finals at the 2015 Worlds, Pille-Steppat missed out on qualifying for the 2016 Paralympics.
At her age and with her multiple sclerosis, she thought that was the end of her Games dream.
Pille-Steppat was diagnosed with the progressive disease at 35. Her legs worsened very quickly and she began using a wheelchair five years later.
Determined to stay active, she sought a sport where she could use her arms.
Living in Hamburg, a port city in north Germany, she was surrounded by rowing clubs.
"So it was obvious for me to start rowing and it was the best decision ever," she said.
And with how well her season has been going, Tokyo 2020 is alive to her.
"To compete at a Paralympics is one of my biggest dreams," she said. "So I was very upset as I missed the qualification for Rio although it was very close. I was really hoping to compete at Rio because I thought it was my last chance to do it as I have a progressive disease. But I continued training and even got faster. Now I´m very confident to qualify for Tokyo but it will be hard work."