Powerlifting world records tumble at the 2014 Asian Para Games
A total of two world records were broken on Tuesday (21 October) at Incheon 2014.
21 Oct 2014
Imagen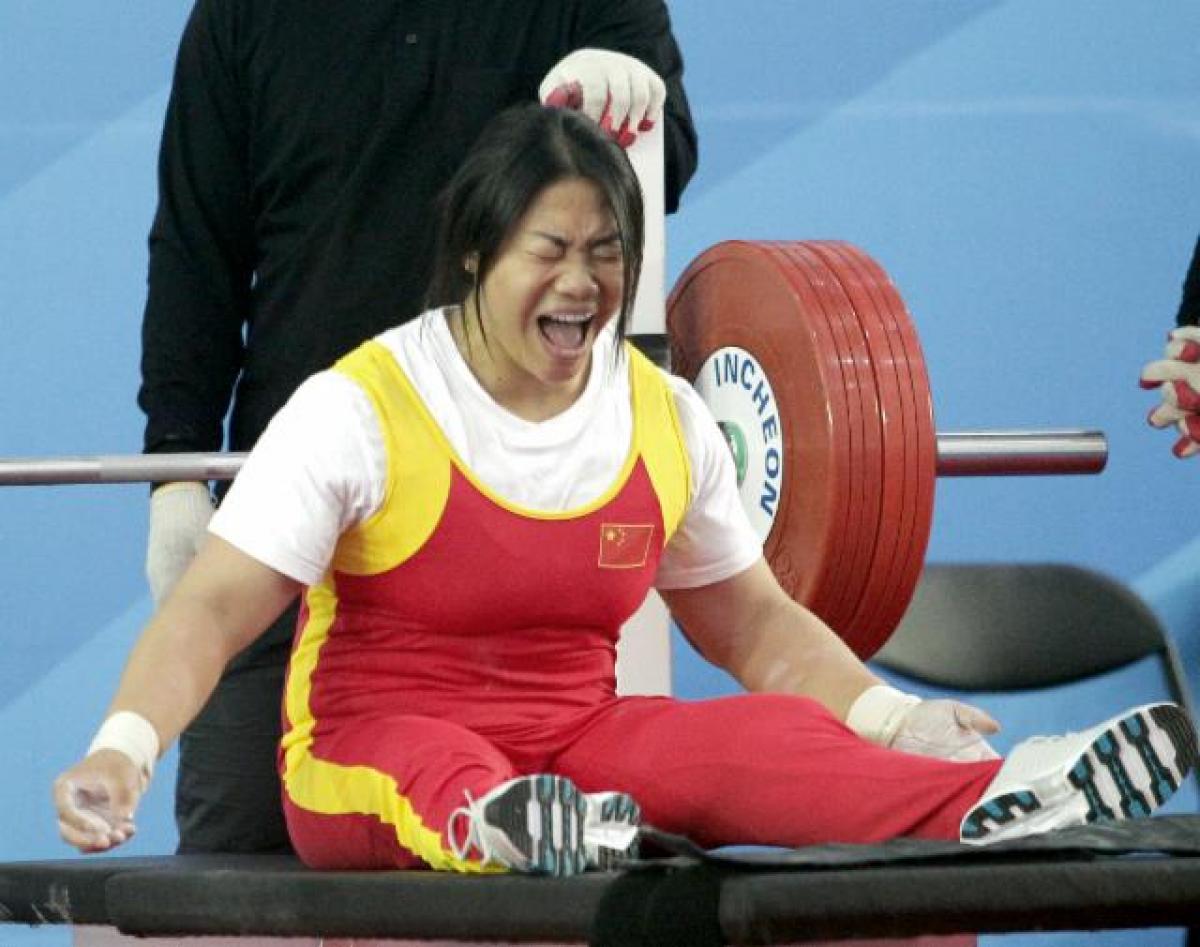 ⒸIncheon 2014
By IPC
China's world champion Yujiao Tan broke her own world record four times and lifted more than twice her bodyweight to easily win gold on Tuesday (21 October), the third day of the 2014 Asian Para Games in Incheon, South Korea.
Competing in the women's up to 67kg class, 24-year-old Tan lifted 133.0kg in the opening round to add 0.5kg to the world record she set at April's World Championships in Dubai, UAE.
In the second round she lifted 135.0kg before easing to 136.0kg with her third and final competition lift. Full of confidence, she then successfully attempted 137.0kg with a fourth lift which did not count towards her final result.
Thailand's Somkhoun Anon (102.0kg) took silver, whilst Indonesia's Rahayu (90.0kg) took the bronze.
Not to be outdone by Tan, Iraq's Rasool Mohsin broke his own two-year-old world record twice in the men's up to 65kg class on his way to gold.
Trailing to China's world champion Lei Liu after the first round, Mohsin lifted 211.0kg in the second round to take the lead and add 1.0kg to his previous best. He made sure of the title in the third round with a phenomenal 213.0kg lift.
Liu (205.0kg) had to settle for silver and Syria's Shadi Issa (168.0kg) took the bronze.
Yan Yang, China's world bronze medallist from April, topped the podium in the women's up to 61kg. Her third round lift of 118.0kg added 3kg to Jianjin Cui's two-year-old Asian record. It did not last long however, as the 28-year-old 2010 world champion then went on to lift 119.0kg in the fourth round to ensure a double celebration.
Turkmenistan's Valentina Simakova (102.0kg) took silver and Iraq's Dhikra Zaki Mohammed Saleem (100.0kg) the bronze.
Tuesday's action was rounded off by Jordanian lifter Abdelkareem Mohammad Ahma (197kg) taking first place in the men's up to 72kg, beating Simakova's silver medallist teammate Sergey Meladze (185kg) and third-placed Jung-Hoon Moon (162kg) of hosts South Korea.
During Monday's (20 October) four medal events, there were a number of Asian records with the women's up to 50kg class proving an absolute thriller.
In a tight contest, Vietnam's Thi Linh Phoung Dang opened with an 80.0kg lift, to add 2.0kg to her own six-month-old Asian record, only to see Thailand's Wandi Kongmuang respond with an 81.0kg effort of her own.
With Dang failing with an 85.0kg attempt in the second round, Kongmuang extended her lead and the Asian record, powering to 86.0kg. She secured gold with a third round lift of 89.0kg to finish just ahead of Dang who finished with a successful 88.0kg lift. Indonesia's Rani Puji Astuti (82.0kg) took the bronze.
With gold in the bag, Kongmuang then took up the opportunity of a fourth round lift and successfully managed 93.0kg to add a whopping 15.0kg to the Asian record that had stood at the start of the day.
Iran's Amir Jafari Arangeh (186.0kg) equalled the Asian record of Iraq's Hamzeh Mohammadi to take the title in the men's up to 59kg class before lifting 188.0kg in the fourth round to better it by 2.0kg.
Mohammadi (185.0kg) settled for silver with Thailand's Narong Kasanun (172.0kg) picking up the bronze.
The men's up to 54kg class saw Vietnam's Binh An Nguyen (176.0kg) take gold ahead of China's world bronze medallist Qi Feng (165.0kg) and Iraq's Hussein Ali Hassan Juboori (162.0kg). Nguyen also broke Feng's six-month-old Asian record by 2.0kg with a fourth round lift of 179.0kg.
China's world silver medallist Shanshan Shi (110.kg) won the women's up to 55kg class. Vietnam's Hoang Tuyet Loan Chau (103.0kg) took the silver and Chinese Taipei's Ya-Hsuan Lin (80.0kg) the bronze.
Powerlifting will continue on Wednesday (22 October) at the Moonlight Festival Garden Powerlifting Venue with three further medal events.
The 2014 Asian Para Games opened on Saturday 18 October and will run through to Friday 24 October. Athletes from 41 countries will compete in 23 sports.