Regional records tumble despite the rain in Nottwil
Asian and African records fell on Saturday morning at the IPC Athletics Grand Prix as a number of 400m races too place.
28 May 2016
Imagen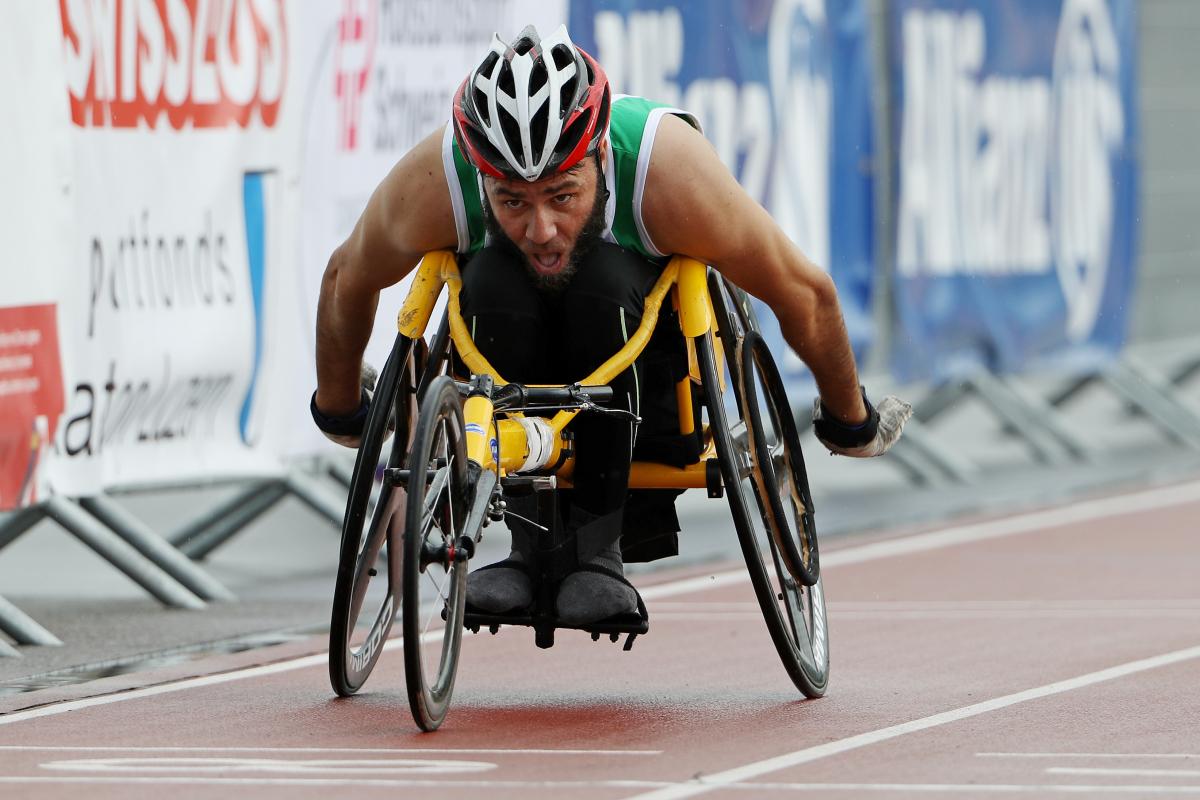 ⒸGetty Images
Records continued to fall at the IPC Athletics Grand Prix in Nottwil, Switzerland on Saturday morning (28 May).
The opening session of the day was dominated by 400m races as a number of new regional records were set on the track, despite the damp conditions.
Algeria's Mohamed Berrahal (1:20.03) got the better of Belgian world champion Peter Genyn in the men's T51, clocking 1:20.03 to lower his own African record set at last year's World Championships.
In the men's 400m T34 the UAE's track star Mohammed Hammadi (51:99) took the win with a new Asian record as Tunisia's reigning world champion Walid Ktila looked in trouble, easing up on the home straight.
Records also fell in the men's 400m T33 as Great Britain's Toby Gold (1:01.93) set a new European mark, finishing second behind the world record holder, Kuwait's Ahmed Almutairi (1:00.68).
There were 400m wins too for South Africa's T38 athlete Dyan Buis (50:81) in the men's T37-38, Morocco's Zakaria El Uaamari (53:00) in the men's T44-47, and Canada's 400m T53 world silver medallist Brent Lakatos, who powered home in 49.02.
European champion Kenny van Weeghel of the Netherlands raced to the line in 46.39 as he held off a strong field including local favourite Marcel Hug (46.71) to go top of the 2016 world rankings in the men's 400m T54.
The USA's Paralympic champion Ray Martin (1:00.09) cruised to a comfortable victory in the 400m T52 and Mauritian Jason Rabaye (52:16) won the first race of the day, the men's 400m T20.
In the women's 400m races Great Britain's multiple world and Paralympic champion Hannah Cockroft went out strongly from the gun in the women's T34 event - and never looked in doubt as she crossed the line in 1:01.17.
It was a similar scenario for the USA's multiple Paralympic champion Tatyana McFadden, who continues to dominate women's T54 racing, winning the 400m T54 in 54.36 nearly three seconds clear of Switzerland's Manuela Schaer (57.49).
The 27-year-old plans to take on a record seven events at this year's Paralympic Games in Rio de Janeiro and if her performances in Nottwil are anything to go by, she will be hard to beat.
Australia's world champion Angie Ballard set a world record here 12 months ago; the rainy conditions may have put paid to another personal best this year but the 33-year-old still made her intentions for Rio 2016 clear, winning in 55.47.
Ukraine's T13 sprinter Leilia Adzhametova took control of the women's T11-13/20/47, finishing in 1:00.59; her compatriot Nataliia Kobzar (1:07.28) got the better of Frenchwoman Mandy Francois-Elie to win the 400m T37.
Ukraine's T13 athlete Serhii Bereziuk (4:07.67) rounded off the morning session with a win in the men's 1,500m T11-13/20/37-46.
Out in the field success continued for Ukraine as Zoia Ovsii threw 8.37m to win the women's discus F51 and Svitlana Stetsyuk (10.17m) won the women's discus F53.
India's Jyoti Karam threw 19.47m in the men's discus F55; Korea's Kiwon Nam threw 47.01m in the men's javelin F46 and Swiss Patrick Stoll managed 38.37m in the men's javelin F44.
South Africa's reigning javelin F38 world champion threw 50.01m – just six centimetres short of the distance he managed to seal global gold last year.
Free images
Rights free images are available courtesy of Getty Images and Allianz at http://mm.gettyimages.com/mm/nicePath/gyisports?nav=pr430558261.
Free Footage
Rights free footage from Saturday's action at the Grand Prix will be available from 20:00 via Agence French-Presse.