Rehm aims to fly the flag for Paralympic sport
The German long jumper will line-up at this weekend's IPC Athletics Grand Prix in Berlin, Germany.
16 Jun 2015
Imagen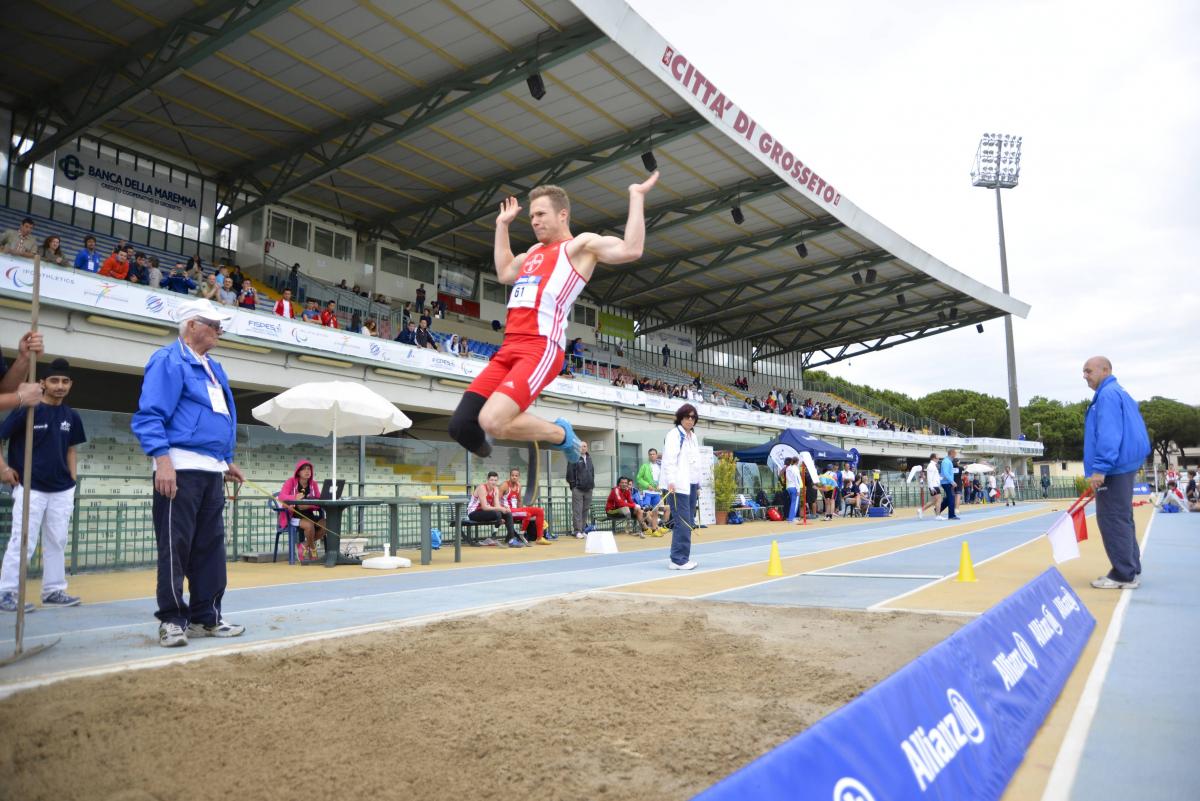 ⒸAGENZIA FOTOGRAFICA BF
By IPC
"I always want to go further and I'm interested in what I am able to do."
There are plenty of iconic figureheads in para-athletics but none like Germany's Markus Rehm.
The long-jumper is the star turn at this week's Allianz supported IPC Athletics Grand Prix in Berlin, Germany, which takes place from 19-21 June, where the crowds will be watching an athlete who truly transcends his event.
Rehm leapt to an incredible 8.29m in Barcelona, Spain, last month. It was a distance that had everyone reaching for the record books as well as the superlatives – a new T44 world record, Germany's number one in 2015 for both para-athletes and able bodied long jumpers and a distance that would have won him silver at the London 2012 Olympic Games.
All this off the back of his performance at last year's German National Championships where he won with another phenomenal leap of 8.24m.
Rehm will head to the German Nationals again this summer – even though a second victory will not come complete with medals. More importantly for the World, Paralympic and European champion, he wants to be the ultimate representative of Paralympic sport.
"Of course it is a big thing because I will compete in the German Nationals again this year," he explained. "The rules say I have to compete out of the rankings – I'm able to compete but not able to win a medal. But I'm fine with this.
"It's a good competition for myself and a good chance to present Paralympic sport. I want to try to show the people watching that Paralympic sport is great too – we have a lot of amazing athletes. That's my goal.
"It's great to show what we are able to do. Things have continued to improve a lot since London 2012, when it went so well for Paralympic sport. I want to try to keep that level high."
Before that, Rehm will take on the long jump at the Friedrich Ludwig Jahn Sports Park, home of the Berlin Grand Prix, the last in the series of nine IPC Athletics Grand Prix that have taken place around the world this year before the climax of the Grand Prix Final in London, Great Britain next month.
Rehm is determined to keep building on his early season success. After an injury free winter, the German knew that he was in good shape – although jumping 8.29m so soon in the year did come as a slight surprise.
"Last year after the 8.24m that was such a big step - I wasn't sure if I was able to go close again this year, so I was really happy to do that so early.
"I think it was really a good result of the whole winter training because we trained a lot and I knew I had improved a lot. We worked on the speed and the whole technique and I think the fact that I stayed healthy helped too as I didn't have to take any breaks.
"I had already seen good results in training and I was hopeful of at least eight metres, but 8.29m was a really good surprise. The conditions were just perfect."
With nearly a metre separating Rehm and his nearest rivals in the T44 class this year, Rehm is focused on testing his own limits, and reaching a level when he can consistently jump beyond the eight metre mark.
The 26-year-old is hopeful that the Berlin meeting will provide the perfect opportunity to do just that, and – if all goes to plan - even more.
"Of course I try to push my limits even further. I always want to come close to my personal best. I don't tell myself 'Okay next time I will jump 8.30m or 8.40m'; I just want to jump as close as possible to my PB.
"I always want to go further and I'm interested in what I am able to do. This is a good track where it's possible to jump quite far. The aim is definitely to get over eight metres."
Whilst Rehm's determination and talent may be a source of infuriation for his rivals, he hopes it will only serve to inspire others - and showcase a sport he so clearly loves.
"I was happy when I jumped over seven metres, and the first time over eight metres. Now I'm really looking forward to pushing the limit as far as I can," he explained.
"I hope I can motivate some people to do the same, and push the level of our sport higher and higher. It's great to show the people that we have really amazing athletes and that people talk about the sport. It is great for us and the whole Paralympic movement."
Around 400 athletes from 40 countries will take part in Berlin, an event that will give a good indicator of form ahead of October's World Championships in Doha, Qatar.