Reid hopes Nottwil can be springboard to London 2017 gold
The Paralympic long jump silver medallist aims to win her first world title in July.
26 May 2017
Imagen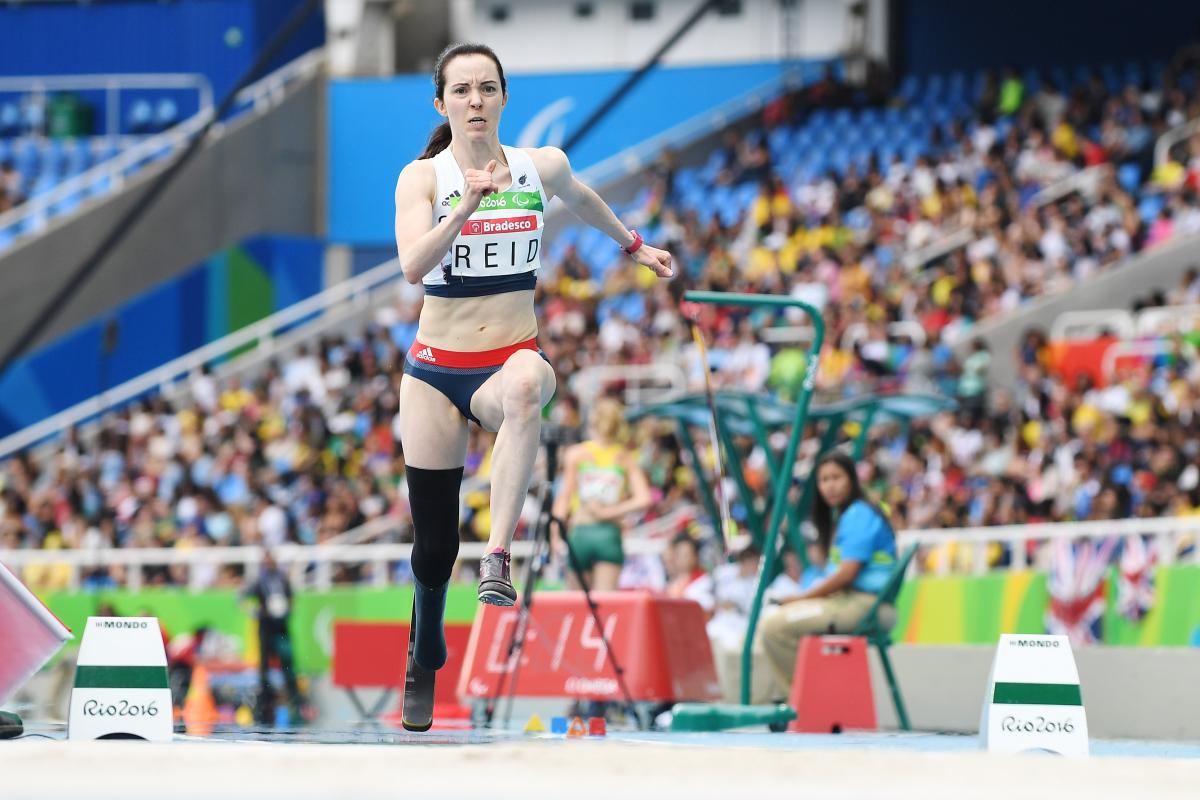 ⒸGetty Images
Great Britain's Paralympic long jump silver medallist Stef Reid believes next week's (2-5 June) World Para Athletics Grand Prix in Nottwil, Switzerland, will be the springboard to what she hopes is a home gold medal at July's World Championships.
"That's why I'm going to Switzerland," acknowledged Reid, who will line up in the long jump and 100m T44 against the likes of Dutch Paralympic bronze medallist Marlene van Gansewinkel.
With French star Marie-Amelie Le Fur choosing not to compete this year, Reid has her best chance yet of winning a global title at London 2017. Her highest finish to date was third in 2011; in 2013 she 'just didn't have a good year, struggled with injury and finished literally in last place.'
Success this time around is by no means a given – van Gansewinkel finished just 7cm behind Reid at Rio 2016, and boasts a silver medal from the 2015 World Championships, which Reid missed through injury.
Now the pair will go head-to-head in Nottwil, and with the World Championships taking place just six weeks later, there is plenty at stake.
"I flagged early on that this would be the best opportunity for me to have a pre-run and see what everyone has been up to. None of us are the final product just yet but it is important that you go and find out if you can take what you've been working on in the winter and deliver it in a pressurised situation," explained the 32-year-old.
"It's very different jumping well in training, to sitting opposite from your biggest threat when they've just jumped big. What are you going to do now? It's really important in terms of exploring where your head is at.
"I don't think Switzerland is going to decide anything in terms of London, but you definitely want to go and give your competitors something to think about."
Fortunately for Reid, she heads to Nottwil having enjoyed the best ever start to her season. In 2015 a prolapsed disc meant her whole season was wiped out, then in January last year Reid, a single-leg amputee, suffered a pressure sore on her stump that meant she missed 10 weeks of training.
"This year so far has been great - what I would call really undramatic. No major issues, no major problems, just putting your head down and getting some good work in," she acknowledged.
Despite last year's injury problems, Reid went on to set what was then a new world record, leaping 5.78m in London in July. Le Fur went on to jump 5.83m at Rio 2016 to claim Paralympic gold, but the Briton has set her sights even further.
"The race is on right now - everyone wants to be the first to get to six metres. That is the new standard. Me, along with everyone else, I want to be the first to do it."
Competing against van Gansewinkel, as well as another Dutchwoman, 2013 world champion Iris Pruysen, will provide Reid not only with vital competition experience, but also with a chance to see 22-year-old van Gansewinkel in action. Reid versus van Gansewinkel could be one of big head-to-heads of the Para Athletics summer.
"Marlene still struggles with consistency – some days she's going to blow you away and other days she struggles to get over five metres. That's actually a lot harder to deal with for me. You just don't know what you are going to get. I do know that she is freakishly strong, and she's only going to get better and better.
"It's actually more terrifying when you go up against someone still only young, with a huge scope for potential and development.
"She really wasn't that far behind me in Rio and definitely exceeded everyone's expectations. She's coming off of that with huge confidence so she is quite dangerous."
-ends-