Reid looking forward to renewing long jump rivalry with Le Fur
The British athlete aims to defend her European title against the French world champion in Grosseto, Italy.
03 Jun 2016
Imagen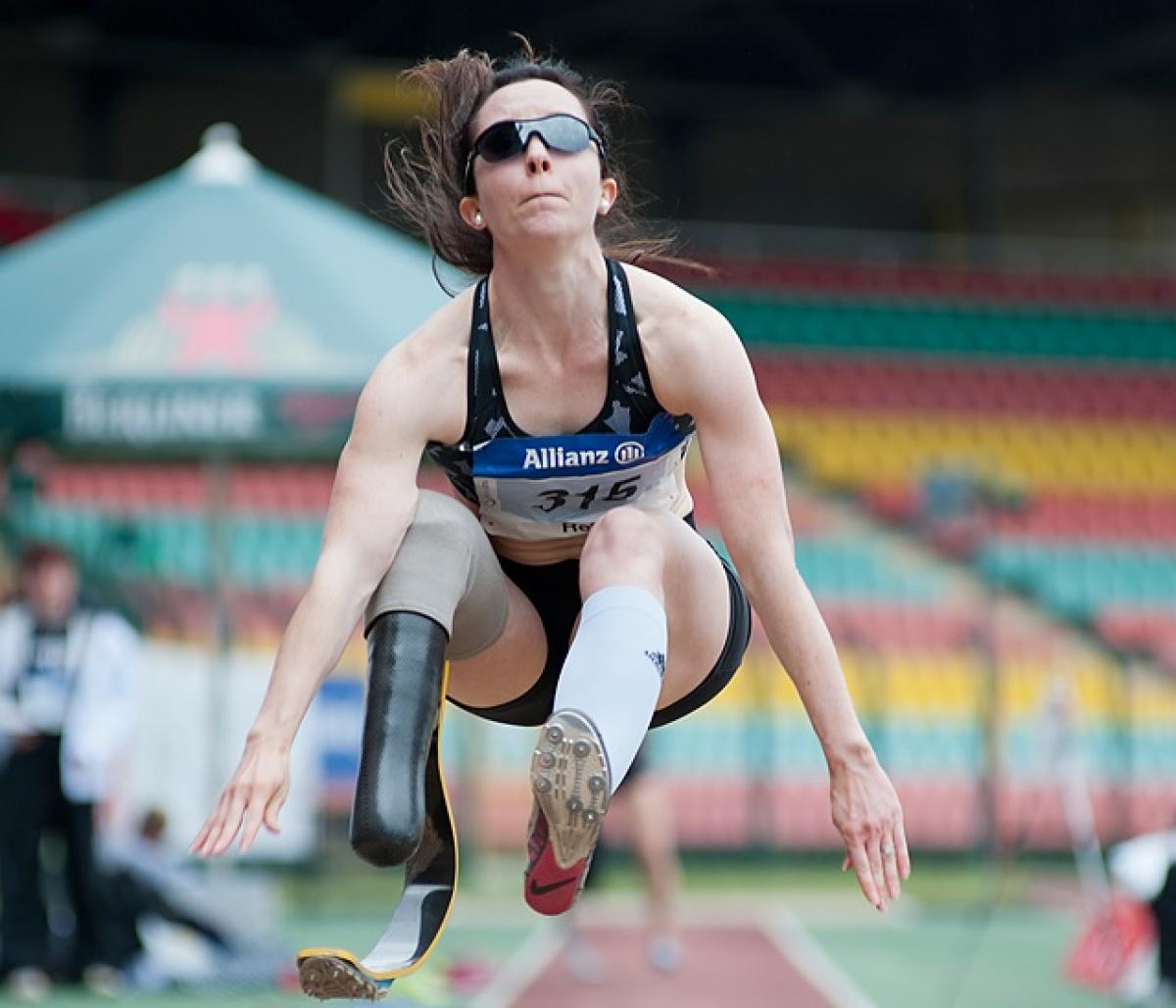 ⒸLuc Percival
By IPC
"I'm going in there and I want to win, but regardless of what happens I have time to reassess."
Nearly two years have passed since Stef Reid last lined up at a major competition, but the British long jumper will step out at the 2016 IPC Athletics European Championships, which start on Friday 10 June in Grosseto, Italy, with the belief that she can come back stronger than ever.
Reid competed at the last European Championships in August 2014, winning long jump T44 gold ahead of her French rival Marie-Amelie Le Fur.
But a prolapsed disc the following spring meant the whole of her 2015 season was wiped out.
Le Fur went on to claim global gold at Doha 2015 with a phenomenal world record leap of 5.84m – but Reid believes she has not been left behind.
"I don't feel like I've got catching up to do," said Reid, who leapt a wind assisted 5.50m in Loughborough, Great Britain, in May – three centimetres farther than her personal best.
"Marie-Amelie jumped so big in Doha and I knew it wasn't enough for me just to come back, I needed to come back better. That is a bit daunting, but I don't feel behind. If anything, I really enjoyed my time out."
It is safe to say Reid did not sit around and mope – instead, she took up open water swimming, worked as a sports reporter for her local radio station, and walked for London Fashion Week.
"I gave myself three weeks to feel sorry for myself and then that was it, I got it out of my system. There's no point pretending it's something it's not – it does suck, it's potentially career ending. But it's also important to attach an end date to that pity party.
"I attacked physiotherapy 100 per cent and I tried other things. I matured and became a more well-rounded person."
Reid also auditioned to be a television weather presenter – a process she found both enjoyable and useful.
"It was an awesome lesson in how to handle pressure – there is no teleprompter, it's live television. You don't get to re-start. I ended up learning how to handle pressure in a new way. I think I used my time off well. I loved it, it was a lot of fun, but I still don't think I have reached my full potential," she said.
In fact, the 31-year-old is clearly delighted to be back doing what she loves best.
"There's nothing else in life like it – there are other great things in life that you can do of course, but it was just really nice.
"What I was most pleased about is you are out for so long and you come back and you are worried it's going to feel a bit foreign, but it didn't, it just felt really natural."
Reid knew full well she was lucky to be back at all – there were times when she thought her career might be over.
"It was hard and I knew full well that there were no guarantees," admitted the Paralympic silver medallist.
"I had to ask myself if I was prepared to commit to my rehab programme 100 per cent, knowing full well that this may not go to plan.
"That was a hard question to answer but I thought about it and it was just 'Yes, there's still nothing else right now that I want to be doing.' I just knew I would regret not trying."
Reid was fortunate to recover relatively quickly – she was back training in October last year, although not soon enough to compete at the World Championships in Doha.
Instead she sat at home and watched as Le Fur leapt in to the history books.
"I watched Marie-Amelie jump and the hunger was still there – I sat there thinking 'I want to be there,'" she said.
Reid's chance will come in Grosseto on Saturday 11 June when both she and Le Fur line up once again. It is a battle she is looking forward to.
"Historically Marie-Amelie's [jump was] big, but in competitions I've not lost to her in a very long time. I've just managed to beat her by centimetres every time, so it will be close.
"I've been out for so long I need to remember what it's like in those do-or-die moments, and just see how I respond. It will be interesting. [Le Fur] brings a lot of speed that I don't quite have yet."
Of course Reid is also thinking ahead to September's Paralympic Games. She believes whatever happens in Grosseto will have even greater significance.
"I'm going in there and I want to win, but regardless of what happens I have time to reassess.
"But for me this is a big competition - this is a dry run; I didn't get to do it in Doha and I need this. I think the person that wins in Grosseto will walk away with a big advantage."
More than 600 athletes from 36 countries will be in Grosseto for the 2016 IPC Athletics European Championships which take place between 10-16 June. Athletes will contest over 171 medal events at the Carlo Zecchni Stadium and every minute of live action, together with live results, will be available.