Richard Browne hopes Doha 2015 has no silver lining
After deeming his silver at Lyon 2013 "not acceptable", the US sprinter is targeting two individual world titles at Doha 2015.
08 Oct 2015
Imagen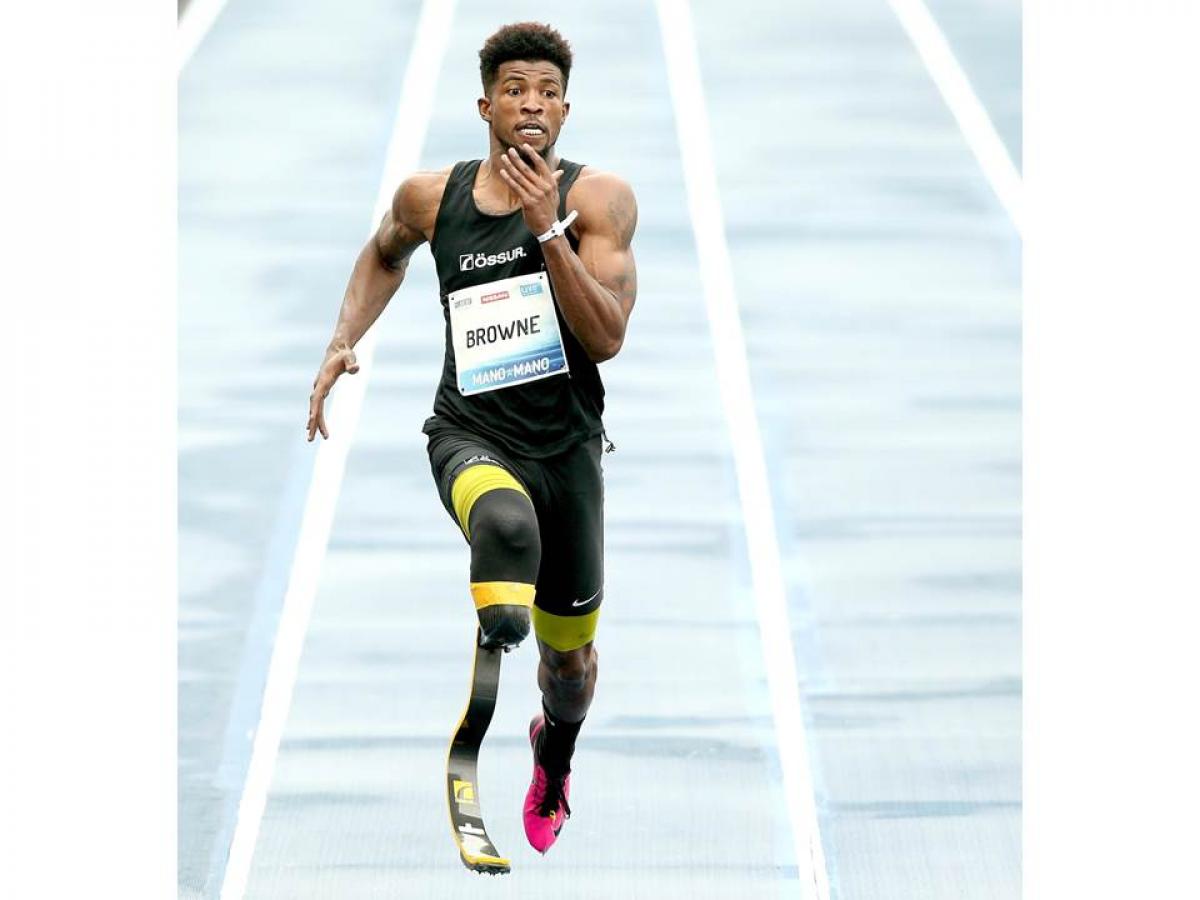 ⒸGetty Images
By IPC
"I do feel really confident that I can run really fast and that I can double up in the 100 and 200 metres and win gold medals in both."
Richard Browne does not like losing. Two years ago, the US sprinter returned home from the IPC Athletics World Championships with a silver medal. He vowed then not to let that happen again.
For two years, the American was unbeaten – he was on top of the world and everything was going to plan.
That was, up until August this year.
First, Browne missed the Parapan Am Games in Toronto, Canada, due to the premature birth of his son, Aea. Fellow American Jarryd Wallace took gold – and Browne's world record – in 10.71 seconds.
Then just weeks later the Paralympic silver medallist suffered a shocking defeat in Newcastle, Great Britain – beaten for the first time since the summer of 2013.
But now the 24-year-old is determined to put the record straight in Doha, Qatar, with not just one but two individual gold medals at the IPC Athletics World Championships, which take place 21-31 October.
"It was silver in Lyon which was not acceptable," Browne explained. "I've had a bad taste in my mouth since Lyon, and I said that I wasn't going to lose again after Lyon, and I didn't lose a race again until Newcastle."
Losing the world record which he set at the Anniversary Games back in 2013 only served to spur Browne on even more.
"It really excited me - I wouldn't say I was getting complacent but I was more focused on the 200m because the 100m was such a given at the time. So it put a fire back underneath me," he said.
Just days prior to the Newcastle race, Browne lined up in Brussels, Belgium, to race over 100m. But a false start meant he was disqualified. Things were not going the American's way.
"I gave that race away in Newcastle which is not like me at all, but I just wasn't there mentally after the meltdown in Brussels. I false started in Brussels which was not OK, even though the only reason I false started was because Jonnie [Peacock] flinched. And Newcastle was a disaster.
"Mentally it was difficult because there was so much going on off the track with my new child and dealing with that. It was kind of a scare because he came early and we were worried about his health and those things, so I was kind of mentally frustrated and just exhausted. Now with him being OK and my family and everybody behind me, I think that's the biggest thing now."
"My start over the last three races has just killed me, so that is the focus right now. I know that if I can just clean up some things and try to get that first 30 metres down I should be fine."
Such is Browne's determination to win a first-ever individual global title that he has left Dennis Mitchell's training group in the US and relocated to the Great Britain. He now trains under the guidance of Hayley Ginn, former coach to Paralympic champion Peacock.
Browne believes that Ginn's knowledge of amputee sprinting will help set him apart from the rest, and although this means having to spend time away from his family, it is a sacrifice he is prepared to make in order to succeed.
"It was literally the knowledge," explained Browne. "Being able to go to coach and ask 'What did you see as far as the angle of my blade' and them not know, that's a big deal as an amputee sprinter. I had to go with my own knowledge with that, which as an athlete you really don't want to do, you want coach to see what they need to see. And that's what I can do here, so that was the reason for the change."
As for his family, Browne relies on modern technology to keep in contact as much as possible.
"They are a huge part of my track and field life. They are 100 per cent the reason why I go out there and run so fast and run so hard. I know not only are they looking up to me, but I have to feed them as well! I talk to them before every race and if I don't I have a bad race. They are the reason I do the things that I do.
"I'm so happy we live in the age of technology when I can video call them and Skype them because I don't think I would have made it a couple of years ago when we didn't have those types of communication."
Now Browne believes he's back to his old self – and he's ready to show the world.
"Coach has been pushing me in the blocks so I'm getting the things I need to get done, I'm feeling strong again and I'm feeling confident. I feel like I'm back - the typical Richard – confident going in, not quite worried about anybody else.
"I do feel really confident that I can run really fast and that I can double up in the 100 and 200 metres and win gold medals in both."
Browne will be one of 1,300 athletes from 100 countries competing at the 2015 IPC Athletics World Championships between 21-31 October.