Rio 2016 1 year on: Sun Gang's mixed emotions
Chinese wheelchair fencer reflects on Paralympic success
14 Sep 2017
Imagen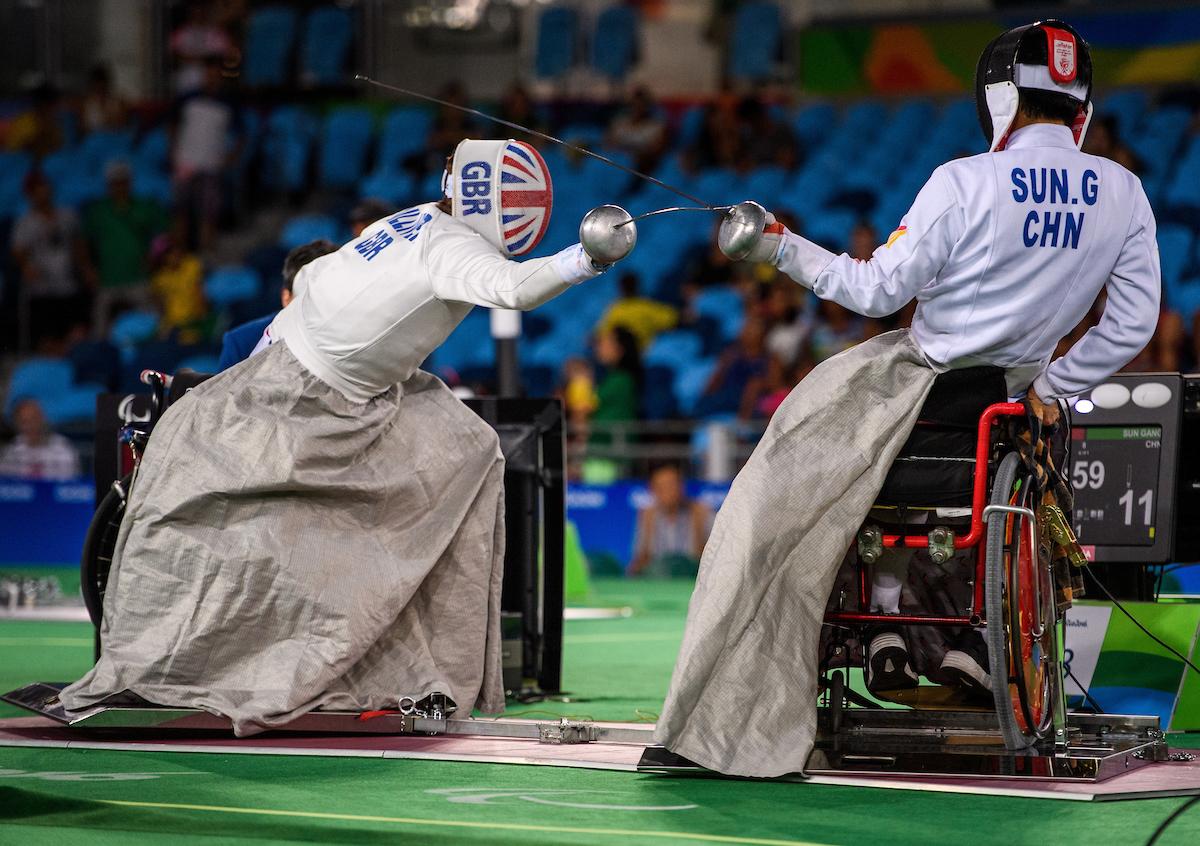 ⒸOIS
By Sophie Feng | For the IPC
"If I could go back and talk to my 2016 self right before going into that foil final, I would just tell him to do his best and to have fun."
A year on from the Rio 2016 Paralympic Games, China's Sun Gang reflected on his Paralympic debut, which was a mix of surprises and some disappointment.
"The first thing I noticed after coming home was that people have become much, much nicer to me. It made me realise that I am really a gold medallist," he says.
The three-time Paralympic gold medallist believes he has matured in a year the way "any one would grow up in a year."
"Having had a tough loss always teaches you a lot about acceptance."
Ranked No. 1 in the men's foil category A coming into the Paralympic Games, Sun lost in the semi-finals to Hungarian Richard Osvath, eventually settling for the bronze medal. He described the loss as "disappointing, but there would not have been any way to prevent it."
"If I could go back and talk to my 2016 self right before going into that foil final, I would just tell him to do his best and to have fun."
"It was hard to accept the loss, but I have come to terms with it. It has helped me mature and understand that I am not just a wheelchair fencer because I want to win," he added.
But he found victory in the men's epee category A final, winning against Great Britain's favourite Piers Gilliver by a small margin.
"I did not expect much coming into the final against [Gilliver]. I had lost to him in competitions before Rio and I was No. 2, so I was expecting to lose again. I ended up winning by two points, which was a nice surprise and really boosted my confidence for the men's team foil event."
In the team's foil event, Sun lost just three points in three bouts. Though he prefers individual events, as they "are the ones that show your true potential and hard work," he was grateful to to share that gold medal with his teammates, all whom were his training partners from the Jiangsu provincial team.
The Jiangsu native trains seven hours a day, six days a week with the same provincial team he has been training with since he took up wheelchair fencing in 2009.
"Team events are great because it brings you and the people you train with together. I feel very lucky to get to stand on the top of the podium with my training partners that I see every day," he said.
"The goal is now directed towards Tokyo 2020," he said with confidence.