Romanchuk and Lakatos re-write record books
North American wheelchair racers deliver in Nottwil
27 May 2019
Imagen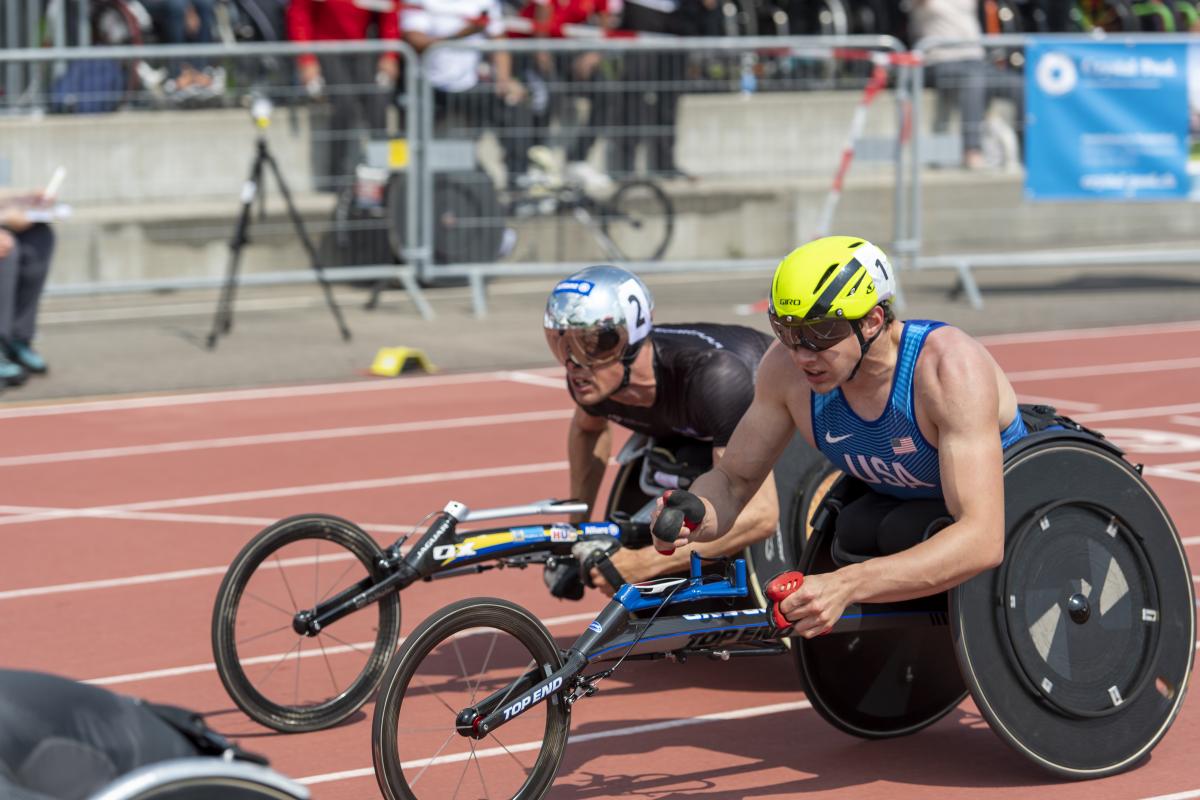 ⒸUrs Sigg and team
By World Para Athletics
Top wheelchair racers Daniel Romanchuk and Brent Lakatos re-wrote the record books at the Nottwil Grand Prix on Sunday, rounding off the Swiss meeting in spectacular style.
USA's Romanchuk knocked more than 0.5 seconds off his previous world record in the men's 5000m T54, while the Canadian smashed the 400m T53 world record which had stood for nearly a decade.
Romanchuk's record came towards the end of the morning session, and saw the 20-year-old Illinois-based racer quickly break away from the pack along with Lakatos and Switzerland's Marcel Hug.
The three Para athletes built up a substantial lead early on and worked together to tick off the laps. But with 150m to go, it was Romanchuk who had the advantage by pushing wide round the final bend with Hug on his outside and Lakatos also just behind in lane one.
Sprinting down the home straight, Hug and Lakatos had a hard task on their hands to try and match the powerful young American, and it proved beyond them as Romanchuk crossed the line first in 9:44.33. The rest of the field still had one more lap to go.
But while the record went to Romanchuk, he was quick to praise his competitors for the part they played in producing such a fast race.
"That was just a wonderful group effort. I certainly could not have done that on my own; it's an all-out effort for the whole race," said Romanchuk.
"I wasn't sure what to expect on the start line, I just started out fast to get an opportunity to keep going fast, I hadn't made too much of a plan beforehand on what my plan was for time. But it ended up with me, Brent and Marcel – we all got in a group and went really fast.
"It was a very hard finish. Marcel's a great racer; Brent's a wonderful racer. With these groups you never know who is going to come out on top in the end. This was a hard effort all the way."
Hug crossed the line in 9:44.37, a new European record, with Lakatos third in 9:44.80.
Lakatos shines in the 400m T53
A few hours later, the 38-year-old was back tearing up the track in the 400m T53; the morning's exertions seemingly of little consequence.
The experienced Canadian – who at 38-years-old certainly shows no sign of slowing down – sped home in 47.34 seconds, taking 0.02 off the time set by South Korea's Sukman Hong back in 2010.
"When I crossed the finish line I couldn't believe it. Just going round the final corner knowing that I'd done that time; I'm really happy," said the 11-time world champion, who now holds a remarkable five world records, from the 100m up to and including the 1,500m.
"Since 2017 I've been getting close to (the record) – close but not there. So to finally get it today, it tops off a great day.
"It bodes really well for World Championships, but I know I've got to improve my speed if I want to compete with Marcel and Daniel and the big guns in the longer distance races (T53 and T54 athletes race together from 1,500m up) so I'm kind of working on a bunch of everything for all those different distances."
Thailand's Pongsakorn Paeyo (48.36) was second and China's Shaoqiao Yang (50.09) third.
Tatyana McFadden makes season debut
It was a successful day too for US multiple world and Paralympic champion Tatyana McFadden, who won both the women's 5000m and 400m T54 in Nottwil – her first track meeting of the season.
With one lap to go in the 5000m, it was Swiss Manuela Schaer who led the group of five racers. But coming down the home straight, McFadden managed to put daylight between her and the chasing pack, crossing the line in 10:57.80, a new Americas record.
"It's always close between us. I feel like it's a really strong group and it's getting even stronger, so you never know what it comes down to, it's a pretty even playing field now which makes it really exciting," said McFadden.
"It was a good race, it was a fast race. We were trying to run a fast time to hit our standards for the United States so we were working as a group to get a quick time around the track. Today was really nice, it was hot and warm and dry – just how I like it."
Schaer (10:58.32) finished in second place, with Australia's Madison de Rozario (10:59.05) third in a new Oceania record.
McFadden's second win of the meeting came in the afternoon session as she clocked 52.46 over one lap. Behind her, China's Lihong Zou (53.15), Schaer (53.23) and Australia's Eliza Ault-Connell (53.37) all recorded new regional records.
More winners
China's Yong Zhang (44.84) set a new Asian record to win the men's 400m T54, with Romanchuk (45.58) in second place - this time with a new Americas record. Briton Richard Chiassaro (46.25) finished third.
There were 400m wins too for Germany's Irmgard Bensusan (1:00.68) in the women's T44 class; Turkey's Hamide Dogangun (55.19) in the women's T53 and Briton Hannah Cockroft (58.56) in the women's T34.
Winners of the men's races included Japan's Tomoki Sato (58.05) in the T52; Russia's Andrei Vdovin (53.72) in the T37 and UAE's Mohamed Alhammadi (50.41), who set a new Asian record to win the 400m T34.
In field, the Netherlands' Lara Baars managed 20.98m in the discus F40; teammate Take Zonneveld (35.09m) threw a new European record in the men's javelin F40 and India's Sundar Gurjar Singh set a best of 57.35m in the javelin F46.
Full results can be found here.