Simone Barlaam looks forward to 'favourite meet' as World Series returns to Italy
Paralympic champions galore in attendance as traditional event welcomes nearly 300 athletes from 40 countries in Lignano Sabbiadoro
10 Mar 2022
Imagen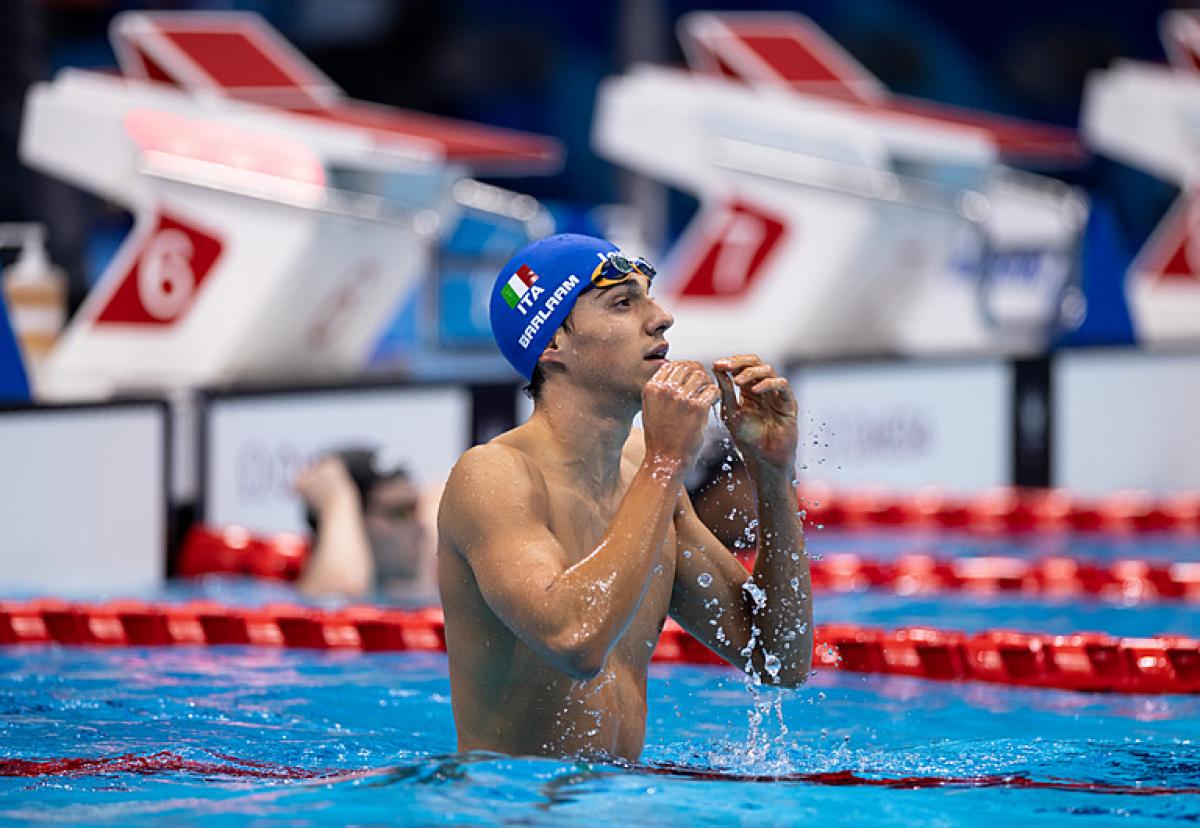 ⒸOIS/Simon Bruty
By Mary Barber | For World Para Swimming
Italy's superstar Simone Barlaam will join Paralympic champions from across the world at one of his favourite meets, the Para Swimming World Series in Lignano Sabbiadoro on Friday (11 March).
The three-day annual event has attracted 294 athletes from 40 countries and for many of them it will be their first international competition since the Tokyo 2020 Paralympic Games.
Barlaam is a member of the host nation's 54-strong team, which includes gold medallists Francesco Bocciardo, Antonio Fantin, Stefano Raimondi, Arjola Trimi, Giulia Terzi, Xenia Palazzo, Alessia Scortechini and Vittoria Bianco.
"I am looking forward to it," said the 21-year-old ahead of the event, which returns to the Bella Italia Village sports complex. 
"Lignano is always one of my favourite meets because everyone is there in the same village, the venue is great, and there's always a lot of friends and competitors from all over the globe."
The Italian team reigned supreme there last year, winning a haul of gold medals and setting world and European records. But the visitors impressed, too, and they will be out in force again. 
BEST OF BRAZIL
Brazil is sending the largest team with 41 athletes, which includes all five of its Tokyo 2020 Paralympic champions, namely Wendell Belarmino Pereira, Gabriel dos Santos Araujo, Talisson Glock, Gabriel Bandeira and Maria Gomes Santiago. 
From Colombia, gold medallists Nelson Crispin and Carlos Serrano Zarate will also travel over to Europe for the meet. Israel has booked a place for title-holders Ami Omer Dadaon and Mark Malyar as has the Netherlands two-time Paralympic champion Liesette Bruinsma. 
"I was looking forward to this international event as I want to have the feeling to be in competition again, something I don't feel since Tokyo," Serrano Zarate said. "I also want to see how competitive I am ahead of this year's World Championships."
Other countries on the entry list include Austria, Belgium, Canada, Croatia, Czech Republic, Denmark, Dominican Republic, Estonia, Finland, France, Germany, Great Britain, Greece, Iran, Israel, Japan, Kazakhstan, Kyrgyzstan, Latvia, Lithuania, Malaysia, Malta, Mexico, Montenegro, Morocco, Poland, Portugal, Romania, Slovakia, Slovenia, Spain, Sweden, Switzerland, Turkey, Uganda, and Uzbekistan.
The third leg of the World Series competition will also be an important stage in the athletes' preparations for the World Para Swimming Championships in Madeira in June.
"They are definitely important," said Barlaam, a seven-time world champion, who will compete in Lignano Sabbiadoro in the men's 50m, 100m and 400m freestyle, 100m backstroke and 100m butterfly. 
"I think it is good to race and compete with people from abroad. It's good motivation for the main meet and it's also a good stage to try and perform to see what you are doing well and what you need to work on."
TOKYO MEMORIES
Barlaam stood out at his debut Paralympics in Tokyo where his win meant a clean sweep of the major titles in the men's 50m freestyle S9. The world and European champion and world record holder in the event hit the wall just ahead of the RPC's Denis Tarasov and USA's Jamal Hill to finish in 24.71.
He joked that his first thoughts after he finished the race was: "That was close, thank God I touched first", before he added: "But jokes aside, I felt a lot of pressure going in to that 50m free, coming in as the world record holder and world and European champion. 
"I was the prey, and everyone was chasing me. Since the 100m freestyle S9 wasn't held in Tokyo [he is the world and European champion in that event, too], I had that one shot to do well, and performance-wise, that was one of my worst 50m freestyle's ever, but the important thing was to get that gold medal.
"It felt good to win, but at the same time exhausting. It was my first Paralympic Games, so to come home with four medals was really special."
Barlaam also won silver in the men's 100m butterfly S9 and 4x100m freestyle 34 points and a bronze in the men's 4x100m medley relay.
What made the competition even more intense for him was the lack of spectators in the Tokyo Aquatics Centre due to COVID restrictions. "That massive pool felt even bigger without spectators. It was you and your thoughts, which were resounded and amplified by that enormous empty venue."
THIRD SERIES
Like all athletes, Barlaam had a long wait to compete at the Games after they were delayed for a year due to the COVID pandemic.
"The extra year probably made everything harder for me," he admitted. "Me and my training buddies [Alberto Amodeo, Giulia Terzi, and Arianna Talamona] spent all that time just training 24/7 without having any meeting or social interactions with anyone besides our families because we were scared of getting COVID and having to stop, or worse, not being able to leave for Tokyo. 
"Looking back at it now, I realised how exaggerated it was and how much all of this hit me psychologically."
But after his triumph in Tokyo there were celebrations for him and the team back in Italy. 
"Once we landed home there were families, friends, media all over the airport waiting for us, even though it was 1am in Italy. That was very heart-warming. 
"After that we had many celebrations and one week of pure holiday and relax in Sicily with Albi [Alberto Amodeo] and four more friends of ours."
Barlaam took a month off in total from training and his engineering studies at university in Milan. "After those two tough years it was a much-needed break," he said. "I'm starting to train as usual and getting to love the sport again."
Francesco Bettella, president of the Local Organising Committee of the World Series in Italy, will welcome Barlaam and the host nation team, as well as the international visitors, to the coastal resort. There will also be a limited number of spectators due to COVID restrictions.
"The Italian team is back, and we can't wait to compare ourselves with the other teams. I think everyone wants to get back into the water," he said.
"This year we will have record numbers of athletes and nations at Lignano Sabbiadoro, and we welcome them.
"This event has been a regular fixture for four years. We are growing both in the number of athletes and at staff level. I thank all the friends and companies who support us. It will be a fundamental test for our team, and all our gold medallists from Tokyo, in preparation for the World Championships."
There are five stops in the World Series 2022. The first leg was in Aberdeen, Great Britain in February followed by Melbourne, Australia. 
The next stop will be in Berlin, Germany, from 31 March to 3 April, and ends in Indianapolis, USA, from 7 to 9 April.
The World Para Swimming Points System is used at the World Series competitions to calculate athletes' results. At the end of the season the top female and male swimmers are declared season winners.