Slovakia look to Czech Republic for sledge hockey guidance
Prior to the World Championships B-Pool, the Slovakians have been trying to create a more professionalised programme.
13 Mar 2015
Imagen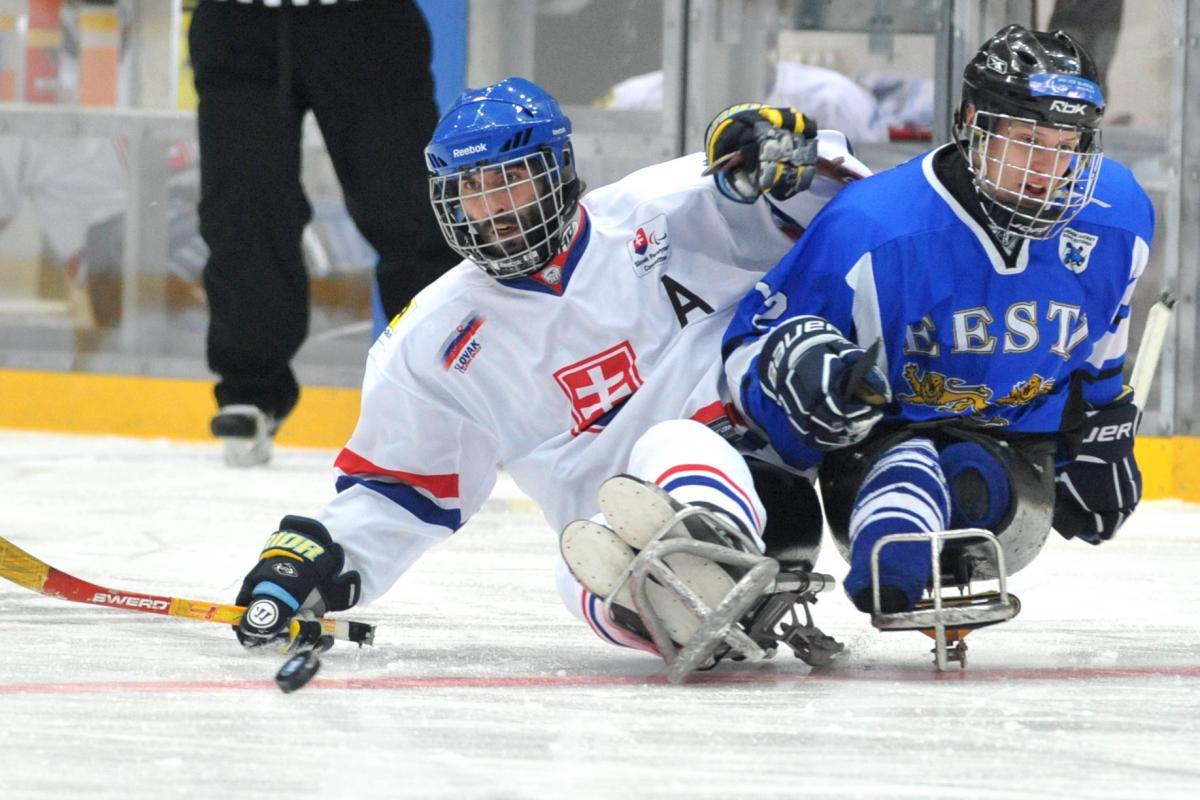 ⒸMoto Yoshimura
By Stuart Lieberman | For the IPC
Heading into the 2015 IPC Ice Sledge Hockey World Championships B-Pool, which take place from 15-22 March in Ostersund, Sweden, the Slovakian team is setting realistic expectations for their second appearance in the tournament.
The Slovakians do not expect to win gold, nor silver. But they also know they are too good to finish last.
Last time around, at the 2013 edition of the event, Slovakia finished fifth.
As the road to the PyeongChang 2018 Paralympic Winter Games commences, Slovakia is somewhere in the middle of that B-Pool pack.
But where, exactly?
"We know our team is much better than two years ago, but we don't know how much we've improved compared to how other teams have," said Peter Stit, who has three assists in eight games for the Slovakians this season.
"We have some young players who can gain really good experience at these World Championships and develop into stars in the future. We want to advance to the semi-final, and then, who knows.
"First or second place would be something like a miracle, but on the other hand, sixth place would be a disaster."
The Slovakians' lone win at the 2013 Championships was a 4-0 victory against Poland in the fifth-place game, with Stit scoring one of his team's three goals and Miroslav Pastucha saving all five shots that came his way.
Martin Joppa leads Slovakia this season with five goals and two assists, while Erik Fojtik has three goals and four assists in his first season with the programme. Fojtik, who played for the Czech Republic at Sochi 2014, was able to switch teams after the Games because he has a Slovakian mother.
This year's B-Pool also includes South Korea and Sweden – both of which participated at the Sochi 2014 Paralympics – along with Austria, Great Britain and Poland. The top two finishers from the event will advance to the A-Pool for the 2017 World Championships and the bottom finisher will be relegated to the new C-Pool for 2016.
"If we ever want to advance to the A-Pool, we first need to get more resources to help professionalise our programme, players and officials," Stit said.
Stit said Slovakia – which has just two players under the age of 30 – refuses to look at programmes like Canada, Russia, USA, or even South Korea as prototypes because they are on a completely different level of funding and circumstances.
"For example, in 2012, we played a tournament in Khanty-Mansijsk, Russia, and spoke with their team doctor from one of the Russian club teams and found out his annual salary as a club team doctor in 2012 was bigger than the budget for our entire national team," Stit said.
"For us, a good model programme is the Czech Republic, as their country is similar to ours in terms of size, mentality and living conditions. We are trying to do things like our friends in the Czech Republic, and we are learning a lot from them. If we ever want to advance to the A-Pool, we first need to get more resources to help professionalise our programme, players and officials like them."
Slovakia have been working toward scheduling regular national team camps, recruiting and training quality coaches and officials, as well as advancing their public relations efforts for the sport domestically.
Most recently, Slovakia played three exhibition games against the Czech Republic at the beginning of March, and lost all three by scores of 10-0, 6-0 and 6-2.
Prior to that, in December, Slovakia won three of their six games against club teams from the Scandinavian countries, where sledge hockey is more prominent.
The 2015 IPC Ice Sledge Hockey B-Pool World Championships, featuring six teams, will be shown live online at sports.livearena.com/, with the first games taking place between South Korea and Austria, Sweden and Poland and Great Britain v Slovakia on Monday (16 March).
Results will be available at Ostersund2015.org.