South Korea set new IPC Ice Sledge Hockey record with 15 goals
Both South Korea and Sweden remain undefeated at the IPC Ice Sledge Hockey World Championships B-Pool, while Great Britain picked up their first win.
17 Mar 2015
Imagen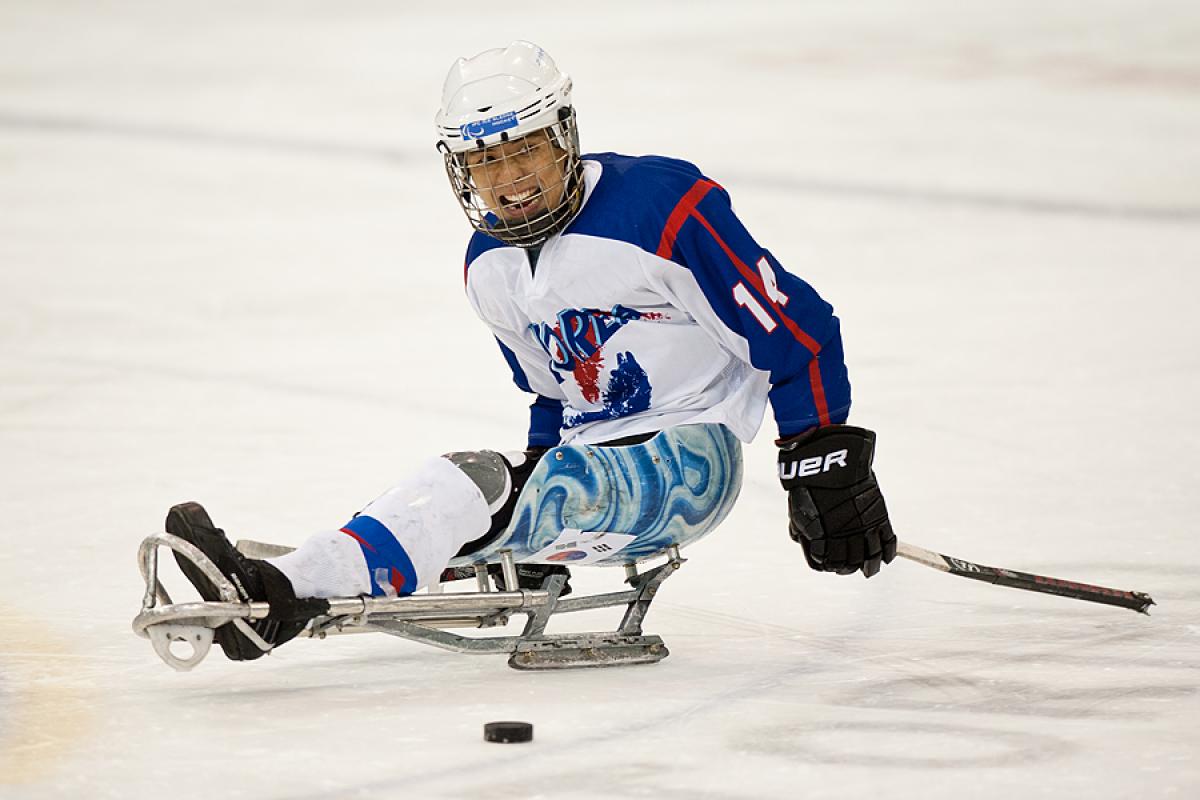 ⒸLuc Percival
By Stuart Lieberman | For the IPC
South Korea showcased just how seriously they are taking preparations as the host nation of the PyeongChang 2018 Paralympic Winter Games on Tuesday (17 March), defeating Poland 15-0 at the IPC Ice Sledge Hockey World Championships B-Pool.
The team's 15 goals at the tournament in Ostersund, Sweden, are the most scored in a single game by any country at a World Championships – A-Pool or B-Pool – in IPC Ice Sledge Hockey history.
South Korea are now 2-0 at the tournament, having beaten Austria on Monday.
Seven of the team's 15 goals against Poland came in the second period, and four of the total goals came from speedy forward Seung-Hwan Jung, who also had two assists. Jung now leads all players at the Championships with seven goals and 10 points.
"I feel we have prepared very well, and all the guys are feeling confident," said a very humble Jung after the game.
Min-Su Han, who was a member of the first Korean sledge hockey club when it formed in 2000, recorded a hat trick and two assists for South Korea, while team captain Jong-Kyung Lee tallied two goals.
Also finding the net for South Korea were: Jihoon Lee, Kim Young-Sung, Ju-Sung Lee, Young-Jae Cho, Eui-Hyun Sin and Park Sang-Hyeon.
Man-Gyun You had an easy day in goal for South Korea, having to only stop the puck three times, while Poland's Andrzej Mlynarczyk played the entirety of the game, recording 25 saves.
Great Britain, meanwhile, picked up their first win of the tournament with a narrow 2-1 victory over Austria.
Tyler Christopher scored both goals for the British squad – one at the 1:07 mark early in the first period and one at the 36:58 mark early in the third – to even his team's record to 1-1 at the Championships.
Martin Pachoining netted the puck later in the third for the Austrians off a pass from Stefan Eberdorfer, but it was too little, too late, as British goaltender Bryan Hackworth's seven saves on the day were enough to guarantee his team the win.
"I knew that Austria had massively improved because I played with a few of them up in Manchester late last year, so as soon as we started the game we could see it was going to be difficult," said Christopher, whose legs were both amputated after stepping on an improvised explosive device in 2009 while he was serving in the British army in Afghanistan.
"But we knew if we could get the shots on goal, we could get goals. Hopefully, we get a few more good results like this."
To end the day, Sweden stayed undefeated by topping Slovakia, 5-1, in a game that proved to be a much tougher test than the host nation had envisioned.
The Swedish squad led from the beginning, as second-year player Robin Meng scored off a pass from Per Kasperi just 45 seconds into the contest, and less than six minutes later Kasperi netted a score of his own, assisted by Rasmus Lundgren and Marcus Holm.
But early in the second, defenceman Miroslav Stasak gave Sweden a scare with his goal to put Slovakia within one score of the host nation.
Sweden came roaring back, though, with three more goals of their own – one by Niklas Ingvarsson late in the second and two more in the third by Kasperi, who is now second at the Championships with five total goals.
Ulf Nilsson was the winning goaltender for Sweden with four saves, while Slovakia's Miroslav Pastucha had eight saves.
Next up, Poland and Austria will both be looking for their first wins in Ostersund when they face off to open play on Wednesday (18 March) at 12:00 (CET). That matchup will be followed by South Korea-Slovakia at 15:30 and Sweden-Great Britain at 19:00.
All games from this year's World Championships B-Pool, which runs through 21 March, are being streamed live at sports.livearena.com.
The top two finishers from the B-Pool tournament will be promoted to the A-Pool for 2017, while the last place team will be relegated to a new C-Pool tournament next season.
In 2017, the top five finishers from the World Championships A-Pool will directly qualify for the PyeongChang 2018 Paralympics. The bottom three teams from the A-Pool event and the top three teams from the B-Pool event will compete in a Qualification Tournament for PyeongChang 2018 that same year.