Sport Week: History of para-equestrian
A look back at the sport's 20 years since being part of the Paralympic Games.
24 Mar 2016
Imagen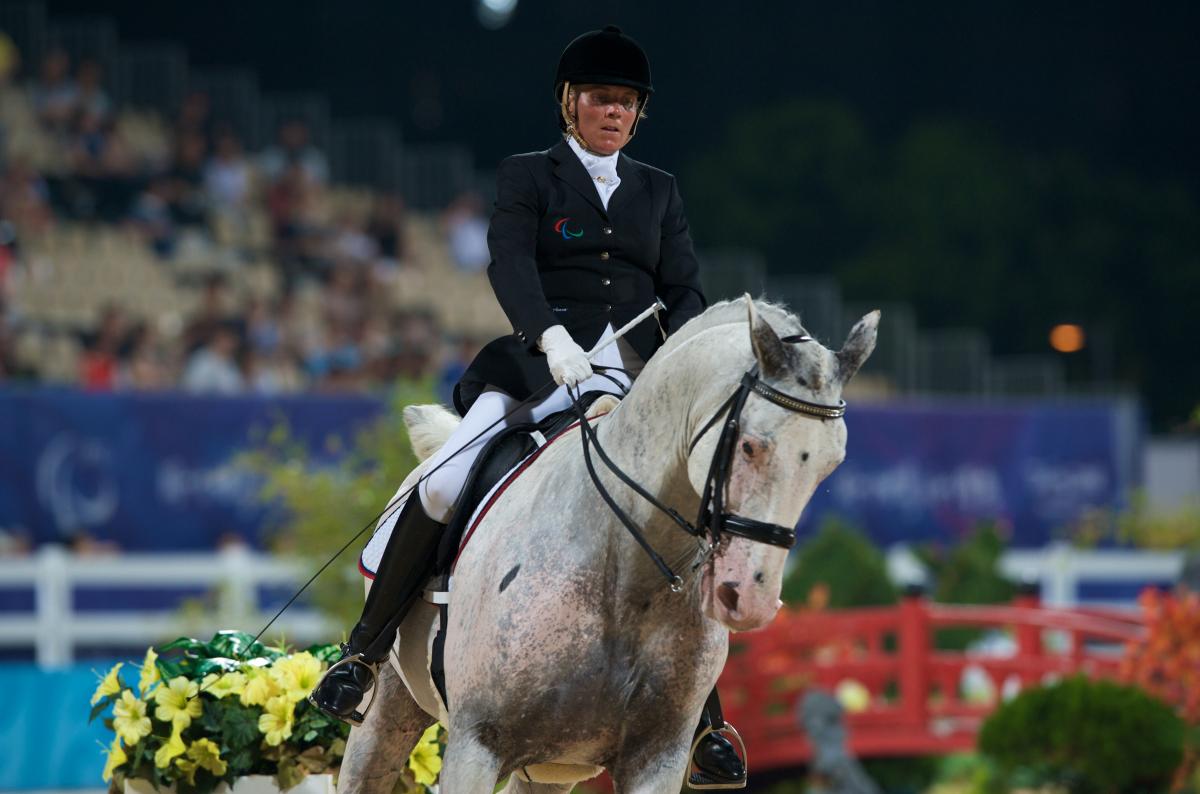 By Rob Howell | For the IPC
Editor's note: Each sport on the Rio 2016 Paralympic programme will have a dedicated week of featured content published on paralympic.org. Every week a new sport will be featured and the series will run until September's Games, helping the public understand more about the 22 sports being contested in Rio.
The Rio 2016 Paralympic Games will mark 20 years since para-equestrian dressage was introduced on the global stage. Let us take a look back at how the sport has evolved since its Paralympic debut at Atlanta 1996.
Atlanta 1996 - First competition on borrowed horses
The first para-equestrian dressage competition at a Paralympic Games was held in August 1996 at the Georgia International Horse Park in the USA. Back then, sport was divided into four grades (I to IV) and the 61 riders from 16 countries competed on borrowed horses.
Starting a trend which would continue through to London 2012, the Great British team won the team competition. Individual medals were shared among Great Britain, Norway, Denmark, the USA and Germany. Among those competing at those first Games, and who could make an appearance two decades later in Rio 2016, were Great Britain's Anne Dunham and Germany's double grade II silver medallist Angelika Trabert.
Sydney 2000 - Meet Lee Pearson
The Sydney 2000 Games marked the arrival of a young Lee Pearson of Great Britain, the man who would become one of the most dominant figures in the sport. At Sydney, again on a borrowed horse, Pearson was part of the gold medal winning British team, and also picked up both individual titles in the grade I competition – the first of his 10 Paralympic golds he has won to date.
The Sydney Games – attended by 72 riders from 24 countries – also produced two popular home wins for Australia's Julie Higgins in the grade III competition.
Athens 2004 - Today's stars debut
For the first time, riding on their own horses, the Athens Games saw the debut Paralympic performances of a number of riders who are still in contention for medals at Rio 2016. Pearson again swept the board in the grade I competition (and Great Britain took the team title), with his young compatriot Sophie Christiansen taking bronze in the individual test.
Among the 69 riders from 29 countries (the most countries to take part in a Paralympic Games equestrian competition), Germany's Hannelore Brenner, South Africa's Philippa Johnson (now Johnson-Dwyer), and Norway's Ann Cathrin Lubbe also made their marks on the sport in Athens, picking up gold or silver medals.
Beijing 2008 - Stars cement their places
The competition during Beijing 2008 was held, for quarantine reasons, at the illustrious Hong Kong Jockey Club. The Games were the first to see riders compete in the five grades used to this day, with the previous grade I split into grades Ia and Ib.
Great Britain was again dominant, picking up team and numerous individual gold medals, including two more titles for Pearson (making his total nine from nine at his third Games), a first individual gold for Christiansen and individual gold for Dunham.
Beijing also saw the emergence of Singapore's Laurentia Tan, who in picking up two bronze medals in the grade Ia competition, became her county's first Paralympic medal winner. Among the 73 riders from 28 countries competing, there were first time golds for Brenner in grade III, Canada's Lauren Barwick in grade II and Johnson in grade IV.
London 2012 - Shocking result
Historic Greenwich was the setting of the sport at London 2012 and a surge in interest in the Games following the Olympics saw fans flock to each day of competition to see 78 riders from 27 countries compete.
In her debut Games, the nation's Natasha Baker took both grade II titles, while teammate Christiansen fulfilled her potential by winning both grade Ia titles and being part of the, once again, winning team.
For Pearson, London was a disappointment when he was pipped to the individual title by Australia's Joann Formosa, and knocked back into bronze in the freestyle title by Austria's Pepo Puch. Meanwhile, Tan continued her successful career taking two more medals (a bronze and a silver).
Ireland surprised many at London 2012, as this was their first Games with a qualified team. Their very own Helen Kearney (who was also crowned individual silver and bronze medallist in grade 1a in London), along with James Dwyer, Geralding Savage and Eilish Byrne took team bronze.
A shake up in London could be telling of more in less than six months from now.
___
Sport fans from around the world can now buy their Paralympic tickets for Rio 2016 from authorised ticket resellers (ATRs).
The IPC's Global ATR is Jet Set Sports, and Rio 2016 tickets and packages can be purchased on the CoSport website.
Residents of Brazil can buy 2016 Paralympics tickets directly from the Rio 2016 website.