Sport week: Para-equestrian rider Puch back for more
The grade 1b Paralympic freestyle champion looks to defend his title in Rio.
26 Mar 2016
Imagen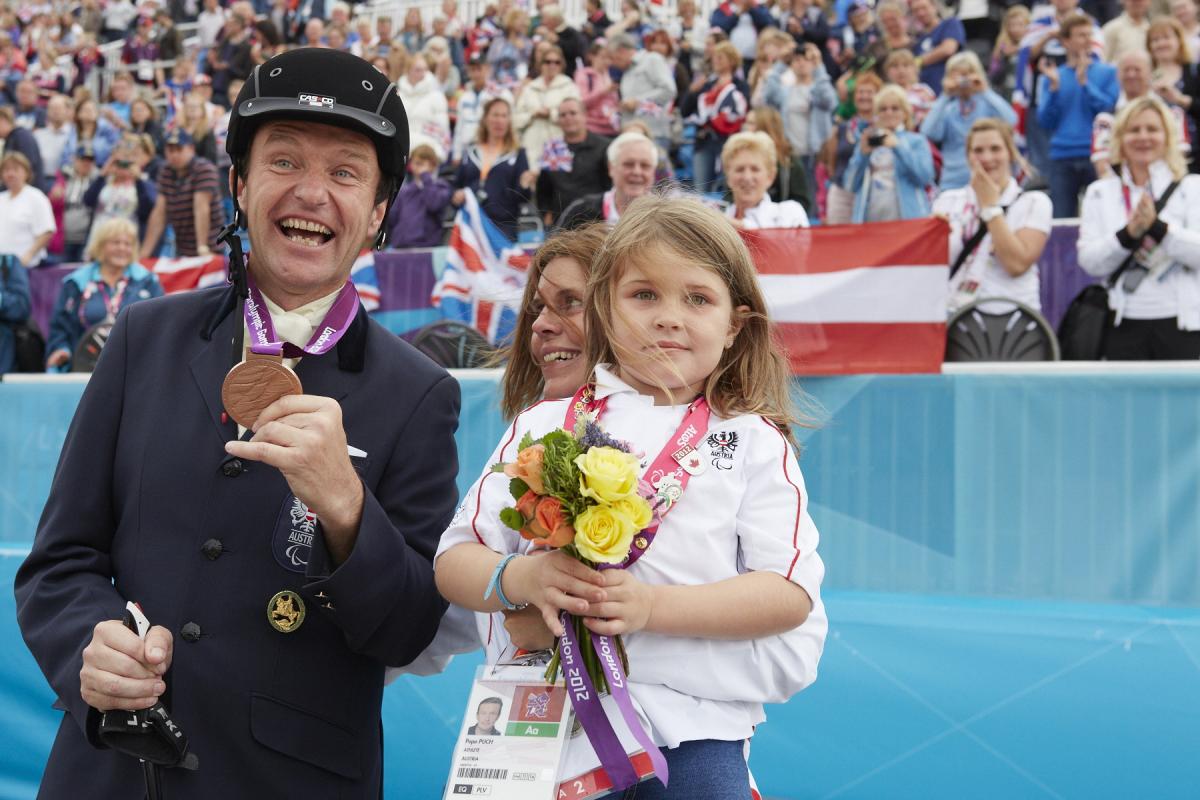 ⒸFEI
By Rob Howell | For the IPC
"I'm looking forward to training more and to prepare. I have to say the weakest point in our combination is me - my horses are strong, but I have to train my body.
Editor's note: Each sport on the Rio 2016 Paralympic programme will have a dedicated week of featured content published on paralympic.org. Every week a new sport will be featured and the series will run until September's Games, helping the public understand more about the 22 sports being contested in Rio.
Austria's top para-equestrian dressage athlete, Pepo Puch, lives his life by a simple, but hugely powerful, motto: "If it's possible, it's doable."
Puch, who celebrated his 50th birthday earlier in the year, embodies this belief and is the current grade Ib individual and freestyle European champion, world silver medallist and famously the London 2012 freestyle gold medallist.
He started riding at the age of 15 and was a successful eventer representing his country at numerous competitions around the world, including the Athens 2004 Olympic Games. However, a freak accident in 2008 left him with paraplegia. After six months in a hospital bed Puch realised it was possible for him to ride again, and so he took up dressage.
He made his international para-equestrian dressage debut in style, taking the individual 2011 European Championships title and runner up in the freestyle, setting the stage for his Paralympic Games debut the following year in London.
As a grade Ib rider, Puch faced considerable competition at those Games, especially from Great Britain's multi-medal winning Lee Pearson, who was out to win his fourth consecutive Paralympic title.
In the individual competition, however, Pearson was proved to be beatable, losing the gold medal to Australia's Joann Formosa, with Puch taking the bronze, a result he was delighted with. But then tragedy struck.
Puch's mother-in-law passed away while Puch was still in London. The decision was taken that he should carry on at the competition and, just a few days later, he clinched the gold medal in the freestyle competition. During the medal ceremony, Puch had his on hand on his heart and eyes to the sky.
In 2013, he cemented his position as one of the world's top riders by taking both individual titles at the FEI European Championships, and followed that in 2014 with two silver medals at the Alltech FEI World Equestrian Games™ 2014, both times behind a resurgent Pearson.
And then last year, at the FEI European Championships 2015 in Deauville, France, Puch again came out on top.
"It was great to win both titles again," he said. "And it was fantastic to come to Deauville - it was really emotional for me."
This year is all about Rio and Puch is excited by the prospect of being selected for the Games, and of the strength of the competition.
"We've started training and have had a decent start," he said. "I'm looking forward to training more and to prepare. I have to say the weakest point in our combination is me - my horses are strong, but I have to train my body.
"The progress over the last four years in our sport and in my grade is so tremendous I try not to think about the podium, but rather just to compete and be there. It's not the same as four years ago. We have to work seriously and hope we get the result. We have so many top riders it's really hard to compete and it will be a hard competition."
The grade Ib, out of all the grades in the sport, is arguably the most competitive with six or seven riders at least who, on the day, could take the gold.
But it would be risky to write off Puch's chances, as it is possible he could strike again.
___
Sport fans from around the world can now buy their Paralympic tickets for Rio 2016 from authorised ticket resellers (ATRs).
The IPC's Global ATR is Jet Set Sports, and Rio 2016 tickets and packages can be purchased on the CoSport website.
Residents of Brazil can buy 2016 Paralympics tickets directly from the Rio 2016 website.