Sport week: Paralympic legend Trischa Zorn recalls her glory days
The most decorated Paralympian ever shares her view on para-swimming and how it has changed since she competed.
22 Apr 2016
Imagen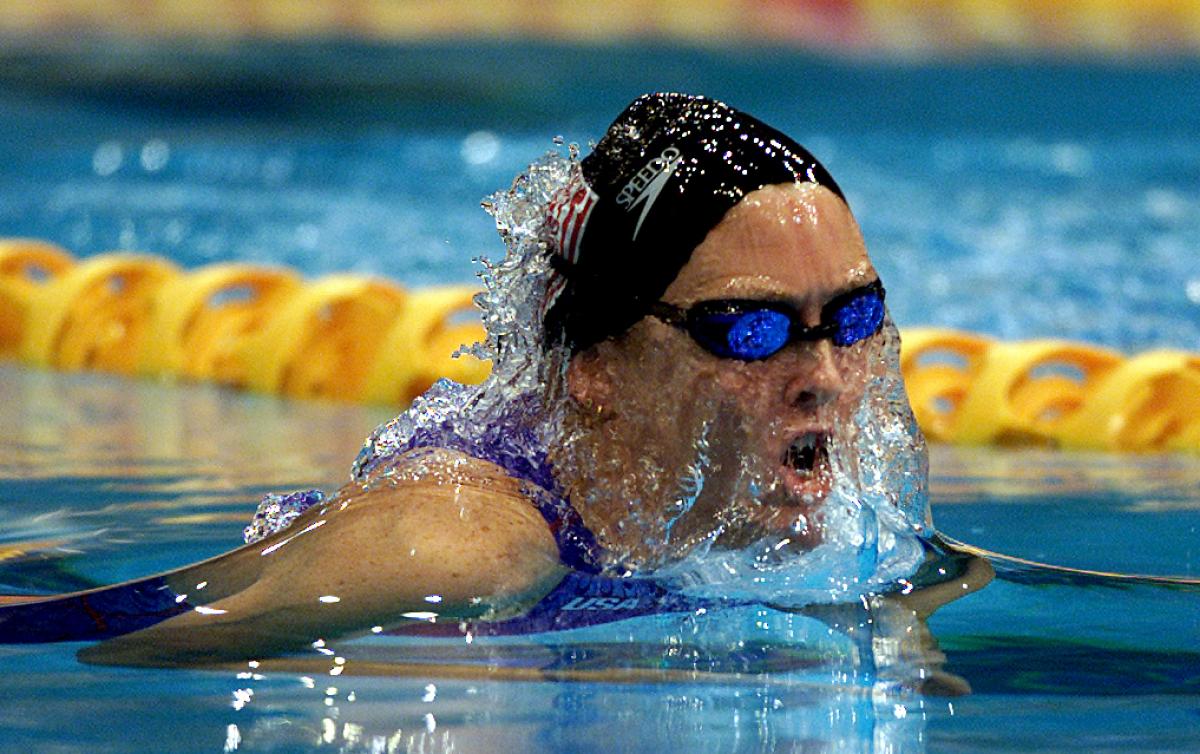 ⒸGetty Images
By IPC
"The Paralympics have changed so much from the quality of athletes to opportunities for training."
Twelve years on from her last Paralympic appearance, the USA's Trischa Zorn - the most decorated Paralympian of all-time - still keeps a close eye on swimming, the sport that catapulted her to glory.
During a glittering career covering seven Paralympic Games, S12 swimmer Zorn won a staggering 55 medals and witnessed first-hand the evolution of the Paralympic Games.
"The Paralympics have changed so much from the quality of athletes to opportunities for training. Athletes are more specialised and emphasise on particular events.
"Therefore, instead of training for all events like I did, athletes train for only a few events," said Zorn who admits she would "probably not" have won so many medals if she was competing today.
Zorn realises that with the Paralympic Games becoming ever more competitive it is unlikely that any summer or winter athlete will ever overtake her haul of 55 medals, which includes 41 golds, nine silver and five bronze.
"As others have told me, it is a feat that probably will never be surpassed. I am ok with that. However, records are meant to be broken and I would be excited to meet the individual who would be able to meet that mark," Zorn said.
Zorn made her Paralympic debut at Arnhem 1980 and claimed a clean sweep. She later added gold medals to her tally at New York 1984 and Seoul 1988, losing her first race in the women's 100m butterfly B2-3 at Barcelona 1992, when she came second.
She made it to the podium 14 more times between Atlanta 1996, Sydney 2000 and Athens 2004, before retiring.
"I was fortunate and blessed to be able to compete at the highest level of competition for seven Paralympic Games and over 34 years" said Zorn who has a big award case at her California home to store all the medals.
"I take a few out when I go and do public speaking events or fundraisers," she said.
Despite her long dominance of swimming, Zorn says she never felt invincible.
"I never thought I could not be beat. Once you are at the top of the mountain it is awesome. But staying on top of that mountain is harder than the original climb up the mountain."
Although she won 41 Paralympic titles, Zorn classes a bronze medal win at Athens 2004 as her most memorable podium finish.
"During my preparation for the Games, my mom passed away from cancer in June 2004. She had always attended all my competitions and it was hard to know she was not going to be there.
"With the interruption from training and the emotional stress, I still managed to win a medal at my last Games. It was a tribute to my mom."
In recognition of Zorn's achievements in 2012 she was inducted into the Visa Paralympic Hall of Fame.
"It was a dream come true. Knowing that my peers and that the International Paralympic Committee's staff recognise my career in swimming over the years makes all the hard worth it," said Zorn, whose dominance of the sport means she still hold two world records - the 200m backstroke and 400m individual medley.
"I achieved all I had set out to do in my sporting career. From a little girl I wanted to compete on the international level. I then wanted to win a gold medal and was blessed to do that 41 times.
"I believe my success has paved the way for today's Paralympic athletes to receive the opportunities and recognition they are getting.
"The most important thing was to be recognised and known as a good sportsman.
"To hear from others that I was an inspiration or motivating factor in their success is truly an inspirational spark for me to continue to push myself even more each and every day."
Editor's note: Each sport on the Rio 2016 Paralympic programme will have a dedicated week of featured content published on paralympic.org. Every week a new sport will be featured and the series will run until September's Games, helping the public understand more about the 22 sports being contested in Rio.